Scott Hall Tributes Flood in As WWE World Mourns Wrestler's Death: 'Crushed'
Tributes are pouring in for Scott Hall after the former WWE star died following three heart attacks. He was 63 years old.
The performer, who rose to fame in the 1990s as Razor Ramon, was taken off life support on Monday after he was placed in intensive care following a hip operation at Georgia's Wellstar Kennestone Hospital.
WWE confirmed on Tuesday morning that Hall has passed away.
"WWE is saddened to learn that two-time WWE Hall of Famer Scott Hall has passed away," the wrestling body said in a statement.
On Twitter, they added: "The WWE family will forever remember Scott Hall as a gifted entertainer and 2-time WWE Hall of Famer, a loving father and a dear friend."
The wrestling world and beyond is paying tribute to the 6'4" legend today, Tuesday, with WWE's Damian Priest writing describing Hall as: "Idol. Inspiration. Hero," and saying he was "crushed" at the news.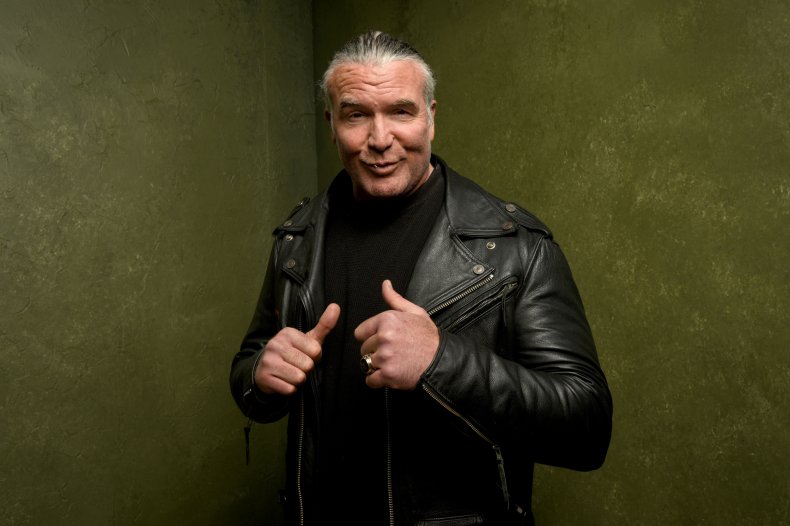 He added in a statement posted to Twitter: "I always wanted to be cool like Scott Hall. From being a fan and seeing him perform at MSG to having him give me advice, critique my work, and give his blessings to use the surfer walk and razors edge will always be a highlight of my life. I, like many others, will miss him.
"I'm so sorry and my deepest condolences to his friends and family. We will miss Scott dearly, but I will never forget the road he paved. Proud to have looked up to him and even more to have met him. Rest easy my friend. #ForScott #RIPScottHall"
Wrestler Sting—given name Steve Borden—shared a photo oh himself with Hall and said he "will be missed."
"Heart breaking, HUGE loss. He definitely made us all better - helped me with that one-of-a-kind Scott Hall insight. So many 'Too Sweet'' memories," Sting tweeted.
Just before Scott's family turned off his life support, his friend and WWE contemporary Kevin Nash shared a touching tribute on Instagram about the "one person on this planet I've spent more of my life with than anyone else."
Nash wrote: "My heart is broken and I'm so very f****** sad. I love Scott with all my heart but now I have to prepare my life without him in the present. I've been blessed to have a friend that took me at face value and I him."
He went on to say: "Scott always felt he wasn't worthy of the afterlife. Well God please have some gold plated toothpicks for my brother. My life was enriched with his take on life. He wasn't perfect but as he always said 'The last perfect person to walk the planet they nailed to a cross.'
"As we prepare for life without him just remember there goes a great guy you ain't going to see another one like him again. See Ya down the road Scott. I couldn't love a human being any more than I do you."
Meanwhile, retired wrestler Mick Foley remembered Scott as a "towering figure among his contemporaries" and "a legend inside and outside the ring."
"My deepest condolences to his friends, family and everyone who loved him," he tweeeted.