Scott Kelly and Kjell Lindgren Take a Spacewalk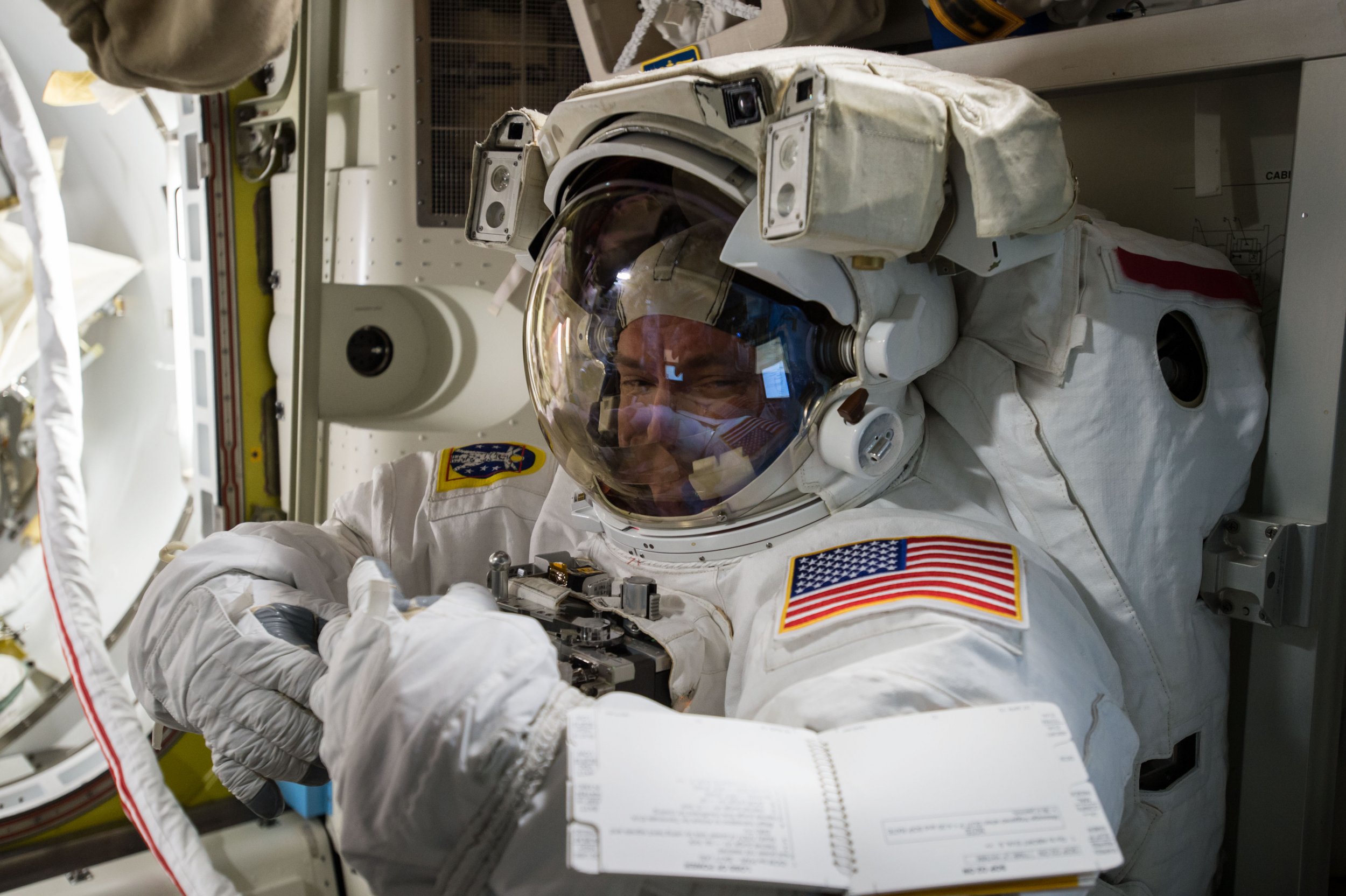 U.S. astronauts Scott Kelly and Kjell Lindgren embarked on a spacewalk Wednesday outside of the International Space Station. Though it's the 32nd U.S. spacewalk to service the station, it marks a first for both astronauts.
Kelly and Lindgren placed their red-striped and solid white spacesuits (respectively) on battery power and began their spacewalk at 8:03 a.m. ET, seven minutes ahead of the scheduled start. As of midday Wednesday, the astronauts were still mid-spacewalk, which is scheduled to last six hours and 30 minutes. If all goes as planned, they should be back inside at roughly 2:30 p.m. ET.
Their goal is to perform space station upgrades and maintenance tasks, Mark Garcia writes on the ISS blog, such as installing a thermal cover on the Alpha Magnetic Spectrometer, applying grease to parts of the robotic Canadarm2 and routing cables to prepare for new docking ports for U.S. commercial crew spacecraft.
In an age when NASA and other space agencies, as well as astronauts, have access to social media, events like Wednesday's spacewalk are often documented from various points of view. Both Kelly and Lindgren tweeted prior to the spacewalk (collectively garnering upwards of 10,000 retweets and favorites as of late morning on Wednesday):
In the meantime, Kelly's identical twin brother, Mark, a retired astronaut himself, tweeted from the ground:
NASA, through its International Space Station account, tweeted updates as Kelly and Lindgren headed out for their spacewalk and completed tasks:
The spacewalk comes soon after Kelly broke a record on October 16 as the U.S. astronaut to spend the most cumulative days in space, when he started his 383rd day. He's due to break another record Thursday when he spends his 216th consecutive day in space. Wednesday's walk also comes just before the 15-year mark of a continuous human presence on the ISS, on November 2.
Kelly and Lindgren are scheduled to venture out again on November 6 to try to "restore the port truss ammonia cooling system to its original configuration," according to NASA's space station blog.
You can catch the remainder of the six-and-a-half-hour spacewalk here: