Scott Peterson's Lawyers Claim Juror Hid Crime Victim Past in New Trial Bid
Scott Peterson's defense attorneys are seeking a new trial after it emerged that a member of the jury, which convicted him in 2005, had failed to disclose that her boyfriend beat her while she was pregnant.
Juror 7 did not mention that her boyfriend beat her in 2001 while she was expecting, new court papers show. Earlier, it had also been detailed how she failed to disclose that a restraining order was taken out against her boyfriend's ex-girlfriend, whom she feared would hurt her then-unborn child.
Peterson, now 48 years old, was convicted of first-degree murder in relation to his wife, 27-year-old Laci Peterson, and of the second-degree murder of their unborn son, Connor.
His lawyers now say Juror 7 "bent over backwards" to be a juror in the trial and later voted to sentence Peterson to death, according to papers seen by Associated Press.
But, the attorneys argue, she committed misconduct by not disclosing she had been a crime victim—potentially harming Peterson's right to a fair hearing.
As a result, a judge is now weighing up whether or not to order a new trial.
"It is apparent from her conduct before, during, and after the trial that during (jury selection) she failed to disclose numerous incidents that posed threats of harm to her unborn children," Peterson's lawyers said. "This enabled her to sit in judgment of Mr. Peterson for the crime of harming his unborn child."
The juror, who was not named in court documents, has previously been identified as Richelle Nice, who co-authored a book on the case.
Nice's attorney has been contacted for comment.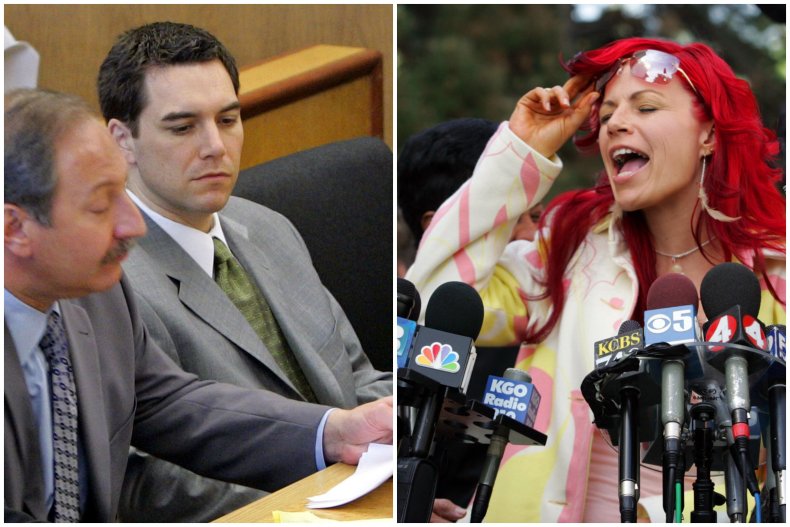 Ahead of the trial, prospective jurors were asked if they had ever been involved in a lawsuit or participated in a trial as a party or witness and if they had ever been a crime victim or witness. Nice answered "no" to those questions.
Prosecutors sought to shoot down claims that this action constituted misconduct.
They included a declaration from Nice in which she stated: "I did not interpret the circumstances leading to the petition for a restraining order as a crime. I still do not," it read. "Minor indignities ... do not stick out to me, let alone cause me to feel 'victimized' the way the law might define that term."
The defense said that by concealing facts and providing inaccurate answers, the juror undermined the jury selection process and committed misconduct that harmed Peterson's right to a fair trial.
"Mr. Peterson was entitled to be tried by a jury of 12 impartial jurors, not 11," defense lawyers wrote.
Laci Peterson was 27 years old and eight months pregnant when she disappeared on Christmas Eve 2002. Her and Connor's remains were found in San Francisco Bay four months after she went missing.