Scott Peterson Retrial Hinges on Woman Who Allegedly Lied to Get on Jury
The retrial of Scott Peterson could be ordered due to the alleged actions of one key juror from his 2004 trial.
Richelle Nice is expected to testify on February 25 regarding accusations she lied about her experiences with domestic violence to get put on the case's jury. Peterson was charged in 2004 for the murders of his wife, Laci Peterson, and their unborn child, Connor.
Nice is accused of not disclosing two specific experiences of domestic violence she allegedly experienced at the hands of her ex-boyfriend. In 2000, Nice attempted to get a restraining order against her boyfriend's ex-girlfriend, saying that she "really [feared] for her unborn child" due to the threats, according to the Associated Press. She was also allegedly beaten by the same boyfriend in 2001. Judge Anne-Christine Massullo claims that these incidents were purposefully withheld by Nice in order to get on the Peterson jury.
"The issue is whether Juror No. 7's non-disclosures amounted to juror misconduct and 'masked substantial likelihood of actual bias,'" wrote Massullo in her statement, obtained by The Modesto Bee, that referred to Nice by her juror number. "Thus, if [Peterson's team] proves that Juror No. 7 committed misconduct, the Court will consider the totality of the circumstances in assessing her actual bias. This might include evidence of Juror No. 7's post-verdict conduct."
"This hearing is critical," said Peterson attorney Pat Harris. "This is his chance to show that she did commit misconduct and to have the whole thing thrown out."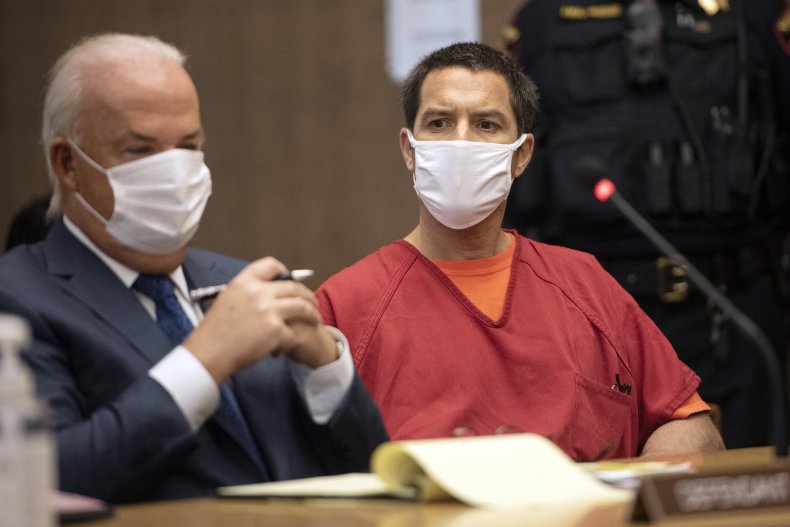 While Nice will be the center of the meeting scheduled for February 25, several other figures have been subpoenaed to testify, including journalist Johnny Dodd and Peterson's former attorney, Mark Geragos. It is unclear whether or not any of the twelve subpoenaed people will testify alongside Nice.
Nice's new attorney, Geoffrey Carr, told the Associated Press that he does not expect any breakthrough information to be revealed during his client's time on the stand.
"Most of the substance of it is correct, but not all, and some of it is a matter of how you interpret stuff," Carr explained. He also said that he was not "anticipating bombshells" or "any surprises about what [Nice is] going to say," only that she should "tell the stone bloody truth" about her intentions going onto the stand.
The high-profile case echoes a development in that of sex trafficker Ghislaine Maxwell, who was also found guilty by a jury in which someone allegedly withheld crucial personal information. On Thursday, a judge said in a new ruling that Maxwell would not be granted a retrial but that the court would hear testimony from juror Scotty David on March 8. He is accused of withholding his experiences with sexual assault from the court in a similar manner as Nice.
Update 02/24/2022, 5:10 p.m. ET: This story has been updated with more information.
Update 02/24/2022, 4:26 p.m. ET: This story has been updated with background information.