Scott Pilgrim vs The World was a seminal comic book, and the video game based on the crazy antics of the titular character celebrated its 10-year anniversary in 2020. To celebrate this moment, Scott Pilgrim vs The World: The Game has finally returned, bringing the classic arcade-style, beat 'em up to current-gen consoles.
For six of those 10 years, the game was unavailable to download. Only gamers who downloaded the side-scroller on their PS3 and Xbox 360 consoles can still play them, but a whole new crop of gamers will get their chance at this classic title.
If you're one of those gamers who want to try out Scott Pilgrim vs The World: The Game for the first time or you want to revisit it on a new console, continue reading to learn when you can play and what's different with this release.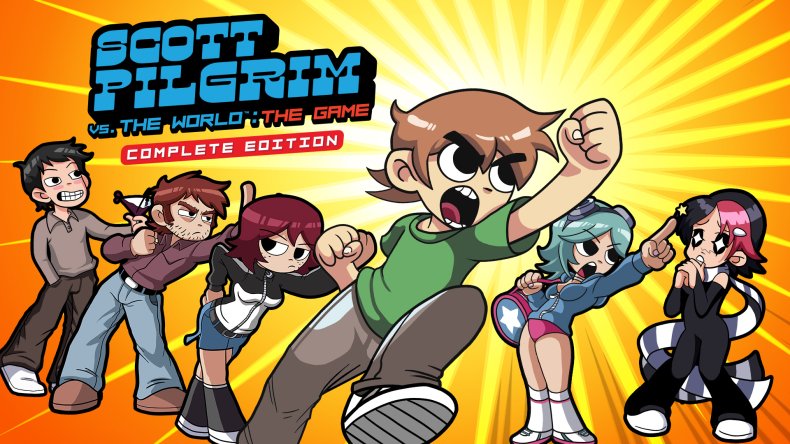 WHEN CAN YOU DOWNLOAD SCOTT PILGRIM VS THE WORLD: THE GAME?
Scott Pilgrim vs The World: The Game will become available for Nintendo Switch, PS4, Xbox One, PC and Google Stadia on Thursday, January 14. However, the timing of release has not been confirmed by Ubisoft, but from past releases we can infer when it will drop.
According to the official Nintendo support page, certain games will be available to play starting at 12 a.m. ET on the game's release date. It also states that some third-party titles won't be available until 3 a.m. ET on their release dates.
The Microsoft Store doesn't have a time listed, and there is no listing on the PlayStation Store, but releases normally occur around 12 a.m. EDT on both platforms.
WHAT'S DIFFERENT?
The Complete Edition of Scott Pilgrim vs The World: The Game includes the original game as well as the DLC. It also includes the Knives Chau and Wallace Wells Add-On Packs to allow for players to select them as playable characters.
Unlike the game's first run, fans can purchase a physical version of the Scott Pilgrim game through Limited Run Games. The distributor is selling three different limited edition versions.
All three versions will be available to pre-order for six weeks starting January 15.
The first version is the standard edition, which comes with just the game for Nintendo Switch and PS4 for $35. The Classic Edition will cost $55 includes a full-color instruction booklet, deluxe plastic clamshell case with reversible cover sheet, sticker sheet, physical soundtrack CD, a commemorative concert ticket and an overworld map.
The K.O. edition will cost $140 includes everything in the Classic Edition plus a roadie collector's case box with working lights and sound. It also includes Sex Bob-omb guitar picks, an enamel pin, and full-sized wooden drum sticks.
Are you excited for the re-release of the Scott Pilgrim game? Let us know your favorite character in the comments section.