On Scott Pilgrim's 10th Anniversary Its Creator Wonders Why The Game Is Impossible to Get
Scott Pilgrim vs. the World creator Bryan Lee O'Malley recently celebrated the tenth anniversary of the video game based on his graphic novel series. Unfortunately, due to reported licensing issues, the game by Ubisoft has been nearly impossible to get.
Yesterday, O'Malley shared the artwork he did for the video game. He tweeted, "Some of my storyboards from the Scott Pilgrim game. I did a bunch of art and writing for it."
The Seconds writer/artist jokingly teased, "I still have the Scott Pilgrim game on my PS3 and my Xbox, but I have lost the ability to hook up a game system. I don't know how cables work and now my arms have withered away."
Only those who downloaded the beat-'em-up game into their gaming systems can still play it today. Back in 2014, Scott Pilgrim vs. the World: The Game was delisted and pulled from Xbox Live Arcade and the PlayStation Network. According to IGN, the game was most likely removed due to licensing issues.
Anamanaguchi, the electronic band behind the game's soundtrack, recently spoke to Nintendo Life about their music being unavailable. Band member Luke Silas said it was "very sad" that only a select few can currently hear the Anamanaguchi score.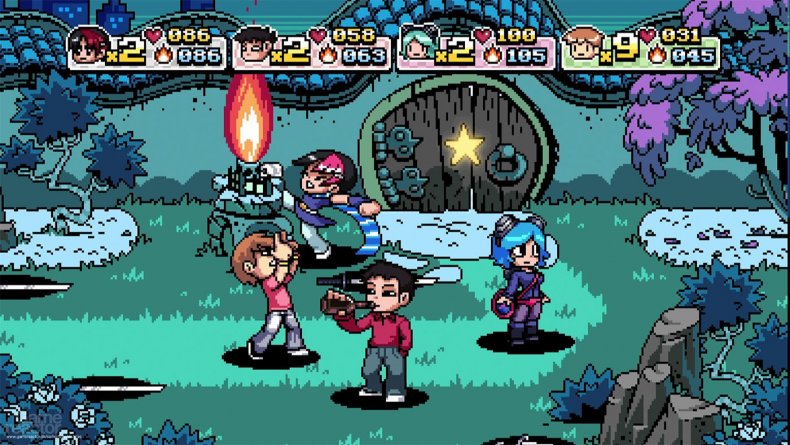 About a year ago, Anamanaguchi addressed false internet rumors and copyright claims. The electronic pop band was falsely accused of being responsible for the title being removed. On social media, the band asked Ubisoft and Universal to set the record straight by re-releasing the game.
The band tweeted, "Can you guys, Ubisoft and Universal Pictures, figure out how to re-release the Scott Pilgrim game so people stop falsely accusing us of removing it from stores ourselves?"
They added, "We spoke about it openly since the day someone said we had anything to do with it being pulled. It's not like this is the first time addressing it by any means. Just surprising we still get hit up about it based off some wild rumor by some rando trying to start sh*t."
Twitter user, @marthdotsr, asked the band if they had "made copyright claims" on their tracks for the Scott Pilgrim game. @marthdotsr asked, "Are you saying I can't have audio in my speedruns?"
@anamanaguchi stated, "We don't own the copyright to the music. Never did. Which is why we make no money on its album sales and no royalties off plays anywhere. So though we wish we could help, that decision is with Ubisoft or ABKCO Music & Records."
Newsweek reached out to Ubisoft for comment but did not hear back before publication.