Scott Pruitt Spending Abuses: EPA Chief's Former Aide Says It's Even Worse Than You Think
Just when it looked as though things couldn't get any worse for Scott Pruitt, new accusations of misuses of taxpayer funds have been levied against the embattled Environmental Protection Agency administrator.
Five congressional Democrats sent Pruitt a letter on Thursday detailing accusations made against Pruitt by Kevin Chmielewski, former Donald Trump campaign aide who served as Deputy Chief of Staff for Operations under Pruitt. Chimielewski met with congressional Democrats this week and painted a picture of Pruitt as a feckless manager who wasted taxpayer money and took retribution against employees who tried to stop his reckless spending.
Chmielewski told Democrats that when he first arrived at the EPA to work for Pruitt, EPA Chief of Staff Ryan Jackson told him "the nightmare is now yours."
"Mr. Chmielewski said those words turned out to be accurate," the Democrats wrote in their letter to Pruitt, which was also sent to the chairs of Senate and House oversight committees. In the letter, the Democrats asked Pruitt for documents related to the allegations, which built on previous scandals surrounding the former Oklahoma attorney general, including controversies over a $50-a-night Washington D.C. rental from an energy lobbyist, an expensive security detail and first-class travel, the installation of a $43,000 soundproof phone booth in his office, the use of motorcade sirens to get through slow traffic, and pay raises for two aides that were procured by going around the White House. Chmielewski confirmed many of these reports.
Even before the new allegations, the accumulating scandals led members of both parties to call on Pruitt to resign.
Chmielewski, who has been placed on leave, described several other alleged instances of Pruitt abusing his authority. The Democrats who signed the letter, Senators Tom Carper and Sheldon Whitehouse, as well as Representatives Elijah Cummings, Gerald Connolly and Don Beyer, said they found Chmielewski "to be a credible professional who continues to express deep loyalty to the President and Vice-President."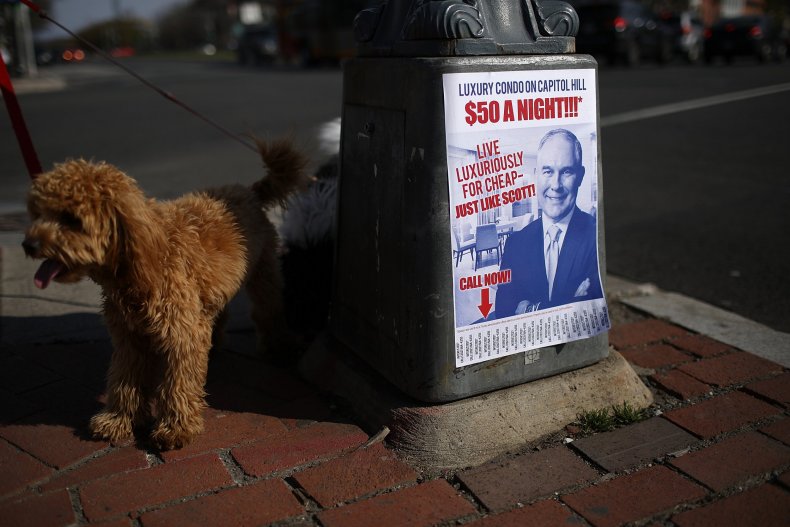 An EPA spokesperson previously said that accusations that Pruitt mismanaged taxpayer funds were from "disgruntled employees."
Among the new allegations made by Chmielewski:
Pruitt had one aide "act as [his] personal real estate representative, spending weeks improperly using federal government resources and time to contact rental and seller's agents."
He had aides seek to get a $100,000-a-month contract for a private jet rental, a cost that would have greatly exceeded his annual $450,000 annual travel budget. Chmielewski said he was ultimately able to stop the contract.
Pruitt, according to Chmielewski, designed his schedule around places he wanted to visit, and then would tell staff to justify the destination after the fact. The letter said he would give orders to "'find me something to do [in those locations]' to justify the use of taxpayer funds." This would often involve flying to Pruitt's home state of Oklahoma for long weekends, Chmielewski said.
What's more, Chmielewski alleged, Pruitt would make staff book flights on Delta in order to get personal frequent flier miles using government funds.
There are also numerous allegations about the EPA chief's hotel spending. Among them is the charge that Pruitt stayed in the nicest hotels, resulting not only in costs that exceeded the government's per diem limit, but bills that exceeded the 300 percent per diem cap that was only allowed in "exceptional circumstances."
Pruitt is also accused of refusing to stay in Australian and Italian hotels that were recommended by the U.S. Embassy because of security concerns, instead demanding to stay at more expensive hotels that required even more taxpayer funds to pay for additional security.
Pruitt is said to have punished his chief of staff for raising concerns about his travel costs by texting him that he was not allowed at meetings in which travel was planned.
Pruitt did share some of the luxury with his staff, Chmielewski said, including flying top aide Samantha Dravis first class on a return flight from Morocco "even though there was no legal justification for her to do so."