Scott Pruitt Denies Telling Trump to Fire His 'Friend' Jeff Sessions So He Could Become Attorney General
Environmental Protection Agency Administrator Scott Pruitt has denied a report that he asked President Donald Trump to get rid of Attorney General Jeff Sessions so he could take over his job.
Hitting back at CNN's Tuesday story that suggested Pruitt made a direct appeal to the president to fire Sessions, offering to stand in for 210 days under the Vacancies Reform Act, the head of the EPA said he wanted "nothing more" than to see his friend Sessions succeed.
"This report is simply false. General Sessions and I are friends and I have always said I want nothing more than to see him succeed in his role," Pruitt said in a statement reported by Politico, having earlier told Fox News that the CNN report was "100 percent false—could not be further from the truth."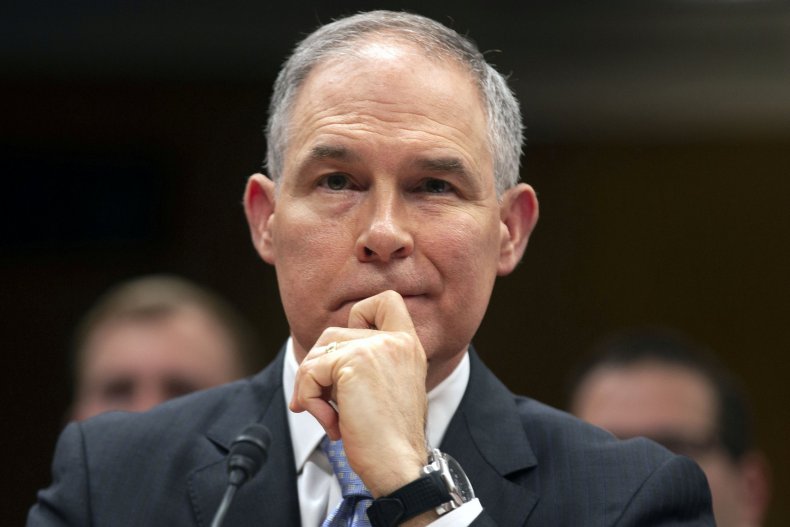 CNN said the EPA initially refused to comment on its report on Pruitt, who has faced criticism in his role at the EPA and is currently the subject of at least 14 federal investigations.
In a statement to CNN, the EPA initially said it would "not be commenting on anonymous sources who are working to distract Americans from the Trump Administration's accomplishments on regulatory certainty and environmental stewardship."
The report came following allegations that emerged Monday suggesting that Pruitt may have kept private calendars separate from official calendars to keep meetings with industry representatives secret. On Tuesday, reports also alleged that the EPA chief asked staff to use personal credit cards when paying for hotel rooms, with one staff memer reportedly not getting reimbursed.
"The reports are troublesome," deputy White House press secretary Hogan Gidley told Fox News.
"It's something we're taking a look at—if we have something to announce, we'll let you know.
"We've been very clear the reports that have come out are something he's [the president] concerned about. Pruitt has done a good job at deregulating the economy," he added.
Criticism of Pruitt does not seem to have diminished the president's confidence in him, with Trump batting away questions last month about whether he would consider firing Pruitt.
"I'm not happy about certain things, I'll be honest," CNN reported Trump saying at the time. "I'm not happy about certain things. But he's done a fantastic job running the EPA, which is very overriding. But I am not happy about it."