Scott Pruitt, the administrator of the Environmental Protection Agency (EPA), is under scrutiny from several government bodies for his conduct in office—and a Virginia congressman calling for his ousting wants people to know about the investigations.
"Scott Pruitt is now surrounded by a historic level of scandal. This is what happens when Congress drops its oversight responsibilities over the administration of a president who shows historic contempt for ethics and norms. Every day that Pruitt stays on the job is an embarrassment to the country," Representative Don Beyer said to Newsweek via email.
Beyer is the vice ranking member of the House Committee on Science, Space, and Technology, and the ranking member of its Subcommittee on Oversight. He was one of the first congressmen to officially call for Pruitt's ousting last month.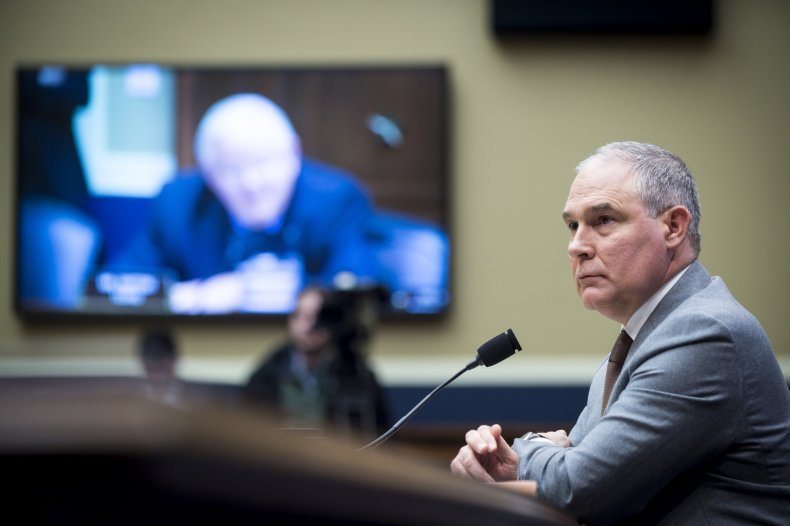 "As he has done over and over again, he showed contempt for transparency, ethical guidelines and the public interest. Pruitt must resign. If he refuses to do so he should be fired immediately," Beyer said in a March press release.
When asked about the ongoing scandals and calls for his resignation, EPA spokesman Jahan Wilcox told Newsweek in a statement that Pruitt was focused on his job.
"From advocating to leave the Paris Accord, working to repeal [Barack] Obama's Clean Power Plan and [Water of the United States], declaring a war on lead and cleaning up toxic Superfund sites, Administrator Pruitt is focused on advancing President [Donald] Trump's agenda of regulatory certainty and environmental stewardship," said Wilcox.
The U.S. Government Accountability Office (GAO) deemed this week that Pruitt had violated the law when he installed a soundproof booth for private phone calls that cost $43,000. The GAO said that the purchase, as it cost over $5,000, needed prior notice given to Congress. After the GAO's assessment, the White House's Office of Management and Budget said that they would be investigating the incident.
The EPA's own Office of Inspector General, an in-house watchdog, is looking at the cost of Pruitt's travel and expenditures on a 24-hour security detail.
The House Oversight Committee is investigating Pruitt's travel and housing arrangements in Washington. Pruitt had been renting a condo in the capital for $50 a night, when he stayed there, from the wife of the head of a lobbying firm, according to The New York Times.
Senate Environment and Public Works Committee Chairman John Barrasso, a Republican, joined other Senators this week in questioning whether Pruitt was complying with Freedom of Information Act requests. The EPA has said that it replies to all requests.