Scott Pruitt Told Donald Trump He Is President Because of 'God's Providence' in Resignation Letter
Scott Pruitt resigned as the head of the Environmental Protection Agency Thursday, blaming "unrelenting attacks" on him and his family in a letter to President Donald Trump. Pruitt has been the subject of continued ethics scandals over a number of months but the president had previously stood by a man who had overseen his administration's rolling back of Obama-era environmental regulations.
"It is extremely difficult for me to cease serving you in any capacity, but also, because of the transformative work that is occurring," Pruitt wrote in his resignation letter to the president. "However, the unrelenting attacks on me personally, my family, are unprecedented and have taken a sizable toll on all of us."
Pruitt is the subject of 14 separate federal probes into his alleged misconduct and misspending. Among the allegations against Pruitt are his use of first-class air travel and enlisting EPA staff for personal matters, including getting his wife a job at Chick-fil-A. He was also found by the Government Accountability Office to have violated federal spending law when purchasing a $43,000 soundproof phone booth in his office.
Yet, in tweets announcing Pruitt's resignation, Trump said the former Oklahoma attorney general had "done an outstanding job." Trump added that he "will always be thankful to him for this."
Pruitt was equally complimentary of the president in his resignation letter, stating that God both led Trump to the White House and him to serve in Trump's administration.
"My desire in service to you has always been to bless you as you make important decisions for the American people," he wrote. "I believe you are serving as president today because of God's providence. I believe that same providence brought me into your service. I pray as I have served you that I have blessed you and enabled you to effectively lead the American people. Thank you again Mr. President for the honor of serving you and I wish you Godspeed in all that you put your hand to."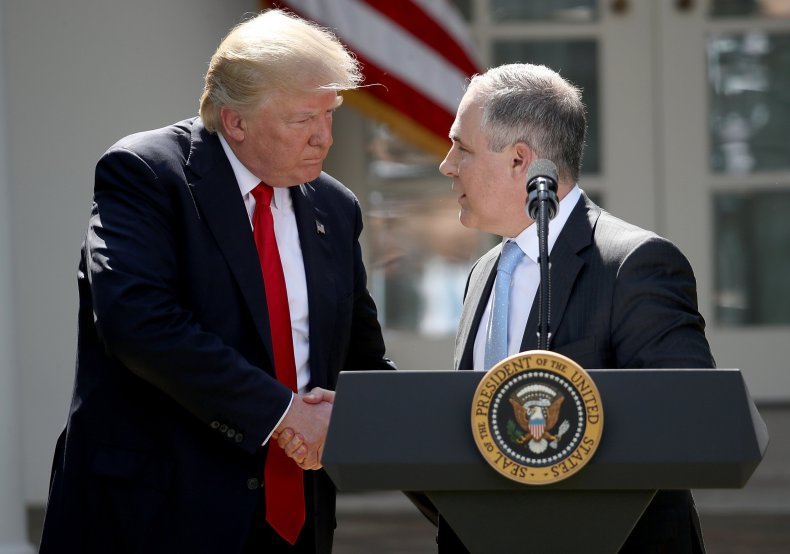 The praise for Pruitt was far from universal. In a statement, independent Senator Bernie Sanders said: "Scott Pruitt was the worst EPA administrator in the history of the agency." He added that he "will do everything possible to see that the next EPA administrator actually believes in environmental protection."
Pruitt's former deputy Andrew Wheeler has been put in temporary charge of the agency. He is a former coal lobbyist.