Pruitt Directly Oversaw Efforts to Erase Climate Change Info from EPA Website, Emails Reveal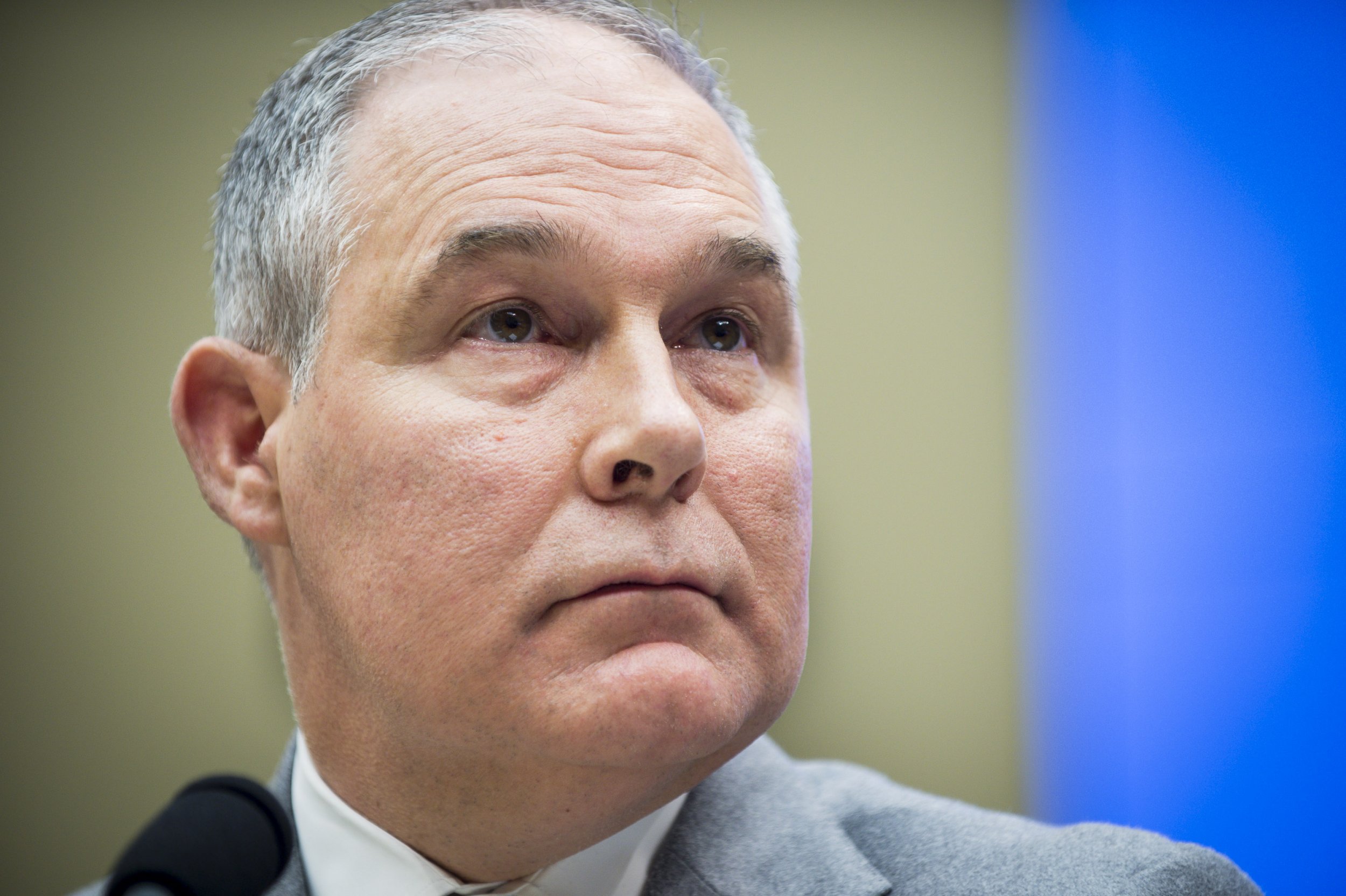 Recently released emails reveal that Environmental Protection Agency Administrator Scott Pruitt personally oversaw efforts last year to strip information on climate change from the agency's website.
Internal messages sent in April 2017 show that newly appointed EPA leaders directed staffers to make key changes to the epa.gov website. Edits ordered by Pruitt demanded that data on climate change and the Obama-era Clean Power Plan to be stripped away.
The emails were released following a Freedom of Information Act (FOI) request filed by advocacy group Environmental Defense Fund (EDF).
John Konkus, EPA deputy associate administrator for public affairs and a former Republican campaign staffer, emailed agency workers on April 1—a Saturday evening—demanding that they "start building an updated page for the clean power plan ASAP with the goal of having it go live sometime on Monday."
"Is there any way we can get a little time put in on this project over the weekend so that we're off on the right foot on Monday morning?" he asked.
The rushed orders came four days after President Donald Trump signed an executive order on energy independence, initiating the process of withdrawing the Clean Power Plan as well as a number of other environmental regulations. The plan aims to reduce carbon dioxide emissions from electrical power generation by 32 percent by 2030, relative to 2005 levels.
Pruitt ordered edits that would modify search results for "Clean Power Plan" to link to a page promoting Trump's executive order, with a photo of the president and the EPA administrator posing with coal miners.
"How close are we to launching this on the website?" Lincoln Ferguson, EPA senior adviser for public affairs, wrote in one email to staffers. "The Administrator would like it to go up ASAP. He also has several other changes that need to take place."
Under Pruitt, the EPA officially started its repeal of the Clean Power Plan last October.
Related: Did EPA chief Scott Pruitt violate propaganda laws to revise Clean Water Rule?
Pruitt had previously served as Oklahoma's attorney general and repeatedly sued the EPA to prevent the enforcement of strict environmental regulations—while collecting donations from leaders in the oil and gas industry. He has openly questioned climate scientists' assertions about the role man-made carbon emissions from burning fossil fuels play in causing climate change.
Trump has also repeatedly expressed skepticism about climate change. In a recent interview with British journalist Piers Morgan, he conflated global warming—the rise in the temperature of the Earth's surface—with climate change, the altering of the world's climate caused by a rise in carbon dioxide levels.
"There is a cooling and there's a heating," the president told Morgan. "I mean, look, it used to not be climate change, it used to be global warming. That wasn't working too well because it was getting too cold all over the place."
According to the National Oceanic and Atmospheric Administration, 2017 was the warmest year on record. Despite that, in December 2017 the Trump administration dropped climate change from a list of threats to U.S. national security.
"You can tell him we have already mocked it up, and are just finishing up. Should happen this week," EPA Associate Administrator for Public Affairs J.P. Freire responded.
"Just asking because he is asking," Ferguson fired back.
More than 200 webpages covering information on climate change have been removed from the epa.gov website over the past year, according to the Environmental Data and Governance Initiative. The initiative tracks changes made to thousands of government websites.
Other pages on the EPA's website have been altered to omit references to climate change and global warming, it added.
"Anyone valuing the idea of democratic policymaking should demand that public Web resources relevant for regulations should remain readily accessible to the public," the initiative said in a statement.
Announcing the findings of its FOI request, the EDF said that the "website purge at EPA made it harder for the public to access vital information about climate change and public health. It also stymied the public's ability to engage in democratic processes."
The EDF continued, "The website purge reinforces serious concerns that Pruitt has predetermined that he will repeal the Clean Power Plan and the current rulemaking process is a sham. Instead of listening to the public with an open mind, these emails suggest that Pruitt is personally and directly thwarting meaningful public participation."
The EPA did not immediately respond to a request for comment.