Why Did Scott Pruitt Resign? His 5 Biggest Scandals as Head of the EPA
Environmental Protection Agency chief Scott Pruitt resigned Thursday amid a number of scandals alleging corruption, nepotism and unprofessional behavior by the former Oklahoma attorney general.
Pruitt's resignation was announced by President Donald Trump over Twitter.
"I have accepted the resignation of Scott Pruitt as the Administrator of the Environmental Protection Agency. Within the Agency Scott has done an outstanding job, and I will always be thankful to him for this. The Senate confirmed Deputy at EPA, Andrew Wheeler, will on Monday assume duties as the acting Administrator of the EPA. I have no doubt that Andy will continue on with our great and lasting EPA agenda. We have made tremendous progress and the future of the EPA is very bright!" the president said in a pair of tweets.
Despite Trump's praise, Pruitt's departure follows a number of embarrassing stories and reports about his work at the EPA, which included wild spending, efforts to land his wife a high-paying job by using his powerful office and questionable practices.
In his resignation letter, Pruitt cited the "unrelenting attacks on me personally" as his reason for stepping down.
Here are five of the biggest scandals involving Pruitt that eventually led to his ouster. Pruitt was facing 14 investigations into his ethics and practices while in office.
Trying to Get His Wife a Chick-fil-A Gig
In one of the more high-profile accusations, Pruitt reportedly tried to use his political influence to smooth the way for his wife, Marlyn. Pruitt was having trouble covering expenses for both his home in Oklahoma and in Washington, D.C., and he was eager for his wife to start bringing in income. Pruitt had a former scheduler set up a meeting between him and Chick-fil-A CEO Dan T. Cathy in May of last year. Ultimately the meeting never happened, and the fast-food chain said Pruitt's wife never did attain a franchise.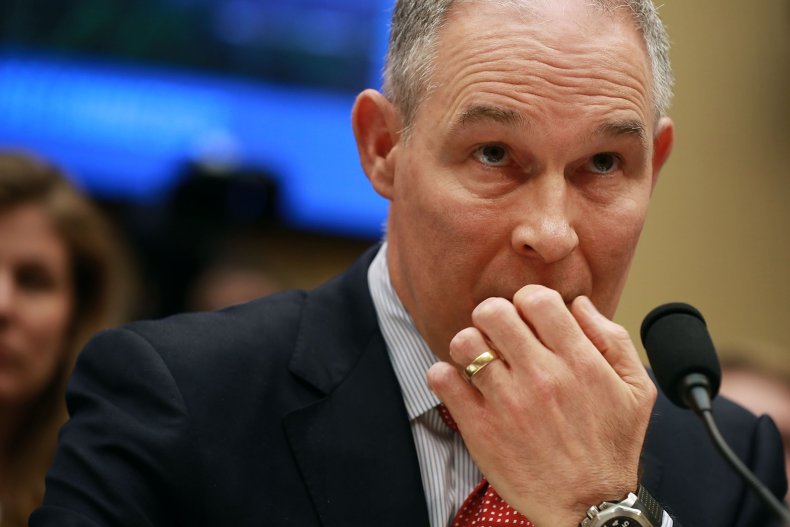 Delete the Meetings
A former aide to Pruitt questioned his alleged practice of deleting meetings from his public calendar retroactively and claimed she was fired for questioning this practice, The New York Times reported Thursday. The actions may have been illegal, and Pruitt's chief of staff claimed the former aide's attack was "not correct."
Stiff the Staff
Perhaps as an example of his apparent money troubles, Pruitt reportedly had tasked an aide to pay $600 for a hotel during the transition and never paid her back. Pruitt also tried to help his wife land a job that would pay her more than $200,000 annually.
$43,000 for a Phone Booth
Last year, Pruitt had the hefty-priced soundproof phone booth installed in his office, leading to his spending being questioned by the Government Accountability Office. Officials are normally granted $5,000 to refurbish their offices, but Pruitt spent $25,000 on the phone booth and an additional $18,000 on installing it.
Renting From a Lobbyist
Pruitt perhaps caused his biggest stir when he stayed at a D.C. condo and paid lower-than-market-value rent to the owner who just so happened to be a lobbyist. The same lobbyist also asked Pruitt's chief of staff to see if a family friend of his could be hired by the EPA.