Scott Walker, Other Governors Wary of Medicaid Cuts in Obamacare Repeal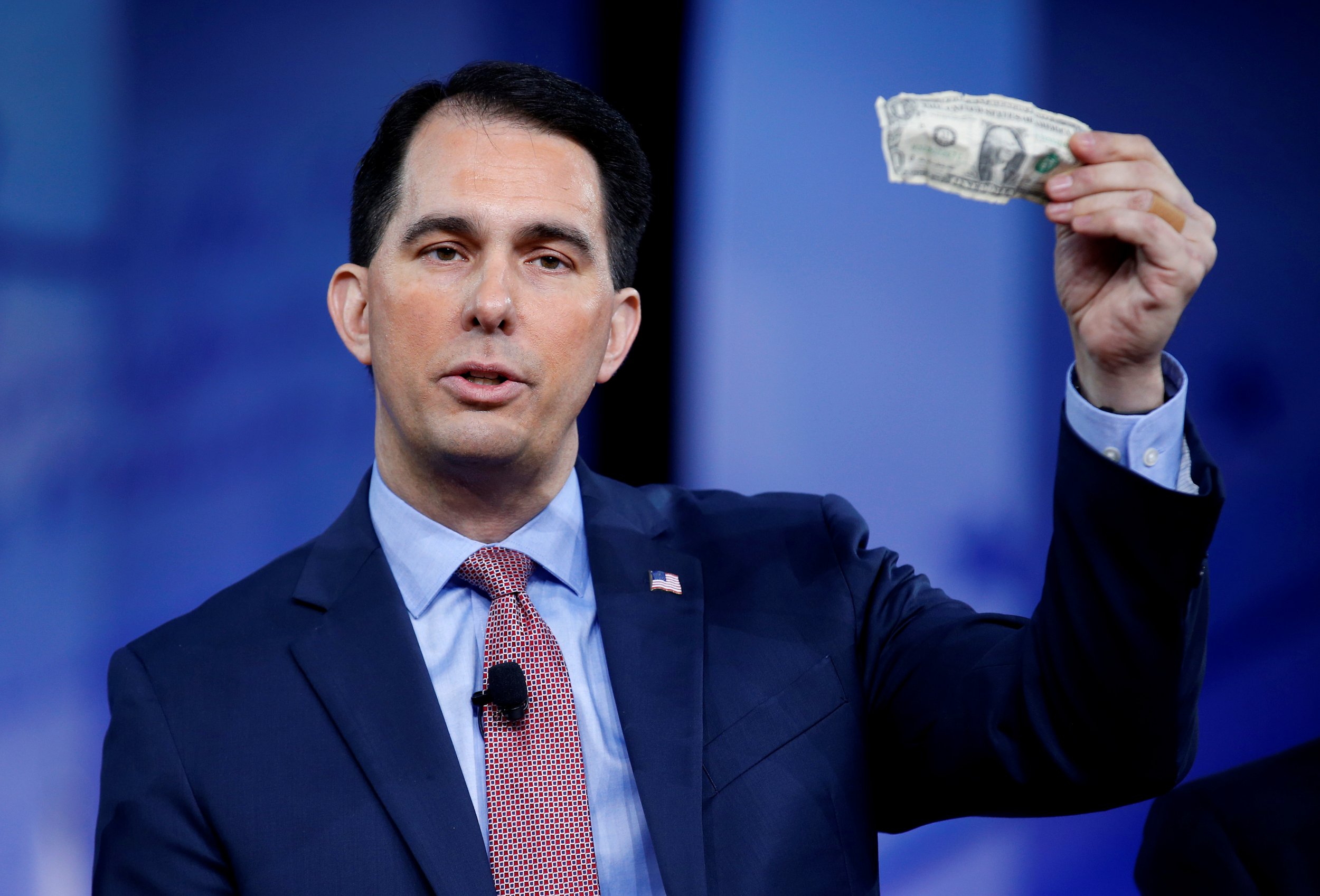 Updated | It was not a statement one would expect to come out of the mouth of one of America's most vocal enemies of "big government" and public sector spending. "You can't cut Medicaid, there's just no way about it," Wisconsin Governor Scott Walker said Friday, reflecting the reality many top state executives are facing when it comes to the pending health care overhaul in Congress.
Related: Red states with Medicaid expansion have favorable view of ACA
The health program, which provides federal matching funds to states to cover low-income children, adults and seniors, as well as the disabled, is "the biggest growing part of most states' budgets," Walker said at a Washington Post event in downtown Washington. Governors want to help Republicans restructure Medicaid and "slow...the growth curve" in costs, he said. Simply slashing federal funding, however, would put more of a burden on state governments, who have a base of people who rely on Medicaid funding. (Walker's office did not immediately respond to a request for further details about his preferences for reforming Medicaid.)
The Wisconsin governor isn't the only conservative suddenly embracing federal Medicaid funding. The Kansas House, which has a Republican supermajority, voted Wednesday to accept Obamacare funding to expand its Medicaid program. The state's GOP governor, Sam Brownback, opposes the bill.
Under Obamacare, states can choose to take additional federal funds to expand Medicaid. Already, 31 states have done so (Kansas would make 32), which accounts for roughly half of those newly insured under the 2010 health law, known formally as the Affordable Care Act. Nearly half of those states are now run by Republican governors.
Those GOP leaders are now walking a fine line in how they approach the Obamacare debate, and the future of Medicaid in particular. Arkansas Governor Asa Hutchinson represents a state that has formulated its own expanded version of Medicaid, covering over 300,000 more people than before Obamacare was passed. And while Hutchinson would like to reduce the eligibility to federal poverty levels (rather than 138 percent of the federal poverty level, as the Obamacare expansion requires) and add work requirements for able-bodied beneficiaries, he also wants to continue funding the program. Speaking at an event hosted by Politico, Hutchinson said the program can't be reformed "if you don't resolve the funding side first."
"You've got to have confidence that the funding and the federal partnership is going to be there in the coming years," he continued. In Arkansas, Hutchinson's Democratic predecessor expanded Medicaid with the promise that it would be fully covered by the federal government for three years and then at 90 percent after that. "I don't think you can then tell the states, Well, we changed our minds, we don't want to do 90 percent.... That's the first debate that has to be resolved."
Wisconsin, on the other hand, did not take the expansion money, but Walker noted Friday that the state's Medicaid program has still been able to expand coverage to everyone living in poverty. It did that, however, by transitioning less-poor people off Medicaid and into the Obamacare marketplaces, PolitiFact points out. And Wisconsin and other states that did not take the expansion money still receive billions of dollars from the federal government for traditional Medicaid enrollees. In other words, expansion states may be hit harder by major changes to Medicaid funding, but all 50 states are bound to be affected.
Walker, Hutchison and other governors are calling for state leaders to be "at the forefront of helping shape the reform," as the Wisconsin governor phrased it, since they are the ones administering the program. It's something they're pressing federal officials on as they convene in Washington beginning Friday for the National Governors Association annual winter meeting.
On Friday, the governors lunched with Vice President Mike Pence in between their public appearances. And Ohio Republican Governor John Kasich, a defender of the Medicaid expansion, met one-on-one with President Donald Trump later Friday afternoon. Afterward, Kasich told reporters he was "very optimistic...that the president heard, you know, my concerns about the Affordable Care Act and what we do to change it."
All the governors will have a White House meeting with Trump on Monday morning, followed by briefings on health reform with Republican and then Democratic members of Congress in the afternoon.
House Speaker Paul Ryan has promised to unveil a plan to "repeal and replace" the law in the coming weeks, once Congress returns from its current recess. A leaked draft of that plan, published Friday by Politico, proposes eliminating the Obamacare expansion and turning Medicaid into a "block grant" program, which would cap the amount of money the federal government provides to states for the coverage but gives them more flexibility on how to spend it. According to the Kaiser Family Foundation, a health care think tank, that could mean cuts in federal funding by limiting "growth to a preset amount" rather than matching state costs as they rise, as the current system does.
Such proposals are likely to face pushback from governors, even Republican ones, who are more likely to favor a proposal from Senate Republicans that would continue funding the Medicaid expansion for states that want to keep it. The congressional plan should give "maximum flexibility to the states," Hutchinson urged Friday. "Some states will want block grants, some states won't want block grants.... You can have different decisions in the states, and there's nothing wrong with that."
In New Hampshire, which has also expanded Medicaid, newly installed Republican Governor Chris Sununu acknowledged that residents have seen "some great benefits." Sununu said at the Politico event that the idea of block grants "sounds good, but you have to make sure the states with those block grants have actual, true flexibility, true control to design their own systems."
Walker was also ambivalent about the block grant approach. "To me, you could have something even short of that," he said, "as long as it doesn't set states up for failure." That's a huge caveat.
This story has been updated to include comments made by Governors Hutchinson and Sununu and the details of the leaked draft of the House Republicans' Obamacare repeal proposal.