Scott Walker Plans to Approve NBA Arena With $250 Million in Taxpayer Money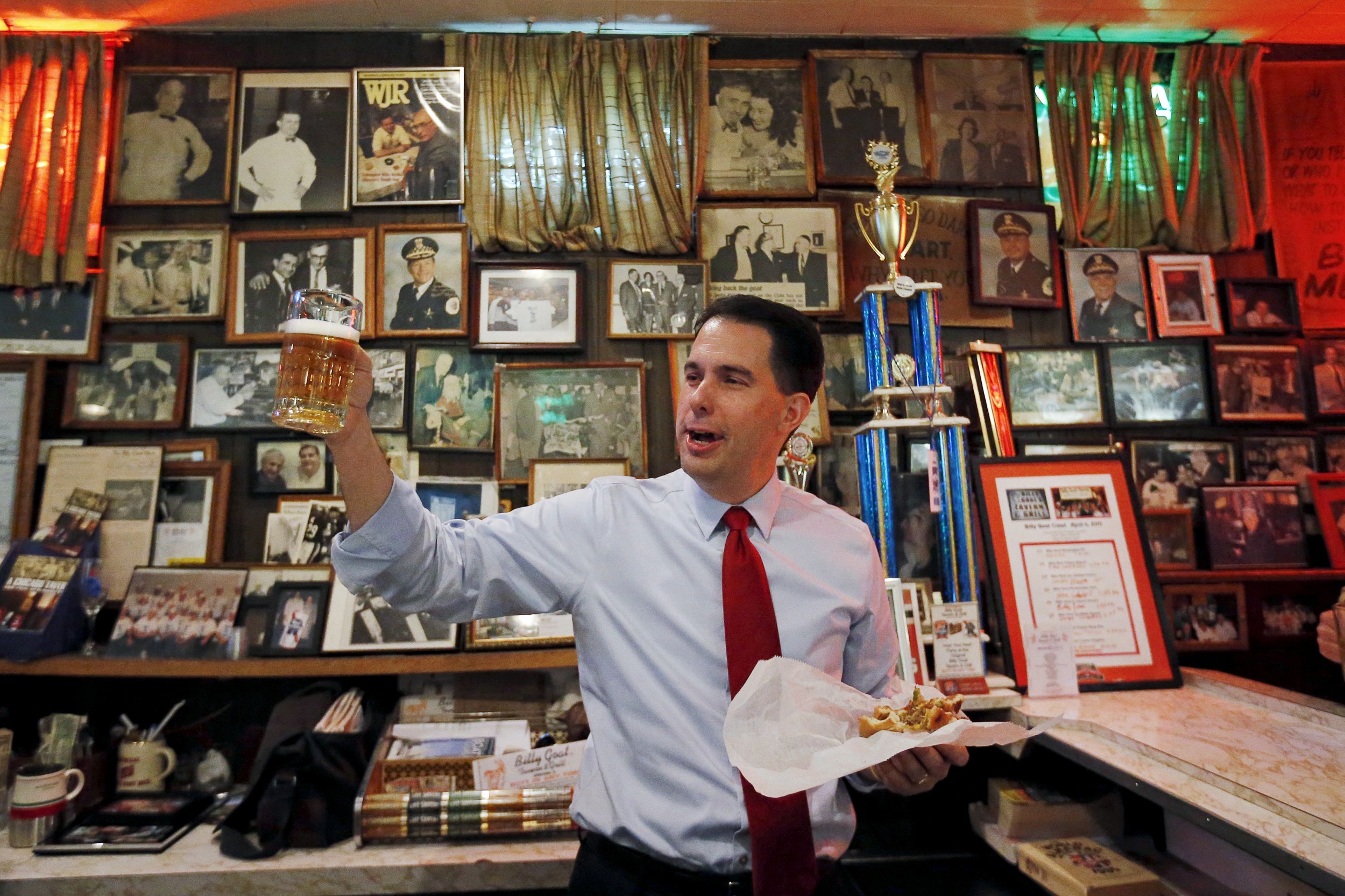 Wisconsin Governor Scott Walker, a high-profile Republican presidential candidate, plans to sign a bill approving the construction of a new NBA basketball arena for the Milwaukee Bucks, according to an ESPN report earlier this week. The catch: The stadium will use $250 million in taxpayers' money. The law was passed by Wisconsin lawmakers on July 28, with votes in favor from both political parties, the report said.
In the past, Walker has come out strong on the record against tax increases. Speaking at a New Hampshire rally in March, he was quoted saying, "I think putting more money back in the hands of the hardworking taxpayers, which is your money to begin with, is a much better way to grow the economy than through government so-called stimulus, which has a much lower rate of return than it does if you and other job creators have that money out there."
If you tuned into Thursday night's GOP presidential debate, you may have heard candidates like Mike Huckabee and Chris Christie touching on the issues of fair taxation and Social Security. Tax rates, entitlements and their relationship to economic growth are a perennial topic during election cycles, especially for the GOP. Walker has said that the new arena will not lead to "new taxes" and defends it as a way to "protect an existing revenue stream [the NBA franchise] and not add a new state liability for state government."
That's a hard message for many sports fans when it comes to team ownership. In 2014, ESPN reported that hedge fund owners Wesley Edens and Marc Lasry had bought the team for $550 million. The price tag shocked commentators, partially because the Bucks have been a fringe playoff team for most of the 2000s, and partially because the NBA experienced a lockout in 2011. During the work stoppage, owners across the league claimed that team revenues and franchise values were plummeting.
Further complicating the new proposal, the NBA has threatened to move the Bucks to another city if a new stadium isn't constructed for them in Milwaukee. Similar ultimatums have hovered over the Sacramento Kings and the Oklahoma City Thunder (formerly the Seattle Supersonics) for years. Proponents of new stadium construction, such as Walker, have always argued that the economic windfall from professional sports franchises is a net benefit to a community's economy. The same argument has been made for the Olympics and sports like the NFL.
But because most sports teams—including the Bucks—are owned by independent billionaires, pundits and sports fans often rail against building new stadiums with taxpayer money. John Oliver famously attacked the Milwaukee Bucks organization in a scathing segment of Last Week Tonight, which shot down arguments supporting the economic "ripple effect" caused by sports arenas.
The highlight from Oliver's segment: "No one has ever said, 'Hey—let's go hang out in the area around the stadium!'" He discusses the Bucks at 9:40:
Sportswriter Bill Simmons, who recently left ESPN amid controversy, had strong words on Twitter about the story. Simmons is known for speaking out against owners and commissioners in sports, particularly on the issue of ticket prices.
Sports teams, especially in smaller markets like Milwaukee, enjoy special loyalty from their fans. SaveOurBucks.com, a website dedicated to keeping the team in Milwaukee, encouraged constituents to contact their representatives in July, when state lawmakers voted on the stadium bill.