Republican Scott Walker Most Fears 'Authentic' Bernie Sanders Winning, Compares 'Extreme' Campaign to Donald Trump's
Former Republican Wisconsin Governor Scott Walker said Bernie Sanders is the most "authentic" Democratic candidate in the 2020 race, comparing the "extreme" Vermont senator's likability to President Donald Trump.
Walker is just the latest Republican to offer the dual-pronged critique of Sanders as undoubtedly authentic while also expressing dire concern over him potentially winning the 2020 presidential election. Speaking with The Washington Post and McClatchy in separate interviews published Tuesday morning, Walker said he is "most concerned" about Sanders winning the Democratic nomination. Walker also said he understands how the emotional "gut-check" his candidacy presents resonates with U.S. voters similar to that of Trump's 2016 campaign.
The Sanders campaign embraced Walker and other Republicans' fears, telling Newsweek Tuesday that the senator's working-class movement presents the most direct, forceful challenge to Trump's platform.
"Like Trump, people believe Bernie is fighting for them. His ideas are the most extreme, but he's authentic. He doesn't hide on the substance," Walker told the Post. "I'm most concerned about Bernie" winning the Democratic nomination, he added, "[Wisconsin voters] respond to authentic candidates."
"I worry about [Sanders] the most because I think a lot of voters, particularly in the bubble, forget it's more about a gut check than a policy list," Walker told McClatchy, comparing both Sanders and Trump's successful use of anti-establishment rhetoric and visceral campaigning. "It's a gut-check thing."
In an email to Newsweek, Sanders campaign senior adviser David Sirota said Republicans should be deeply concerned about the progressive senator's chances against Trump.
"Republicans like Scott Walker fear Bernie Sanders because they know Bernie is building a working-class movement that is most forcefully challenging Donald Trump," Sirota, also a campaign speechwriter for Sanders, remarked. "Republicans know that Bernie has a 40-year record of consistently and honestly challenging corporate greed and the billionaire class, and that means the GOP can't use their same old slash-and-burn tricks to undermine Bernie's credibility."
Walker's fears about Sanders come after a recent set of surveys conducted by Siena College and The New York Times Upshot show him deadlocked with Trump among registered voters but ahead of the president by several points in battleground states including Wisconsin. Recent national polls show Sanders, Joe Biden and Elizabeth Warren all defeating Trump in head-to-head matchups.
Walker was governor of Wisconsin from 2011 through 2019. He survived a 2012 recall election before going on to unsuccessfully compete against Trump to be the Republican Party's 2016 presidential nominee. He noted to McClatchy Tuesday that Trump needs to increase his margins among rural voters in order to win reelection.
Republicans and Democrats alike have frequently compared supporters of Trump's campaign to those who back Sanders, despite the divide in political ideology. Analysts say many Americans from both sides of the political spectrum want to "blow up the system" that they see as not working for them.
"I think the sense of anger and disaffection that comes from seeing that the numbers are fine, like unemployment's low, GDP is up," South Bend, Indiana Mayor Pete Buttigieg told New Hampshire voters in April. "It just kind of turns you against the system in general and then you're more likely to want to vote to blow up the system, which could lead you to somebody like Bernie and it could lead you to somebody like Trump. That's how we got where we are."
Trump narrowly won the state of Wisconsin against Democratic candidate Hillary Clinton in 2016, defeating the former secretary of state by less than 23,000 votes. In her 2017 post-election book, What Happened, Clinton acknowledged she was most "surprised" about losing Wisconsin. Clinton has rebuked critics who say she lost in the Midwest because she never campaigned in the state despite losing to Sanders by 14 percentage points in the April 2016 Democratic primary.
"If there's one place where we were caught by surprise, it was Wisconsin," Clinton wrote. "Polls showed us comfortably ahead, right up until the end. They also looked good for the Democrat running for Senate, Russ Feingold."
Republican Ron Johnson, who defeated Feingold in the 2016 Wisconsin race for the U.S. Senate, also said he was "surprised" by his wide margin of winning during his victory speech.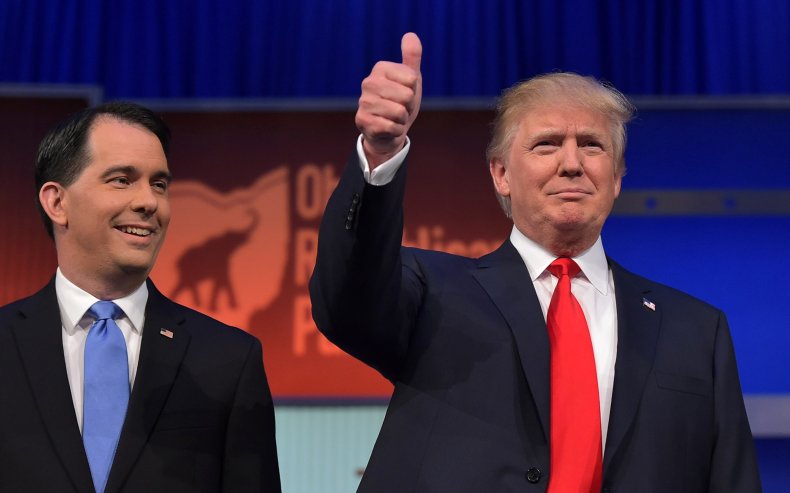 Sirota said the consistent comparisons between Trump and Sanders' 2016 and 2020 campaigns is clear evidence that the Republican Party fears a Sanders candidacy more than those of fellow Democratic hopefuls Joe Biden and Elizabeth Warren.
"Bernie and Trump are diametric opposites," Sirota told Newsweek. "Republicans like Scott Walker fear Bernie because they know that the sharp contrast between Bernie and Trump makes Bernie the strongest candidate against Trump."
Trump himself acknowledged the Sanders comparisons during the 2016 campaign, even being duped by MSNBC host Mika Brzezinski into embracing several of the fellow "insurgent outsider" policies of the Vermont senator.
"I'll tell you, there's one thing that we're very similar in," Trump replied in February 2016 after realizing Brzezinski described Sanders' policies and not his own. "He knows that our country is being ripped off big league, big league, on trade. The problem is, he can't do anything about it, he's not going to be able to do, whereas I'm going to do things."