Scottish Leader Pays the Price of Going 'Woke' | Opinion
Nicola Sturgeon, Scotland's first minister for almost a decade, ended her premiership last week amidst a scandal over a simple question of elementary-school biology. It's been quite a journey for Scotland's first female leader, who once championed the country as "a feminist place to be." More recently, Sturgeon instead championed a policy that reduced womanhood to a self-identified feeling. It cost her a great deal.
A new piece of legislation passed by the Scottish Parliament—though thus far stalled by the U.K. government—allows any person to change their legal gender based only on their personal will, without any medical diagnosis, and in very little time. The process will require "hes" to live as "shes" for only three months before the change becomes legally official; teens over 16 are permitted to make the same legal changes after six months.
Some citizens had questions. Would the change be fair for biological women in situations where sex makes a major difference, such as in sporting competitions? Scottish national treasure and domestic abuse survivor J.K. Rowling wondered whether rape crisis centers and women's prisons would be safeguarded from predatory men abusing the system. They, of course, were all labeled bigots.
"Trans women are women!" Sturgeon's government proclaimed. We had finally done away with the foolish constraints of biology. How progressive we were.
Until the ideological dream became reality.
Within a month, disturbing news broke. An individual born male, convicted of multiple counts of rape and with a record of predatory behavior towards young women in a beauty school, had decided to become a woman named "Isla Bryson." Bryson was granted a request to be housed in a women's prison, in line with self-identification.
Suddenly, everyone wondered if self-ID was really the progress for which we had been looking.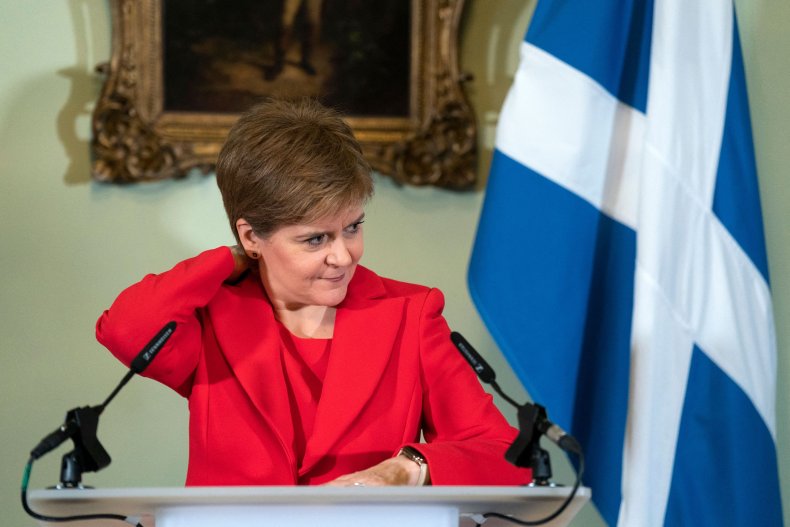 Responding to national outcry on behalf of the vulnerable inmates in Scotland's only all-female prison unit, Sturgeon was forced to make a U-turn. Bryson was in the women's jail for only 72 hours before being returned to the men's.
Bryson's attempted transfer isn't an isolated incident. A male-born individual who goes by the name "Tiffany Scott" is subject to a lifelong restriction—reserved only for Scotland's most violent and dangerous offenders—after admitting to stalking a 13-year-old girl by sending letters from jail, while still living as a man. Scott has a history of attacking female staff. Recently, the inmate's request to transfer to a woman's prison was approved. It has since been halted, again after national uproar. Female prison guards, nevertheless, have had to conduct strip searches on the violent prisoner.
"Trans women are women," Sturgeon falteringly recited in a viral interview following the media furor, nervously grappling for a way to excuse her new exceptions. "But in the prison context there is no automatic right...there [are] circumstances in which a trans woman would be housed in a male estate."
Later in the week, Sturgeon tried a new line—she "does not have enough information" to know whether Bryson is male or female. One wonders what more information could be necessary for the politicians who drove forward a law for determining gender solely through self-identification.
In reality, few Scots truly buy into the myth of pure self-ID. According to YouGov polling, almost two-thirds of us opposed the change in the law, and only around one in five supported it. Yet history-defining alterations have been made to women's safety, at the wishes of very few.
There are lessons to learn from this sorry tale. Repeating a catchy four-word slogan doesn't make it a good basis for policy. You can't call two-thirds of the electorate "transphobic" for simply having realistic concerns. And perhaps even we, in 2023, cannot mold basic reality to fit whatever current ideological trend we wish to make true.
Self-ID is a lofty idea that was never going to withstand the pressures of reality upon full implementation. Let the rest of the world take note—the Scottish government has driven gender ideology to its extreme and bitter end. One thing we can tell other countries from our experience here at the finish line is that women lose. As Sturgeon leaves her high office for a final time, she might finally be starting to see that.
Lois McLatchie (@LoisMcLatch) is a Scottish commentator and writer for ADF UK.
The views expressed in this article are the writer's own.