Scottish Leader Tells EU 'Scotland Will Be Back Soon,' Renewing Talks of Independence
In a tweet issued late Thursday night, Nicola Sturgeon, the First Minister of Scotland, suggested that her country could emerge as a nation independent of Great Britain, just as the three-nation union has finalized "Brexit", its formal disjoining of the 27-nation European Union.
"Scotland will be back soon, Europe. Keep the light on 🏴󠁧󠁢󠁳󠁣󠁴󠁿❤️🇪🇺❤️🏴󠁧󠁢󠁳󠁣󠁴󠁿" Sturgeon tweeted on Thursday near 11:40 p.m. local time.
The tweet echoed comments she had made during a November 30 virtual meeting of the Scottish National Party (SNP) of which she is the head. During her comments, she argued that Scotland should be an independent nation so it can direct its own economy and future better than the largely English-dominated union of Great Britain currently allows.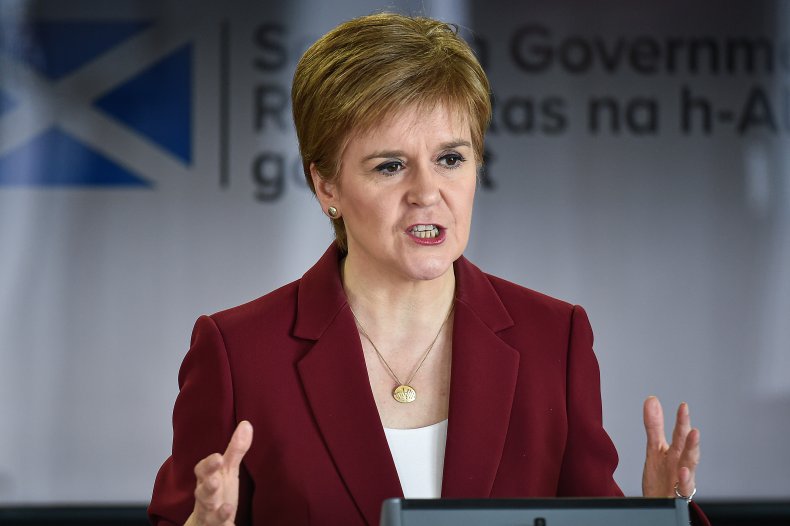 "Who do we want to be in the driving seat of shaping Scotland's future?" Sturgeon rhetorically asked in her speech. "Should it be Scottish Government of whatever party elected by the people of Scotland and with the priorities and interests of Scotland at heart, or Westminster governments that time and again we have rejected?"
In her speech, Sturgeon referred to Westminster, the bustling government area near Buckingham Palace which contains England's Houses of Parliament. The "rejected" politics she alluded to could include the 2016 Brexit vote which was largely decided by English voters.
During the 2016 Brexit referendum, nearly two-thirds of Scots voted to stay in the EU, but they were largely outvoted by England, a region that has over 11 times as many voters, according to NPR.
British Prime Minister Boris Johnson, possibly the biggest proponent of Brexit in Great Britain, has increasingly fallen out of favor with Scottish citizens. In mid-November, Boris criticized Scotland's handling of the virus, saying it was a mistake for previous English administrations to grant Scotland more self-governance, according to The Guardian.
His comments struck a sour note as England has had over 2 million cases and 63,298 deaths and Scotland has only had over 125,000 cases and 4,510 deaths.
Concurrently, Johnson's approval ratings during the pandemic have been in drastic decline. In April, when coronavirus lockdowns began across Great Britain, Johnson's approval was polling at 66 percent, according to the polling firm YouGov. As of December 20, his approval has declined to 34 percent.
Recently, 15 polls have shown that a majority of Scottish voters support leaving Great Britain. That's in contrast to 2014 when Scottish voters voted against leaving the union by a margin of 55 percent to 45 percent.
If the SNP wins a majority of government seats in Scotland's upcoming May 2021 elections, it's thought that the party will hold a second referendum asking Scots whether they'd like to split from Great Britain.
Johnson has said that he would oppose such a split, stating that the union makes both countries economically stronger and more capable of weathering the pandemic, but Sturgeon and Scottish voters apparently disagree and may soon have the votes to prove it.
Newsweek contacted Sturgeon's office for comment.