Salmond Challenges PM to New Showdown After Debate Victory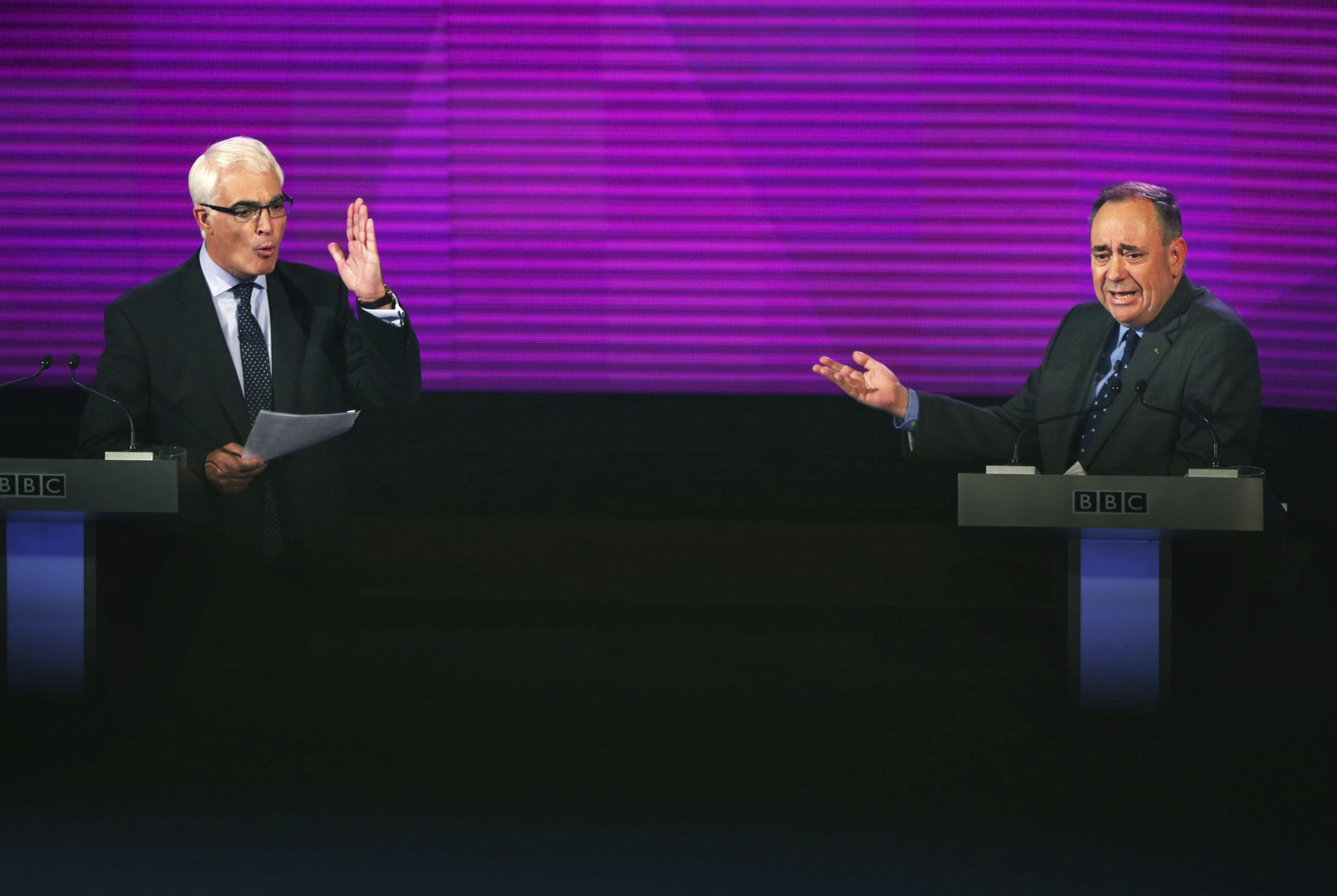 Alex Salmond, the leader of Scotland's pro-independence Yes campaign, issued a last-minute challenge to British Prime Minister David Cameron to a late debate on Scottish independence, with only three weeks to go until polling day on 18 September.
The move follows polls indicating a strong showing for Salmond in last night's second televised debate with Better Together campaign leader Alistair Darling.
"Now that Alistair Darling is taking part in no further debates, let's have the real leader of the No campaign, David Cameron, let's have him in Scotland now," Salmond told Sky News this morning.
Last night's debate was initially billed as the final televised debate between the campaigns on either side of the Scottish independence, but buoyed by his success Salmond challenged Cameron to represent the 'No' side in a third showdown.
A snap poll by ICM revealed 71% of Scots in the sample felt Alex Salmond had come out on top in the yesterday's debate between him and Darling.
According to the poll only 29% of viewers felt Darling had won the debate.
After questions about an independent Scotland's currency proved his stumbling block last time, Salmond presented several currency options for Scotland should it lose the pound and pressed Darling into admitting that the remainder of the union couldn't prevent Scotland using the pound if it was independent.
Even though the poll indicated a comprehensive victory for Alex Salmond as with 54% of viewers voting he had a more appealing personality than Darling and 56% feeling Salmond had presented better arguments than his opponents, support for the Yes campaign remained unchanged after the debate.
44% of voters intended to vote for independence prior to the debate and the number remained constant in the snap poll after the debate's end.
David Cameron has previously rejected the chance to meet Scotland's first minister in a public debate. With a UK parliamentary election in May next year, Cameron's chances of leading the Conservatives are tied to Scottish independence, John Curtice, Political Science Professor at Strathclyde University told Newsweek.
"I would be very surprised to see Cameron standing in the May 2015 elections if the Yes campaign wins and he becomes the Prime Minister who lost the Union," Curtice says.
"Polls have been bouncing up and down and the last few have raised the possibility that the Yes campaign could triumph, however just because viewers thought Salmond put in a good performance does not mean they will vote Yes," adds Curtice.
"There is a fundamental difference between elections and referendums," Curtice says. "In an election part of the vote is for the candidate in front of you. Men and women get elected. This makes it easier to shift the numbers after a televised debate. In a national referendum this is much more difficult."
"This is a debate that has been had in Scotland for over 40 years and it is an issue everyone in the country knows about," he said.
Even at this late stage in the campaign, some were calling for a change of leadership. Respect MP George Galloway, a vocal opponent of independence, took to Twitter recommending himself, among others: "Urgent: Tell the leaders of the No campaign; better put me, Gordon Brown, Jim Murphy, Helen Liddle and John Reid as the head of this campaign. Quick."