U.K. 'Super Thursday' Elections: What Is Behind The Rise of Scottish Toryism?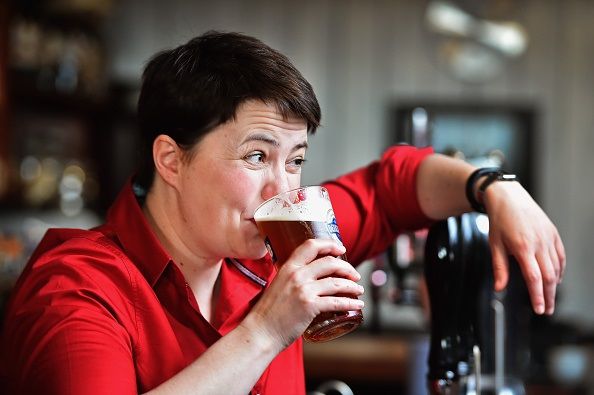 The usual phrases are being rolled out—"seismic shift," "historic upset" and, of course, "shock win"—as pundits try to describe the Conservative Party's resurgence in Scotland.
There is some justification for deploying these political clichés. With results in for the elections to the Scottish parliament—one of a series of polls that took place across the U.K. on Thursday—Labour has been pushed into third place, a result that sees their right-wing rivals, led by charismatic leader Ruth Davidson, installed as the official opposition.
This is an historic fightback for a party that has endured years of political oblivion north of the English border. Not since 1910 has Labour finished third in Scotland. Davidson led the way, grinning broadly after her unexpected win on Thursday night in Edinburgh Central—a seat she took with a huge swing against Labour and the Scottish National Party (SNP) after her party came in fourth place in 2011.
Visibly ecstatic after the result was announced, Davidson told those present at the election count in Edinburgh's Highland Hall that voters across Scotland were "sending a message" to the SNP—which has won an unprecedented third term despite falling two seats short of a majority—that "the decision we made as a country will not be ignored."
In the end, the Tories secured 31 seats—seven more than Labour. This is the party's best ever Scottish parliament result and will be viewed by political pundits as an endorsement of Davidson's leadership. The 37-year-old, who has been tipped as a future U.K. Conservative Party leader, embodies a more modern strain of conservatism and is skilled at masterminding unorthodox photo opps—she was memorably pictured driving a tank and staring lovingly into the eyes of a trout during last year's general election campaign.
So, how did the once toxic Tories pull off this surge? The answer lies in the party's move to paint its members as patriotic unionists able to shoot down any attempt by the SNP leader Nicola Sturgeon to hold a second independence referendum. The political divisions from the September 2014 referendum—when 55 percent of Scots voted to stay in the U.K.—have yet to heal in Scotland.
Scottish Labour has taken the greatest hit, losing 40 seats in the general election last May. The once-dominant party shed scores of left-wing voters to the SNP, which adopted a populist anti-austerity stance, and was left, humiliated, with just one MP in Scotland.
But the Scottish Conservatives didn't fare much better in May, which makes today's results even more of a surprise. Then, they also returned just one MP—the Scottish Secretary David Mundell, who was among the first to deploy the "seismic shift" claim on Friday morning.
Despite claims by supporters of U.K. Labour leader Jeremy Corbyn that his more socialist politics would reinvigorate the Scottish party's fortunes, but there has been little evidence to back that up, with Labour insiders reportedly telling the Guardian before the election that the party was " utterly f***ed" in Scotland. It is certainly deeply confused, with internal splits over issues such as the renewal of the Trident nuclear defense program and even independence.
Meanwhile, the SNP has ruthlessly focused its efforts on polishing off its left-wing opponents, giving the Tories space to forge a coherent, nationalist identity of their own that pivots around the one-woman personality cult of Davidson, the party's first openly gay leader. Could she be the Conservative's modern Maggie, one day leading the party in the British parliament? We'll see. But what is certain is that she will prove a formidable opponent to Nicola Sturgeon in Holyrood.