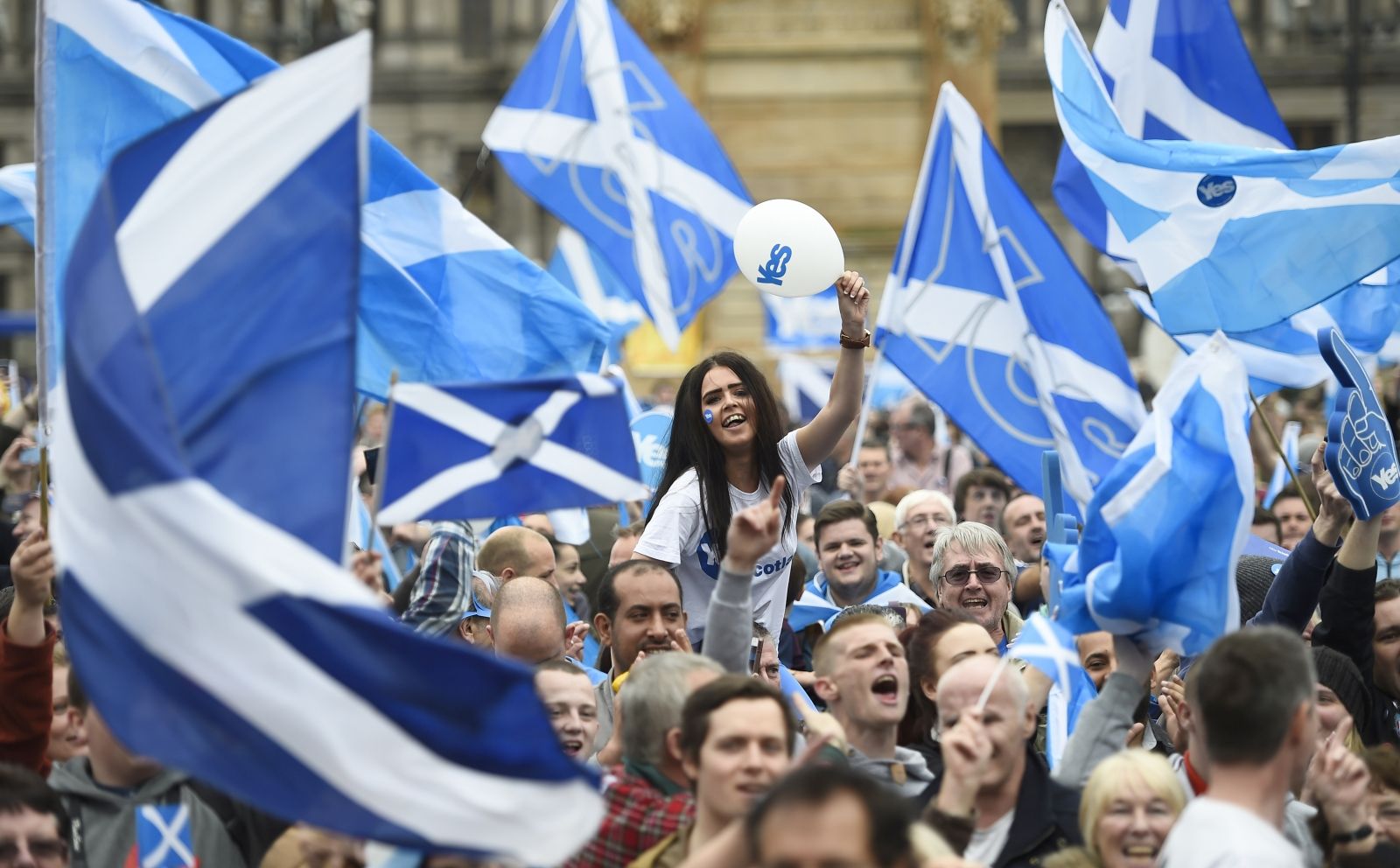 Scottish National Party loyalists are already preparing for another referendum on Scottish independence despite an election campaign during which their leaders vigorously denied any such plan.
After the SNP's sweeping gains in the UK general election last night - the party won 56 of Scotland's 59 seats - supporters of the previous Yes campaign on Scottish independence are now preparing for another vote as soon as 2020.
Conservative leader David Cameron today promised that Scotland would be given new powers to create the "strongest devolved government anywhere in the world", and insisted that the Tories would "govern as a party of one nation".
However, any idea that the question of Scottish self-determination had been settled "for a generation" is in tatters according to campaigners talking to Newsweek.
Although SNP leader Nicola Sturgeon repeatedly said during the campaign that the general election was not about another referendum on independence, former deputy leader Jim Sillars said that it would likely create a backlash if the party didn't include a commitment to another referendum in the "first line" of its manifesto for the Scottish elections in 2016.
As the only major party to be pro-independence, the SNP has quadrupled its membership since the vote, making it now the third largest party in the UK with around 105,000 members.
"The chat among the Yes movement is that it would give people time to digest why it was a No vote, and to build up the Yes campaign," says John McHarg, a member of the Yes movement in Dunblane.
McHarg is glad that self-determination had not been won by a small majority last year. "If we had won by 55%, it would have been in no way enough," he says.
"If Yes had gone through, 50% would have left [the movement]. But now people have realised that it's not a politician's game, it's our game and we have to make it work."
Student Haniya Khalid is living proof of McHarg's assessment. Although she had been a Yes supporter in the run-up to the referendum, it was the No vote that really spurred her into action.
"If it'd been a Yes vote we would have been like, 'Yeah, we can go away now, we don't need to do anything more'. It was because of the No vote that we're doing all this," said Khalid, who is now an editor at pro-independence media site Bella Caledonia.
Outside traditional politics, Scotland has seen a buzz of activity and engagement in the separatist cause, from the establishment of nationalist media like Bella Caledonia to increased civic engagement in causes like campaigns against poverty, fracking and nuclear weaponry.
Yes groups on social media have begun looking for a new date for another go at the vote for self-determination. According to McHarg, 2020 has been singled out by strategists as a good year.
Peter Geoghegan, author of The People's Referendum: Why Scotland Will Never Be The Same Again, is a little more reticent about the possibility of another referendum so soon, yet says that certain events could push Scotland towards another vote.
"It could be a long time before there is another referendum, but external factors, particularly a referendum on remaining within the European Union could change that dynamic and bring another referendum about far more quickly," Geoghegan says.