SCOTUS Denies Wisconsin Request to Count Mail-in Ballots After Election Day
Mail-in votes that arrive in the hands of Wisconsin election officials after Election Day, regardless of when the ballots were postmarked, cannot be counted in the 2020 presidential election, according to a U.S. Supreme Court ruling issued on Monday.
Democrats in Wisconsin had requested a six-day extension to the mail-in deadline of November 3. In September, a federal judge granted the request. However, the U.S. Court of Appeals for the 7th Circuit overturned that decision leading to a Supreme Court petition from the Democratic National Committee. The Supreme Court voted along party lines with the five conservative justices voting to block the extension. The three liberal justices dissented.
Justice Brett Kavanaugh, who voted to deny the extension, used the example that voters who "show up at midnight after the polls close on election night do not have a right to demand that the State nonetheless count their votes. Voters who submit their absentee ballots after the State's deadline similarly do not have a right to demand that the State count their votes."
In her dissent, Justice Elena Kagan said that blocking the deadline extension deprived Wisconsin residents of their "constitutionally guaranteed right to vote."
"As the COVID pandemic rages, the Court has failed to adequately protect the Nation's voters," Kagan wrote, adding that voters in Wisconsin "deserve a better choice."
According to data from the U.S. Elections Project, which tracks early voting, 1,344,535 people in Wisconsin have already cast their ballots.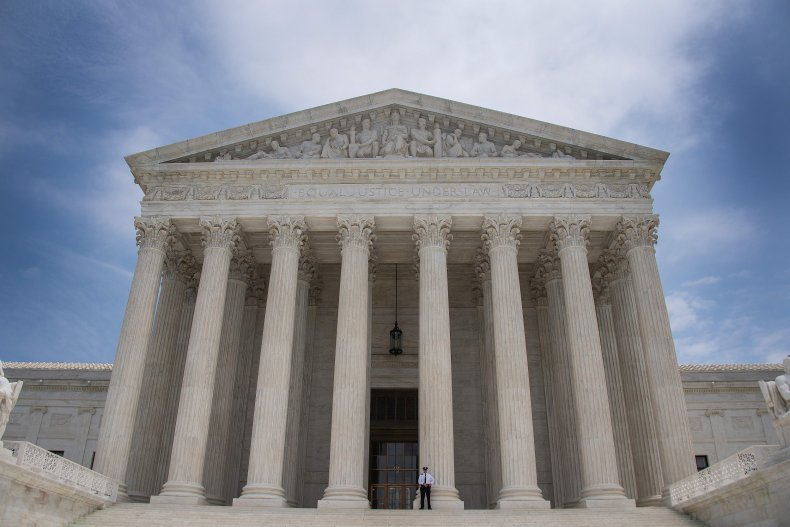 Wisconsin is seen as a battleground state in the November election. Donald Trump defeated Democratic challenger Hillary Clinton in Wisconsin during the 2016 election, marking the first time a Republican presidential candidate had won the state since 1984.
"Despite the efforts of Donald Trump, the Republican Party, and partisan Justices on the Supreme Court, voting remains easy, accessible, and convenient for Wisconsinites, and the Democratic Party of Wisconsin will double down on making sure that every Wisconsin voter knows how to exercise their sacred right to vote in the final eight days of this election," said Democratic Party of Wisconsin Ben Wikler in a statement emailed to Newsweek on Monday.
"The most powerful rebuke to Republican judicial activism is to defeat Trump and elect Joe Biden and Kamala Harris in a landslide," Wikler added.
Some Wisconsin voters have taken advantage of mail-in voting because of the threat of spreading the coronavirus at crowded public polling places. As of Monday, positive cases of the coronavirus had risen within the state. According to the Wisconsin Department of Health Services, 3,251 new COVID-19 cases were reported on Monday to bring the statewide total to 201,477 positive cases.
Democratic presidential nominee Joe Biden is expected to visit Wisconsin on Friday for a campaign visit. President Donald Trump held a rally in the state on Saturday. "If I don't win this state," Trump said, "I'm gonna come back and I'm gonna be very angry at you."
Biden is leading Trump in Wisconsin according to poll averages published by FiveThirtyEight. Biden holds 51.4 percent while Trump has 44.3 percent of voter support.