'Scream 5' trailer: All the Cameos and Easter Eggs You (Probably) Missed
Scream is back for 2022, with updated gadgets and, presumably, a whole new Ghostface causing trouble. Sidney Prescott (played by Neve Campbell) is leading the fight yet again, but she is not the only familiar face.
A whole new cast of Ghostface hunters has been brought together for this film, but some of those forced to take him on in previous movies are also back.
The new trailer for Scream has just dropped, revealing all the ways this new movie will be similar to its predecessors, and how it has been updated for the modern age.
Newsweek breaks down the cameos, Easter eggs and new cast members seen in the Scream trailer.
**WARNING: Ahead are spoilers for the trailer and the plot of Scream.**
The Cameos in Scream 5
The cast is led, again, but Neve Campbell, but there are some other returning faces from the original Scream franchise.
The first to be seen in Dewey (David Arquette) who has clearly struggled with the traumas of their past attacks from Ghostface.
After him, Courteney Cox's Gale also appears in the trailer, seemingly also shrunken back from her usual, determined self. When asked if she is ready to fight, she replies: "For this? Never."
The final recognizable face is that of Deputy Judy Hicks (Marley Shelton) who worked with Dewey, the sheriff of Woodsboro.
She was introduced in Scream 4, the movie which seemingly wrapped up the stories of Gale, Sidney and Dewey, but clearly there is another fight to be had.
The Easter Eggs in Scream 5 Trailer
New Characters
The trailer drops some major hints about the continuation of the franchise—and who Ghostface might be targeting.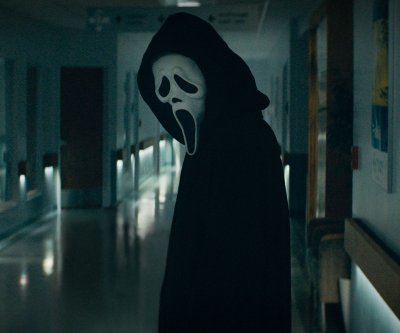 This comes, not only in the form of new characters, but also in some big plot points dropped throughout the trailer.
One thing mentioned is from Sidney, who says Ghostface is going after those related to previous Ghostfaces.
Sidney herself has connections to the previous murderers (her boyfriend Billy Loomis, her cousin Jill Roberts, her half-brother Roman Bridger, her sort-of mother-in-law Mrs. Loomis) but that will be turned up to the max with new characters.
The most obvious are Mindy Meeks-Martin (Jasmin Savoy Brown), Chad Meeks-Martin (Mason Gooding) and Wes Hicks (Dylan Minnette), whose surnames point to Deputy Judy Hicks and the dearly departed Randy Meeks (Jamie Kennedy).
Of course, Wes Hicks also takes his name from Wes Craven, the film series' creator.
The First Death
Fans will remember in the first Scream, Drew Barrymore's character Casey Becker (ex-girlfriend of the first Ghostface, Stu Macher) is brutally murdered in her home after the phone rings, taunting her.
She tries to get away, but he threatens her and forces her to stay on the phone before bringing about her death and that of her new boyfriend, Steve.
There is something very similar about this with the new version, which sees a young girl texting until her messages are intercepted by someone insisting she answers her landline.
She tries to escape, using the lock app on her phone to make sure the security in her house is on, but Ghostface has upped his game and is now unlocking doors remotely, it seems.
The first two deaths have some strong similarities, with even the same Ghostface voice back to haunt the residents of Woodsboro.
The Rules
Randy Meeks, being a major horror fan, had some important rules for his friends to follow to beat the killer.
In the second film, he gave these clearly, but after his death he appeared posthumously in a video in Scream 3, ready to provide the rules again.
In the new Scream, it seems this has been passed down to Dewey, who takes the lead in explaining to the group what they need to know to beat Ghostface once and for all.
Where It All Started
A face-off between Ghostface and Sidney was absolutely necessary in this movie, and it seems we not only get it, but we get it right where it all began.
At the end of the trailer, Sidney turns up in a house, holding a gun (of course) and ready to take down Ghostface.
The house she enters is Stu's old house, who was the original Ghostface with her boyfriend Billy.
In the original movie, much of the action takes place at a party in Stu's house, and it is where then-reporter Gale and police officer Dewey first meet and the trio begin their fight against Ghostface.
When Is Scream Out?
The new Scream movie will be released on January 14, 2022, in movie theaters.