Screen Actors Guild Awards 2019 Winners and Red Carpet: in Pictures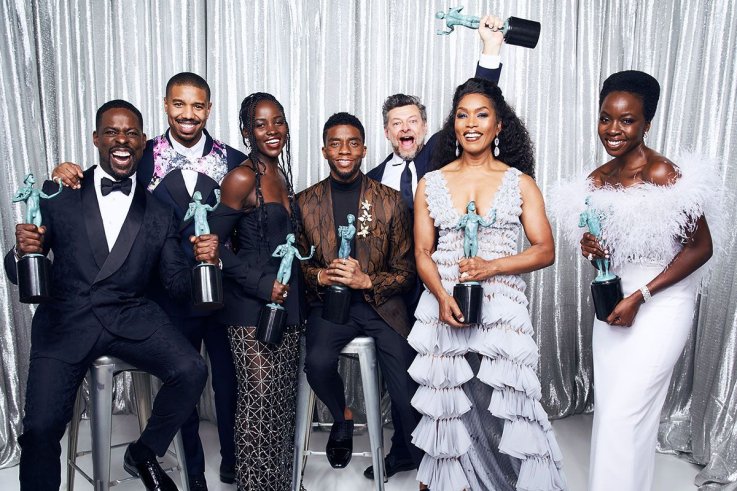 Black Panther took the top honor at the Screen Actor Guild (SAG) Awards, beating A Star is Born, Bohemian Rhapsody, Crazy Rich Asians and BlacKkKlansman to the Best Ensemble award. The win makes the superhero movie a real contender for Best Picture at next month's Oscars ceremony.
The SAG Awards are chosen by Hollywood's largest actors' union and are often a good indicator of what will do well at the Oscars, because actors form the largest voting group in the Academy of Motion Picture Arts and Sciences. Over the past ten years, five winners of the SAG ensemble award have gone on to win the Best Picture Oscar.
In the SAG awards' 25-year history, only two films have won the Best Picture Oscar without being nominated for SAG's ensemble prize: Braveheart in 1996 and last year's The Shape of Water. But as Reuters report: "That scenario could repeat itself this year as SAG snubbed some of the best picture candidates in the ensemble category, including Spanish-language drama Roma, British period comedy The Favourite and Golden Globe best comedy winner Green Book."
Glenn Close beat awards season favorite Olivia Colman to the Best Actress prize for her role in The Wife. Best Actor went to Rami Malek for his portrayal of Queen lead singer Freddie Mercury in Bohemian Rhapsody. Best Supporting Actor went to Mahershala Ali for Green Book. The winner of the Best Supporting Actress award came as something of a surprise: A Quiet Place'sEmily Blunt, who was also nominated as Best Actress for Mary Poppins Returns.
Where television comedy is concerned, there was a clear winner: The Marvelous Mrs. Maisel swept the board, taking the awards for Best Ensemble as well as Best Actor and Actress for Tony Shalhoub and Rachel Brosnahan. Darren Criss won Best Actor in a Television Movie or Miniseries for his chilling portrayal of serial killer Andrew Cunanan in The Assassination of Gianni Versace.
Newsweek presents photos of the 2019 Screen Actors Guild Awards winners and guests on the red carpet.