'I Swore to Keep My Infant Away From Screens, but the Pandemic Made That Impossible'
My son bashes his grandmother's face with a toy drum stick, smears his hands across her nose. He tosses her to the ground and, sometimes, across the room. I figure it's in good fun and childish felicity that he treats his grandparents this way. If he can't grab his grandfather's face and attempt to tear out his eyes, he's not having fun, I reason. How else will he learn?
The pandemic has disrupted institutions both national and local, social and familial, but there is little that has been more damaged than the connections between families.
My wife, son and I moved to Italy just before the pandemic. Visiting family had once seemed easy: a quick seven-hour flight could connect my son to his American roots. But being more than 4,000 miles from my mother and father has now meant speaking by video chat most days. Non-European citizens are still unable to travel to Europe. My son is 14 months old and has seen his American grandparents in person only once.
His aggressive antics are not borne of superhuman strength or unwarranted anger, they are the product of the cellphone we use for video calls. If at times I try to reposition the phone, wrangling it from his grasp in order to better frame him for my parents, he becomes distraught, angry, aggravated. I like to think it's because he wants to be as close as possible to his grandparents. In truth, it is more likely that he is angry, the stimulation of the screen having been severed.
His first direct interaction with technology has been tremulous, pixelated images of his loved ones, along with their distant scratchy voices, emitting from a seven-inch screen. Both suddenly and inexplicably vanish.
This was not what we had envisioned as parents. After my wife gave birth in September 2019 we jointly agreed to no screen time. We'd also never touch our phones near him. He would not observe us glaring into a computer—the "adult box"—from his stroller or cot. The World Health Organization calls this "sedentary screen time." None is recommended for children under the age of one. That time allotment increases to no more than 60 minutes between the ages of two and five. The balance of a child's day should be spent actively or, conversely, sleeping.
The pandemic has disrupted the routines of children and parents alike. Bringing my son to work was something I had once thought could be "cool." Now, our days consist of sometimes watching him while we work. It's a phenomenon new to many parents who, unlike us (a writer and a translator), are working from home for the first time in their careers. Still, I won't be visiting the offices in London or New York any time soon, and all the meetings I've had over the past several weeks, from Washington, D.C., to Tel Aviv, have all been by some form of video conference. Fretting over poor internet connectivity is the new "will my train arrive on time?" Our lives are lived out on screens in a way we could never have predicted a year ago. So of course, screen time rules for our children have had to change, too.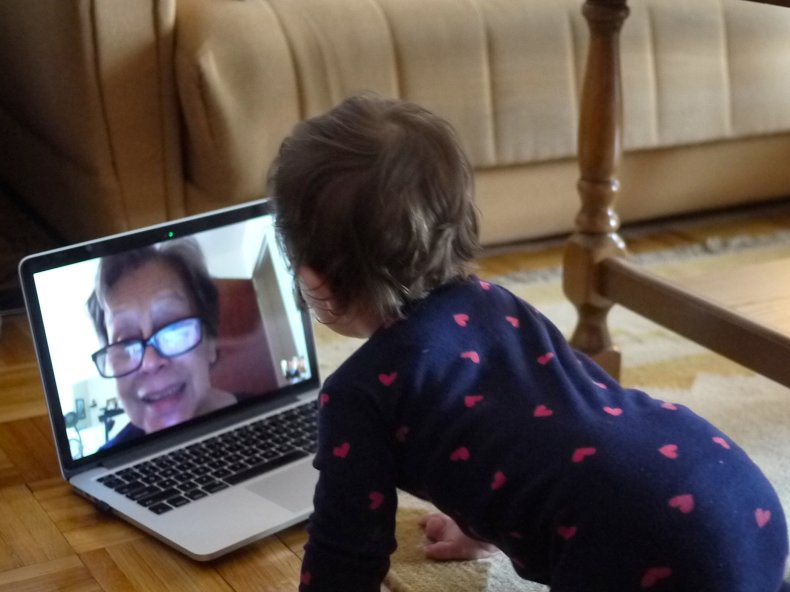 Though my son is quiet most days and content sitting on the floor with his yellow dump truck as I work at my desk, he often glances up into my array of screens, mouth agape.
It's unfortunate, but avoidable, him getting a glance at a screen, the way he might at a bus stop or a doctor's office. But the video calls grate on me.
Truthfully, they weren't so bad at first. My son would sit and watch the screen obediently. He would laugh if my mother cooed, or made a silly joke. "What is that you're wearing?" she might say. "What are you going to have for dinner?" My father took a more academic approach, offering the ideal gas law as impromptu physics lessons, as he had with me. "Now remember, PV=NRT," my father would say. My son would glance up at me, holding him in my lap with the phone extended before me. He would smile, then turn his attention elsewhere, as if the "adult box" didn't exist.
He was used to playthings which made noise. He had a plastic cube with lights and sounds and songs. It wasn't that we were against technology or its ability to excite and entice learning or curiosity. It only seemed that the phone was a vapid form of communication for a being that was still learning the physical laws and shapes of our world. My son didn't yet understand that technology was a partial alternative, not a replacement for physical touch.
This became apparent after his first birthday, when he started poking the screen. "It's Nauni!" my mother would shout, using the Italian for grandmother. My son would smile and point and laugh and poke her in the nose. "Oh!" my mother would say. "You got me!" These family check-ins became playtime. As he became more dexterous he would grab the edges of the phone with both hands. The way he learned to swipe the screen gently worried me. I couldn't understand if a smartphone was that intuitive or if we'd taught him those gestures over the last several months.
Since my family in Massachusetts is now six hours behind us, we take to calling them after dinner, when my son is preparing for bed. He is crawling now. I prop the phone on a windowsill and he hoists himself up to catch a view of a granulated grandmother or grandfather. He pokes the screen, avoiding with precision the red 'X' that might end the call. He laughs and screams and pokes and prods. "How was school today?" my mother asks. My son giggles and tramps off, then circles back to see his grandmother. He looks back at me sometimes still, but never does he lose interest. Only when I take the phone away does he start to fuss. I've promised myself to limit that time, but not by diminishing the time he gets to spend with them. I'm hoping soon we'll replace it with the real thing.
Yet the pandemic rages on across the globe and the chances of our son seeing his American family in the near future remain slim. We reassure ourselves that, despite our misgivings, this screen time is the right decision. Were he not able to get on a call with his grandparents, would he ever feel they were his family? How would he ever know his grandmother and grandfather more than just some phantasmatic idea? But we know he needs to develop a relationship with his overseas relatives in person. Just as he needs bricks and blocks and Legos to understand gravity and consequences, he can't grasp the idea of someone who is not there.
For now, our calls draw to a close as my son grows tired, grabs the phone and puts it in his mouth. His grandmother screams and shouts in good fun. She is playing her role as best she can. She wants to be there. So does his grandfather. When we hang up, because it's time for bed, I leave the phone propped against the window hoping it will become less of an enticement over time.
I watch my son saunter to the phone. Its screen is blank, grandparents disappeared. He checks behind it to see if they were ever really there.
Kenneth R. Rosen is a senior editor and correspondent at Newsweek. His book, "Troubled: The Failed Promise of America's Behavioral Treatment Programs," will be published in January by Little A.
All views expressed in this piece are the author's own.