Screenshot Stories: How Violet Clair Illustrator Samantha Rothenberg Is Controlling The Conversation On Modern Dating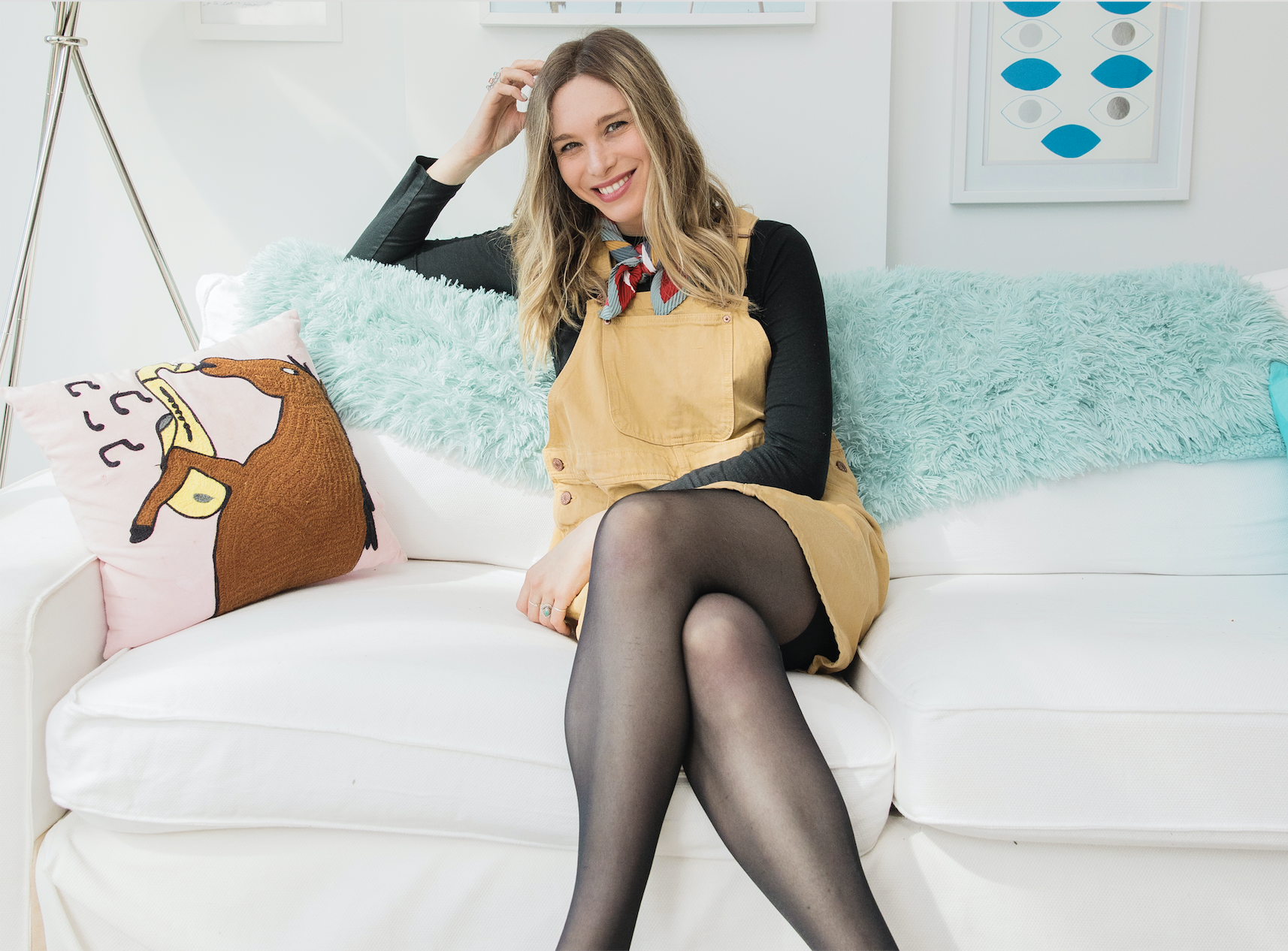 Once upon a time, illustrator Samantha Rothenberg, like many other women, matched with a creepy, clingy guy on a dating app. That's not where her creative story began, but it is where a worthwhile idea was born. Over two years, the man consistently messaged her on Facebook, a mixture of sweet and aggressive texts that warranted no response. How he knew her last name, she has no idea. They had never even met.
In a search for Instagram content for her already-successful illustration page, Rothenberg shared the screenshots of the man's consistent messages on her Instagram story and a new segment was born: Screenshot Stories.
Rothenberg, who's widely known as her brand Violet Clair, found a way to combine her colorful illustrations with a collection of experiences her followers were dying to spill. To her surprise, Screenshot Stories (formerly named Screenshots with Psychopaths) quickly became a communal effort to unearth the unspoken guidelines in modern dating.
From odd messages sent on dating apps to those who went out of their way to find someone online who they saw on public transportation, Rothenberg began sharing the screenshotted messages of others, and orchestrating conversations about what should and shouldn't be acceptable in online dating behavior.
The latest story, episode 39, featured a set of texts from a man who saw a woman on a plane. After the commute, the woman received a message from the man, who only chose to introduce himself on social media after secretly reading the woman's name from her personal tablet. The story's corresponding post was met with upwards of 350 comments with diverse opinions on whether or not the introduction was creepy.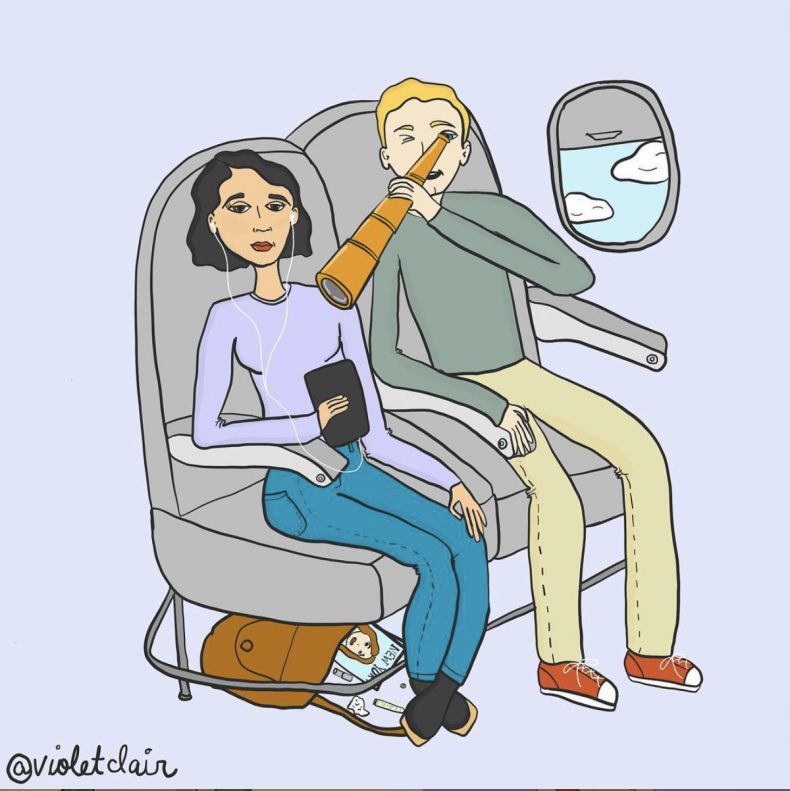 Now that Screenshot Stories is live consistently, Rothenberg receives up to 15 submissions a day from her 87,1000 Instagram followers. In order to give appropriate context to each encounter, Rothenberg opens each Instagram story with her own narration of the text's backstory. She also typically includes a poll to ask her followers if the behavior is okay. Then, each story is given a thoughtful and funny corresponding illustration on her Instagram feed where her followers are welcome to discuss the interaction further.
What Rothenberg didn't realize when she started the conversation was her efforts would pave the way for a consistent conversation, making her own Instagram page a place where people, primarily women, come to feel less alone in the difficult, modern dating world. Not only is Rothenberg's art celebrated by her community, but her acceptance and willingness to share is comforting to those going through similar situations as those she shares. Rothenberg said it's the same for her: the stories and responses help her figure out her own situations, as well as give her new perspective.
The reason, she said, for the success is a conversation that needs to be had as technology has muddied the waters of modern dating. "I think dating is in a really strange place right now. [Technology has] changed the atmosphere—the dating landscape has changed so much in such a short amount of time and I think that nobody really knows how to handle it. We're all just kind of confused," Rothenberg told Newsweek. "I think being able to have conversations that are about dating apps and etiquette and texts—just having these conversations is helpful for sort of setting standards and expectations and kind of defining what's ok and what's not."
In the evolution of Screenshot Stories, Rothenberg has aimed to include diverse content. It's not always easy, though, considering her followers are 93 percent female, and most submissions she gets are from straight women. In the future, she explained, she'd like to expand the series to include more types of relationships, and hear from men, too.
Storywise, Rothenberg posts many screenshots where the behavior is "downright awful," but sometimes, the lines are blurred and there may be more than one bad guy. "Being able to talk about etiquette and texts in the context of dating app culture— having these conversations is helpful for setting standards and expectations and defining what's okay and what's not," she explained. "So people in the comments will you know are usually opinions are all over the spectrum and I find that super, super interesting. I've had my opinion change. I've gone into episodes feeling one way and then reading over people's comments and discussions, I've completely had my mind changed a couple of times."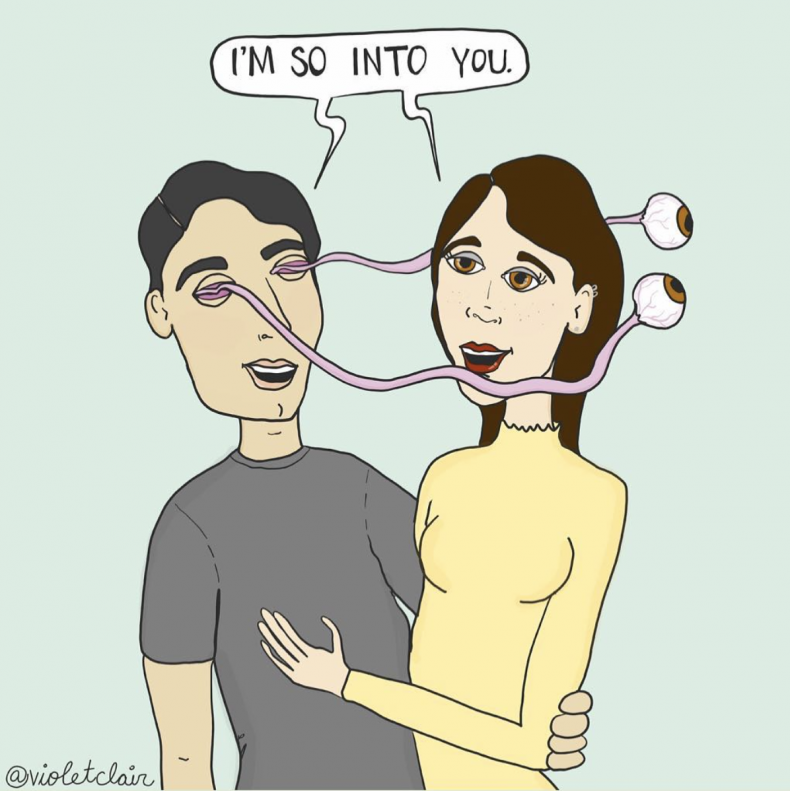 Along with the consistent, diverse conversations, Rothenberg explained what she'd like to see in the future of dating. "I feel like it's a little cliche to say, but I think dating apps have given this kind of like illusion of disposability where you feel like whoever you're on a date with at the moment, or who you're into at the moment, is not a high place," she explained. "It doesn't really matter [to that person] because there is a line of thousands if that doesn't work out—thousands of people to swipe through. One thing I'd like to see more of is people investing a little bit more on quality over quantity."
As for what she'd like to say to those who send creepy messages:
"Maybe before you send that creepy text—which they probably aren't even aware is creepy— just take a breath and read it back to yourself and think, how would a woman feel if she were to receive this in the context of not knowing me or never having met me?"
Along with continuing screenshot stories and her own illustrations on Instagram, Rothenberg is turning her attention toward her love of producing comics, and plans to start on a graphic novel.
This article has been updated to include a quote edited by Rothenberg for clarity.