Scripps National Spelling Bee Awards 8 Winners $50,000 After 20 Rounds of Words, Twitter Reacts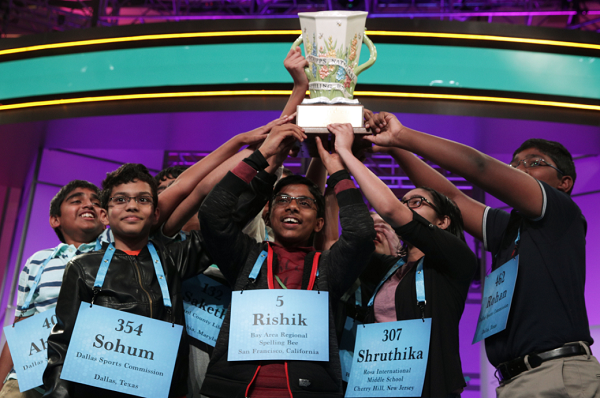 Eight children made history at the Scripps National Spelling Bee when they were all named winners of the annual competition on Thursday. Following 20 straight rounds of 47 accurately-spelled words, the Bee's official pronouncer Dr. Jacques Bailly called the final eight contestants standing in the 17th round co-champions.
The winners included 13-year-old Rishik Gandhasri of San Jose, California; Erin Howard, 14, of Huntsville, Alabama; Abhijay Kodali, 12, of Flower Mound, Texas; Shruthika Padhy, 13 of Cherry Hill, New Jersey; Rohan Raja, 13, of Irving, Texas, Christopher Serrao, 13, of Whitehouse Station, New Jersey; Sohum Sukhatankar, 13, of Dallas, Texas and Saketh Sundar, 13, of Clarksville Alabama.
The eight co-champions were the first to ever win all at the same time in the Bee's 92-year history. The eight students continued to spell words more than an hour-and-a-half past the finals' allotted time. Even spellcheck couldn't recognize some of the words the final eight managed to spell successfully—like Geeldikkop and auftaktigkeit—before the game ended
Bailly's decision to end the Bee after the 17th round despite so many remaining spellers came after the competition's organizers ran out of challenging words to throw at the teens. "We have plenty of words left on our list but will soon run out of words that would challenge you," Bailly said, referring to the final constants as the competition's "most phenomenal assemblage of super-spellers."
All of the students were awarded the Bee's grand cash prize of $50,000, and all of their names will be featured on the National Spelling Bee trophy.
Fans watching the televised competition were just as surprised by the Bee's decision to name eight winners as the spelling champions were.
While thousands took to social media to congratulate the students on their historical win, some people were shocked the organization didn't let the competition continue to the bitter end. There were others who thought the Bee was taking the easy-way-out by ending the competition after all the training students endured with the intention of being the sole winner.
The kids, on the other hand, were elated to share the National Spelling Bee title and referred to themselves as "octo-champs."
The National Spelling Bee began on Sunday with 562 contestants ranging from a number of cities, states and countries. In addition to students from the U.S. and U.S. territories, students from the Bahamas, Canada, Germany, Ghana, Jamaica, Japan and South Korea also participated in the competition. Spellers were all 15 or younger and had not yet graduated from the eighth grade.
See a few more reactions to the octo-champs big win below.