'Scrubs' Fans Prepare for Reunion on 'Celebrity Family Feud'
A healthy dose of guy love will enter the Family Feud studio today. That's because there's a reunion from the sitcom Scrubs on the way, which will once again pit J.D. against the Janitor.
The second episode of the seventh season of Celebrity Family Feud returns with host Steve Harvey presiding over a sitcom reunion.
During the first game, Turk and J.D., aka, Donald Faison and Zach Braff, will team up and try to outwit the opposition which is led by the Janitor, Neil Flynn.
Zach and Donald's full team includes Scrubs creator Bill Lawrence, as well as two stars from their podcast Fake Doctors, Real Friends. The podcast's editor Joelle Monique and the sound engineer Daniel "Danl" Goodman.
Meanwhile their opponents will actually have six members on their team as Flynn leads his comedy troupe, Beer Shark Mice into competition. The competitors include Dave Koechner (Anchorman), Peter Hulne, Pat Finn, Mike Coleman and Paul Vaillancourt.
The second part of the episode will also feature classic sitcom stars, with The Goldbergs' Wendi McLendon-Covey taking on star of Family Guy, A Series of Unfortunate Events and Rules of Engagement, Patrick Warburton.
The new series of Celebrity Family Feud has had to adapt to new COVID-19 restrictions and as a result, there are less people in the audience watching. Also the long desk the families usually stand at has been replaced with individual podiums to ensure that all contestants are socially distanced.
Each member of the Scrubs cast, and its creator have gone on to achieve success in their own right since appearing on the sitcom from 2001-2010.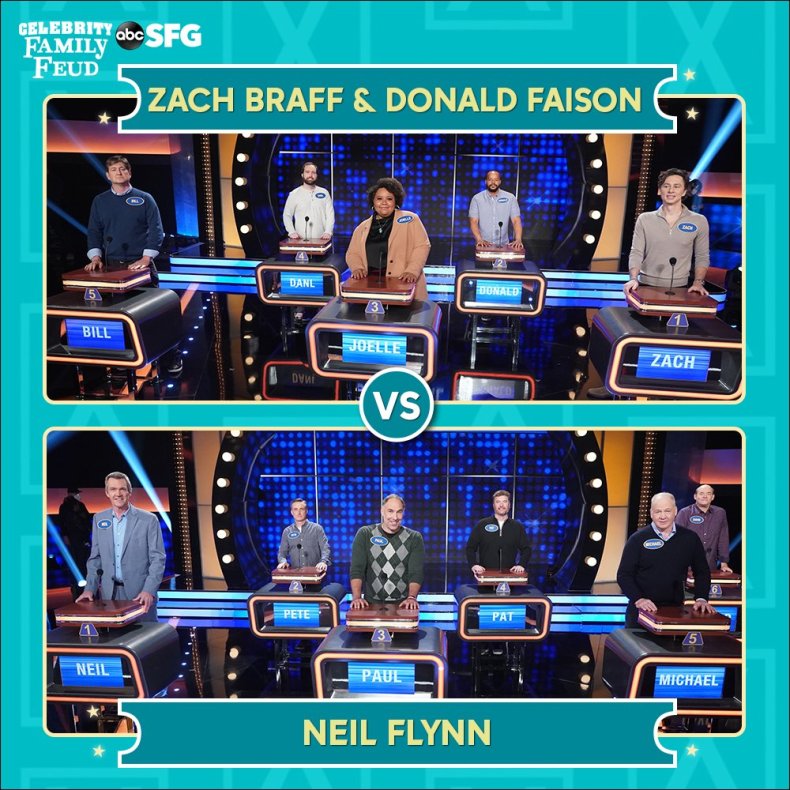 Zach Braff has appeared in and directed several movies such as Going In Style, The Comeback Trail, Wish I Was Here and Oz the Great and Powerful. Donald Faison had already achieved mainstream recognition in Clueless before joining Scrubs, but since then has appeared in Kick-Ass 2, Pitch Perfect and Skyline. Together their podcast Fake Doctor, Real Friends, has performed incredibly well in the podcast charts.
Bill Lawrence continued his trend of making hilarious comedies and worked as the showrunner on Cougar Town for six years and has recently achieved critical acclaim for co-creating Ted Lasso.
Rob Lowe took on Terrence Howard on last week's opener of Celebrity Family Feud with future guest stars for season including Dee Snider, Terry Bradshaw, the band One Republic, the cast of Mayans M.C., Ross Matthews and Loni Love
Celebrity Family Feud airs Sundays on ABC at 8/7c.