Scrutinized Ghislaine Maxwell Juror Says He Did Not Lie to Be Part of Trial
A juror from British socialite Ghislaine Maxwell's sex trafficking trial told a judge Tuesday that he did not lie in order to be selected for the jury as a dispute over his past threatens to potentially upend the case's verdict.
Maxwell was convicted late last year of aiding in the late financier Jeffrey Epstein's sexual abuse of teenage girls over a period of about 10 years.
The juror came under scrutiny upon revealing after Maxwell was already convicted that he was abused as a child, something that he allegedly failed to reveal in a questionnaire potential jurors had to fill out during the selection process, the Associated Press reported.
The juror, referred to as Juror No. 50, revealed in interviews after the trial that he had been sexually abused as a child and said that he used his experience to help illustrate to other jurors that a victim's recollection of past abuse doesn't have to be perfect in order for it to be true, the AP reported.
But when the juror was asked on the screening questionnaire whether he, a friend or family member had ever been the victim of sexual abuse, assault or harassment, he reportedly checked "No."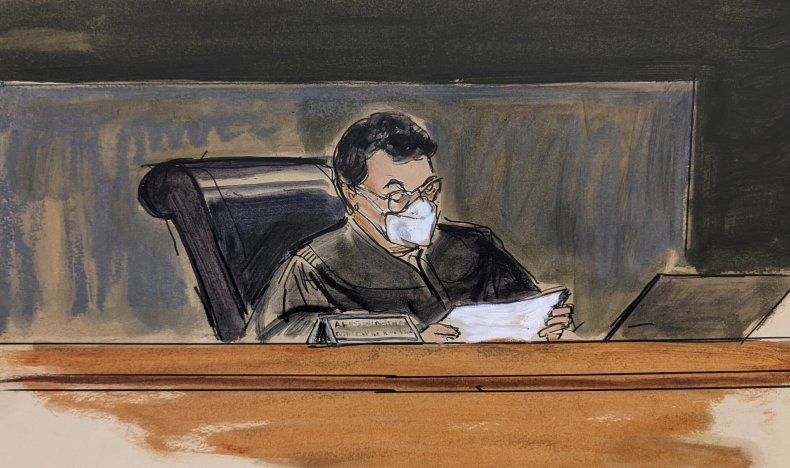 The post-trial revelations caused Maxwell's lawyers to call for the guilty verdict to be scrapped. If his history of abuse had been known to Maxwell's lawyers, they may have had grounds to oppose his selection, especially since the accusations against Maxwell centered on sexual abuse, according to the AP.
When the juror was questioned by a U.S. judge on Tuesday, he denied purposefully failing to answer the question about his abuse history truthfully. He said that he had "skimmed way too fast" through the questionnaire and didn't remember the question, which was No. 48 on the survey, the AP reported.
He voiced regret but said that he hadn't lied in order to be selected.
"This is one of the biggest mistakes I've ever made in my life," he said.
The judge's questioning lasted for more than a half hour, according to the AP. The juror was granted immunity beforehand after saying that he would use his Fifth Amendment rights.
Juror No. 50 said during the questioning that at the ages of 9 and 10, he was repeatedly sexually abused by two people, the AP reported.
Lawyers now have until March 15 to provide legal briefs on whether the verdict should or shouldn't be tossed.
Newsweek has reached out to one of Maxwell's lawyers for comment.
Update 03/08/22, 2:45 p.m. ET: This story was updated with additional information and background.