Scuba Diving Hairy Flies Survive Extreme Yosemite Lake With Little Air Bubbles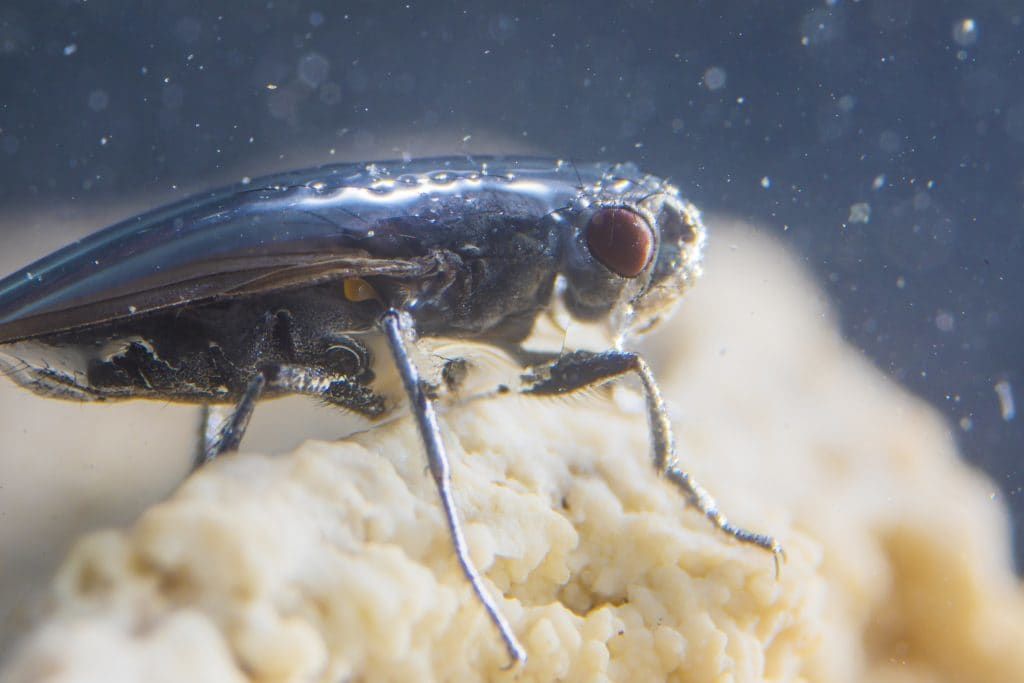 Fish cannot survive the harsh salt and alkaline content of Mono Lake in Yosemite, but the alkali fly braves the murky waters with the help of its own wet suit.
As the fly penetrates the surface of the water, a bubble forms around it, and is kept in place by the fly's hairy, waxy body. In fact, this fly has 36 percent more hair than other types of flies, making it particularly adept at clinging to its tiny scuba bubble. Research on the flies was published recently in the Proceedings of the National Academy of Sciences.
Once shielded from the harsh chemical content of the lake, the alkali fly can then happily scour for a meal of algae. The water bubbles protect most of the fly's body, with the exception of its mouth (so it can eat,) its feet (so it can grasp and walk around the rocks,) and its backside.
Alkali flies need their rear ends exposed because the females lay their eggs underwater. Laying vulnerable eggs in such a harsh environment may seem like a risky endeavor, and too much salt can, in fact, reduce the number of fly eggs that survive. But there is some sense to laying eggs in the depths of hostile waters.
One benefit to spending time in such a harsh environment is that it is actually too harsh for many predators. No fish can survive in Mono Lake, so the flies can go about their business unbothered by those who might want to eat them—or their eggs.
However, the flies are not immune to predation. When they come up from the water—with a satisfying "pop" of their bubble wetsuits—they are susceptible to being eaten by birds. Seagulls can fly through the air above the lake with their mouth open and catch the flies. In fact, the flies are populated so thickly at the Yosemite lake that seagulls often stop there for a rest and a hearty meal during migration.
These flies are so bizarre that they captured the imagination of none other than American author Mark Twain. Twain described visiting Mono Lake and observing the flies in his travel memoir Roughing It. He wrote that he held the flies underwater, amazed that they could stay there for so long.
Since Twain's visit, Mono Lake has become more harsh, salty and alkaline with the human intervention that diverted freshwater from the Yosemite attraction. But the alkali flies are survivors and hardly seem to mind.