'Scumbag' Husband Slammed After Sending Nudes to Another Mom From School
The internet has urged a woman to ditch her husband after finding out that he had been sending sexual messages to another woman.
Posted on the popular discussion site Mumsnet on Thursday, user Cheated85 explained: "My husband has been messaging another woman. I found out at the weekend. We've had no problems and [I] thought we were happy. The woman in question is another mum from school who is renowned for this sort of behavior and I can't believe my husband has done this. I feel sick just typing it out."
She went on to share that her husband has not slept with the woman—but that she caught him out after seeing a name she didn't recognize on his phone.
"He's changed her name," she explained: "I asked him about who it was and I could tell by his face and he then was completely honest about the messages. Showed me everything.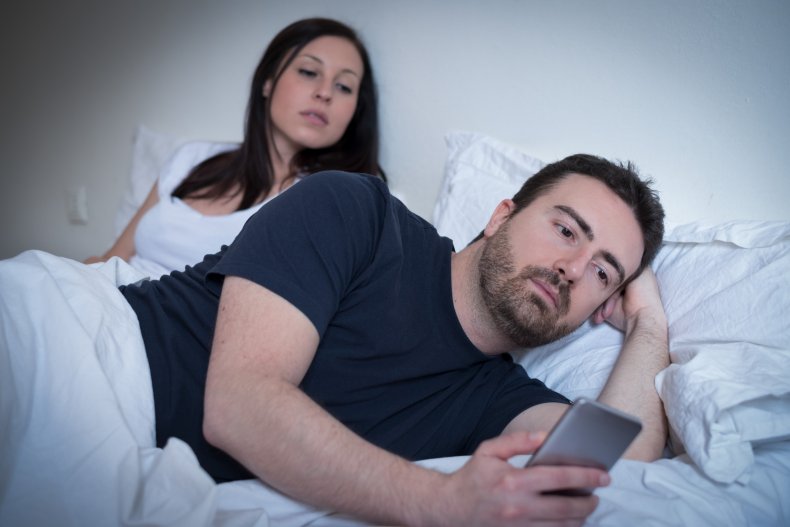 "He says he's no idea why he was doing it and what he thought would have come of it if I hadn't found out."
Explaining her devastation, the woman shared her fear of breaking up the family unit and the effect this could have on her children. She asked: "If you've been through this, have you been able to move on and be happy? I feel like the trust has been broken and unsure how I can get over it."
In a later comment, the woman shared more about the content of the messages and wrote: "The messages were all very sexual in nature. Her sending him nudes and him sending them back! Vile! She's clearly very insecure and wants approval that men find her hot and my husband decided to oblige."
In a survey by Health Testing Centers in the U.S., 441 people who had been unfaithful to partners were questioned.
Some 24 percent said that they had cheated and admitted it to their partner, while another 22 percent said they had cheated but never told their other half.
When it came to coming clean, most people—47 percent—said they admitted their cheating within a week, while another 26 percent said they waited a month and 25 percent reported leaving it six months or longer. It was also revealed that often the length of the wait depended on the relationship they had with their partner. More than half of people in a non-married relationship—52 percent—told their partner within a week. However, 47 percent of married respondents reported waiting six months or longer to admit their infidelity.
Mumsnet users overwhelmingly sympathized with the woman, urging her to ditch her husband. One commenter said: "Even if he hasn't physically cheated yet it looks like he would have done had you not found out. I know it must be heartbreaking but I'd throw him out for that and it would be over completely."
Another commenter wrote: "In all honesty, you won't be letting anyone down other than your children by staying in a dysfunctional relationship. Your partner is not who you thought he is."
"General chit chat I'd probably ignore, but sexual content? Nope, not to be tolerated," said another user. "This is completely unforgivable. Your husband is a sleaze," wrote one commenter.
"What a scumbag," said another Mumsnet user. "It is completely up to you how you move forward, but for me, the trust would be gone."
In a later comment, the original poster shared an update: "He's groveling big style but I've made it very clear to him that I don't know what I want to do.
"He knows how hurt and betrayed I am feeling. I still don't know what I want to do and am unsure when I will."
Newsweek recently spoke to private investigator Nicole Reid and dating coach Bolu Oladini about recognizing the signs your partner might be cheating, such as changes in their libido or paying more attention to their appearance.
Has an infidelity broken your trust in your partner? Let us know via life@newsweek.com. We can ask experts for advice, and your story could be featured on Newsweek.