SD Gov. Kristi Noem Wants Moment of Silence to Begin Each School Day, Hopes Kids Will Pray
South Dakota Governor Kristi Noem is working to instate a moment of silence at the start of each day in the state's public schools. The draft legislation announced Monday stipulates that the moment should not be interpreted as a religious exercise, but a statement from Noem's office said that the measure is meant to "restore protections for prayer in schools."
The tentative bill said that the moment of silence would last up to one minute, and both students and teachers may use the time as they wish. This can include engaging in "voluntary prayer, reflection, meditation, or other quiet, respectful activity during the moment of silence," the draft bill said.
"The legislature of South Dakota finds that schoolchildren and teachers are best served by a moment of silence at the start of every school day to afford them a reprieve from the frenzy of daily life and to set a tone of decorum that will be conducive to learning," the legislation said.
School employees would not be permitted to designate how students or teachers use the required moment of silence, and no student is permitted to "interfere with another student's engagement in the moment of silence," the legislation said.
The statement from Noem's office said that the bill will guarantee that all students have the opportunity to pray at the beginning of every school day.
"Every student deserves the opportunity to begin their day with a calm, silent moment," Noem said in the statement. "I hope students will take this opportunity to say a quick prayer or reflect on their upcoming day. However they choose to take advantage of this time, it will be beneficial to students and teachers alike."
The Republican governor previewed the legislation earlier in 2021 when she made a vow to "put prayer back in South Dakota schools," the release said. The bill, titled "A Moment of Silence," looks to make good on that promise.
It is slated for consideration by South Dakota's legislature in the 2022 session.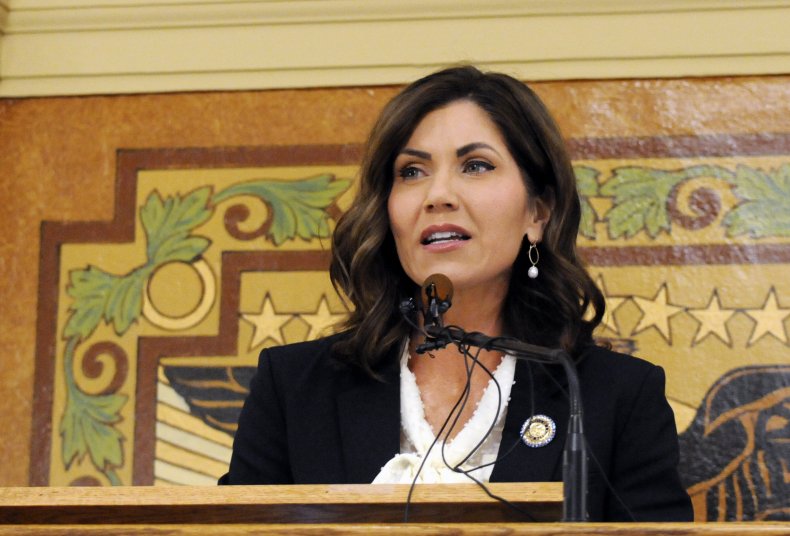 The bill isn't Noem's first attempt to introduce religion-inspired ideas into public schools.
In 2019, she successfully required the national motto "In God We Trust" be displayed in all public schools, sparking a national debate and drawing criticism from groups like Freedom From Religion Foundation. The Madison, Wisconsin-based foundation argued it would lead to "more onerous things."
South Dakota's legislative session starts on January 11.
The Associated Press contributed to this report.