SDCC 2019: Every Video Game Panel On The Schedule
San Diego Comic-Con is the biggest pop culture event in the country, and a big part of the festivities are the many panels and events about video games.
While comic books, anime, television and movies have made SDCC larger than ever, video games still play a big part in the show this weekend. Whether its Nintendo bringing its latest and upcoming titles for fans to demo, or panels discussing the future of popular game franchises, con goers will have plenty to do and plenty of exclusives to see.
This year, SDCC puts the spotlight on games like Gears of War, Monster Hunter and much more. There are also workshops to help prospective video game writers and artists, not to mention game developers.
There are even hiring opportunities at SDCC this year. So here's every video game panel on the SDCC 2019 schedule with times, locations and synopsis courtesy of the official comic-con international site: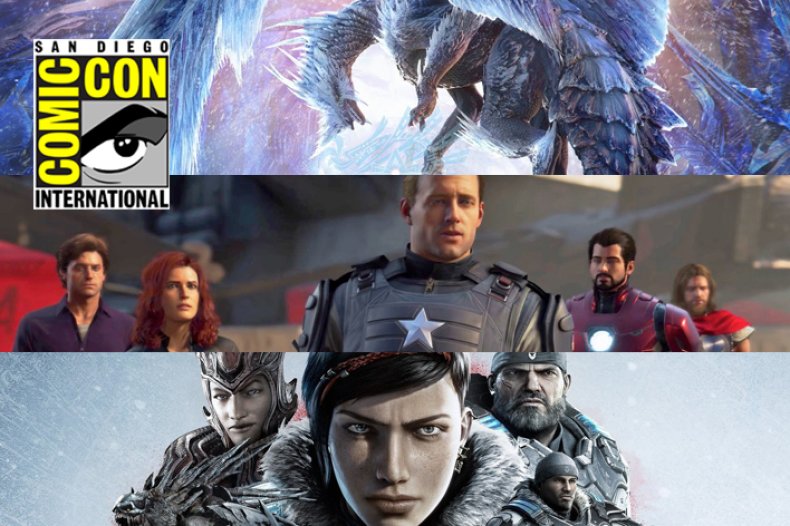 THURSDAY JULY 18
Unreal Gaming
10-11 a.m
Indigo Ballroom
A panel of leading game developers discuss the ins and outs of designing and building impactful and exciting games on the remarkable Unreal Engine. Join them for this deep-dive. Moderated by Sinclair Fleming.
Gamifying Technology: The Future of Gaming
11:45 a.m. -12:45 p.m.
Room 6BCF
We are at a unique moment in history where technology is finally catching up to our imagination and creative ambitions--voice, sound, touch, augmented reality, virtual reality, the Internet of Things and beyond. The next generation of gaming technology will allow completely new kinds of experiences for players. Join the Godfather of Video Games Nolan Bushnell (Atari, X2 Games) and Hollywood creative director and 3D visionary behind the J.A.R.V.I.S. system holograms in Marvel's Iron Man Zai Ortiz (Dark Matter, X2 Games) alongside connected play innovator and analyst Valerie Vacante (Collabsco) in a discussion on gamifying technology and designing the future of gaming. Learn how Nolan and Zai co-created their first game together, St. Noire, the world's first murder mystery game powered by Alexa, fusing cinematic sound and Hollywood-level voice acting. Hear perspectives on pioneering the video game industry, bridging artistic storytelling with technical innovations, and take a glimpse into the near future of gaming.
Gears of War Extended Universe
1-2 p.m.
Room 5AB
Gears Pop! and Gears 5 releasing this year, the developers behind Gears of War discuss the past, present, and future of this storied franchise. Studio head Rod Fergusson (The Coalition) along with editor Steve Saffel (Titan), author Jason M. Hough (Titan), editor Chase Marotz (IDW), and author Arthur Gies (Gears of War Retrospective by Udon) share their views on the Gears franchise, describe their approach to storytelling, and go in-depth on the characters and stories behind IDW's new Hivebusters comic book series and Titan's upcoming Ascendance novel. Moderated by Gears' franchise narrative lead Bonnie Jean Mah (The Coalition), this panel will give fans insight into what's to come from one of the biggest sagas in gaming. Participate in the Q&A for a chance to win special giveaway items during the panel!
Marvel Games Panel
1:30-3:15 p.m.
Hall H
Get an inside look at the latest and greatest from Marvel Games. Attendees will see exciting new content from Marvel Ultimate Alliance 3: The Black Order, Marvel's Iron Man VR, and Marvel's Avengers, with many unannounced surprises and panel exclusives. Moderator Greg Miller (loudmouth at KindaFunny.com) will be joined by Bill Rosemann (VP and creative director, Marvel Games) and other panelists from titles throughout the Marvel Games family.
FRIDAY JULY 19
Bandai Namco Fighting Game Panel
10-11 p.m.
Room 25ABC
Take a seat as fighting game producers Katsuhiro Harada from the legendary Tekken series, Motohiro Okubo (Tekken 7 and Soulcalibur VI), and Michael Murray (Tekken) provide a behind-the-scenes look at game development, character updates, esports, and more. Also featuring surprise panelists.
Monster Hunter
11:30-12:30 p.m.
Room 6BCF
The world of Monster Hunter continues to grow! Hear the latest news on the series and the upcoming massive expansion, Monster Hunter World: Iceborne. Members of the Monster Hunter team will be ready to share a look behind the scenes, game design info, and even perhaps some debuts. Featuring Capcom Japan Development Team with Brett Elston and Yuri Araujo from Capcom USA.
World of Capcom
12:45-1:45 p.m.
Room 6BCF
Get a peek at Capcom's upcoming lineup with the latest trailers and news, featuring Brett Elston, Charlene Ingram, and Mike Lunn from Capcom USA.
Career Paths into Game Development
2-3 p.m.
Room 28DE
As the business of video games now surpasses the annual revenues of both film and music combined, public interest in pursuing a career in the game industry has staggeringly increased in recent years. This has spawned a wide variety of educational and vocational options for individuals to pursue game development, but how exactly does one get the knowledge they need, and then find a job in this very competitive industry? Learn from veteran game industry professionals about what it takes to launch a game development career and how there are many paths into the industry.
The Art of Video Games: Drawing your Favorite Game Character
7-8 p.m.
Room 23ABC
UDON's chief, Erik Ko, hosts top talents from the studio and guest artist to create artwork live on stage. There will be a trivia Q&A where the audience can get surprise art books and collectible items!
Fear the Mega64 Panel
7:30-8:30 p.m.
Room 5AB
The cast and crew of Mega64, one of the longest running video game shows in internet history, is once again on the scene in their hometown of San Diego. Hear from Rocco Botte, Derrick Acosta, Shawn Chatfield, and many more of the show's cast/crew as they show new videos, screen some unearthed old material, and answer your questions. There will be dancing.
SATURDAY JULY 20
Game Pitch Review
10:30-12 p.m.
Santa Rosa Room, Marriott Marquis San Diego Marina
This pitch review will be conducted by a panel of professional game developers who will offer their advice and insight to those seeking to further their dreams of making their game a reality. Participants will have the opportunity to pitch a game for 3 to 5 minutes and then receive constructive criticism on the concept and the pitch. This session will be seated on a first-come, first-served basis, and sign-ups will be taken on site for the six pitch slots. To participate in the Game Pitch Review, you must be prepared before you sign up. Those not prepared will forfeit their pitch session. Preparation includes: (1) A well-practiced, 3- to 5-minute verbal pitch that clearly explains the game concept, how it's unique to the marketplace, why it would be worth funding, etc.; (2) any hardcopy or digital visuals (images, video, etc.) that help illustrate the concept and viability of the idea (you must bring the device on which you will display the visuals); (3) being imaginative and passionate-imagine you're making a very quick pitch to receive funding for your idea. Sign-ups will begin at 10:00 am.
Gaming Creator Connection
1-3 p.m.
Santa Rosa Room, Marriott Marquis San Diego Marina
The Gaming Creator Connection is an opportunity for game developers-whether currently working in the industry or aspiring to do so-to receive valuable advice, insights, and mentoring from seasoned veterans of the game industry representing diverse professional backgrounds. The GCC is a perfect opportunity to seek expert guidance in art/design, narrative, and business. Participants will have around 15–20 minutes to speak with a mentor and will be able to rotate between mentors in their field of interest in order to maximize the amount of feedback.
Rockstar Games
3:30-4:30 p.m.
Santa Rosa Room, Marriott Marquis San Diego Marina
Rockstar Games is hiring. They are in search of talented illustrators as well as graphic and conceptual artists to join their team and become part of some of the most creatively rewarding, large-scale projects to be found in any entertainment medium. Please come by with your C.V. and portfolio to discuss opportunities.
Hideo Kojima: Master Storyteller
5:15-6:15 p.m.
Room 6BCF
Visionary creator Hideo Kojima discusses his process as a game director and storyteller, most notably for his upcoming project Death Stranding. Moderated by The Game Awards creator Geoff Keighley, with special guest Nicolas Winding Refn (Drive, Too Old to Die Young).