A sea lion was found wandering the streets of Lincoln City, Oregon, after swimming up a river and making its way through a neighborhood.
Lincoln City Police Department (LCPD) released photos of the seal, which they named Tiffany, on its Facebook page. A post about the unusual sighting said the seal had ended up in the middle of a roadway and was slowly making her way towards Highway 101.
From the location Tiffany was found, it appears she had swum up the Siletz River.
The LCPD called in teams from the Oregon State Police (OSP) Fish and Game Division and North Lincoln Fire and Rescue to help deal with the situation. Sergeant Greg Plummer, from the OSP, said in his 20 years of service he had never had to help rescue a sea lion from the city streets.
Together, authorities concocted a plan to get Tiffany back into the water using some fish as bait.
"An officer responded to Kenny's IGA Village Market in Taft and explained what was going on," the Facebook post said. "The staff at Kenny's donated several packages of fish to our cause and refused payment for the fish insisting they wanted to do what they could to help out the animal. The gift of fish was presented to Tiffany, who was interested in the fish, but was likely too overstimulated and unfortunately was not willing to follow the bait."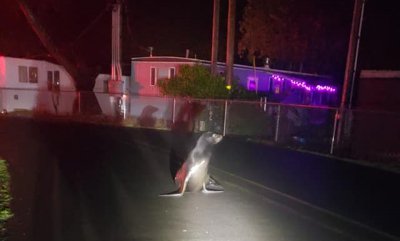 In its second rescue attempt, the team created a mobile corral using sheets of plywood. "After several breaks for the sake [of] Tiffany's health, (and a few refreshing soaks from garden hoses) she was guided to an opening which led down to the river," the post said.
"The tide was currently out and would be a while longer before she would be covered in water completely, but she settled down happily [in] a small stream section and seemed content to wait it out until the next tide."
Sea lions are common along Oregon's coast and the state is home to two different species—the Steller sea lion and the California sea lion.
California sea lions appear in Oregon towards the end of summer and normally stay until early into the following spring. Females do not make it this far north, so all the California sea lions in Oregon are males. Many of them end up entering rivers to feed, with some making their way far upstream the larger rivers.
Steller sea lions are found at 10 sites along the Oregon coast, from South Jetty at the mouth of the Columbia River, to Rogue Reef in Curry County. This species forms huge groups and they breed in Oregon in June and July.