Sea Lions Invade Salmon Farm and Refuse to Leave 'All-You-Can-Eat Buffet'
Dozens of voracious sea lions have broken into an industrial fish farm in British Columbia, where they are feasting on Atlantic salmon as staff try unsuccessfully to move them out.
The animals are having an "all-you-can-eat buffet," said Bonny Glambeck of Clayoquot Action, a local conservation group. Glambeck has been visiting the farm every day since the group found out about the invasion on Saturday night.
The sea lions began arriving weeks ago at the Rant Point farm near Tofino, Canada. The facility belongs to Cermaq, a multinational fish farming business. Cermaq told CBC that the sea lions entered their fish pens by jumping over the fencing. The intrusions began a few weeks ago but "intensified" over the past week, the company said, with at least two dozen animals gorging themselves on salmon.
A female sea lion can eat about four salmon a day and a male can eat up to 10, Glambeck told Newsweek. Farms like Rant Point can typically hold up to 500,000 farmed salmon. Cermaq has attempted to scare the sea lions away with loud noises but is failing to deter the animals as they adapt to human behavior.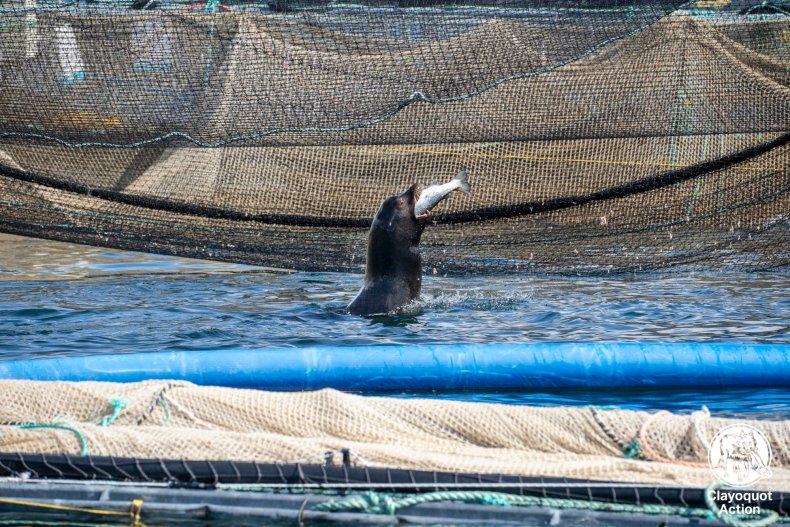 A video shared on Instagram by Clayoquot Action on Tuesday showed clusters of sea lions gathered inside the farm, while workers appeared to dump dead fish into a barge. The staff's docks were sinking "under the weight of totes full of dead fish," the environmental group said.
Clayoquot Action and other conservation societies say the sea lion breach points to the dangers of net-pen fish farming, a practice they believe should end in British Columbia. The Canadian government has promised to phase out net-pen fish farming by 2025.
"Our largest concern here is the injury or death of the sea lions," Glambeck said. "There are so many ropes around the pens they can be entangled and drown."
Meanwhile, the Atlantic salmon could escape into the Clayoquot Sound UNESCO Biosphere Reserve and compete with Pacific salmon.
Articles from CBC show that sea lions have died in similar nets before. In 2007, 51 sea lions died after getting trapped in the nets of a fish farm on the west coast of Vancouver Island. Three years later, 65 sea lions and four seals became entangled in nets at another British Columbia farm and also drowned.
Glambeck also feared that Cermaq would shoot and kill the sea lions to protect their fish. After the animals breached another Cermaq salmon farm in 2015, the company shot 15 sea lions over the course of two days.
Cermaq told local outlets that it was harvesting targeted fish to "minimize any potential impacts" and planned to fully harvest the site by the third week of April.
Newsweek reached out to Cermaq for comment.