Sea of Thieves has updated again, with version 1.11 now available to download and play. This week's patch feels much smaller in comparison to last week's major content update. The major news from this patch includes a few bug fixes, but that's about it.
Sea of Thieves 1.11 Update Patch Notes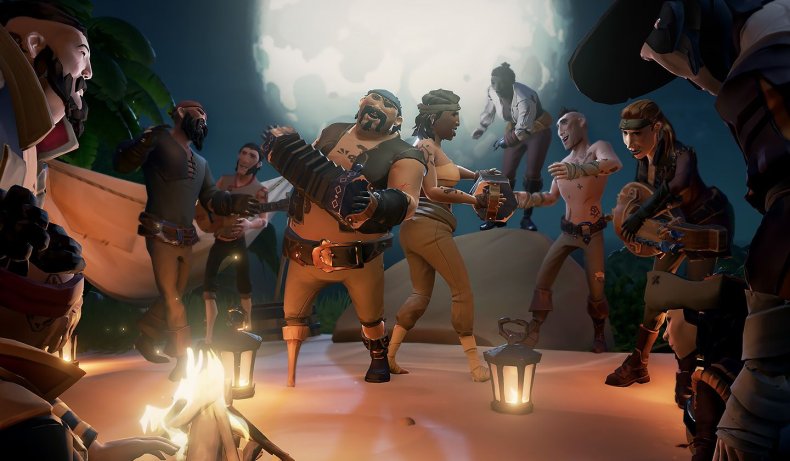 The full patch notes for the 1.11 update to Sea of Thieves are as follows:
Updates
Open/Closed Crew - You can now dynamically change whether your crew is Open or Closed while out on the seas. This option can be toggled from within the 'My Crew' menu.
Athena's Fortune Rewards - The chances of finding more valuable rewards have been increased. Pirate Legends and their crews can now expect to see higher rewards when embarking on their Athena's Fortune voyages.
Performance Improvements
Further improvements to frame rate when streaming islands.
Improvement to frame rate when player is walking or running.
Multiple server and client crash fixes.
Further improvements and optimisations for all platforms are ongoing .
Fixed Issues
Washed-up items and messages in bottles have returned to the shorelines once more!
Dropping Skeleton Fort keys in water will no longer prevent them from being picked up again.
Athena's Fortune Bounty Quest skeletons will now correctly spawn on Thieves' Haven.

If you encounter this issue, please submit a bug report to our Player Support Team with as much detail as possible on your location.

Players can no longer be voted into the brig before fully spawning onto the server.
After equipping a weapon from the armoury, aim sensitivity will no longer default to High the first time you aim down the sight.
When switching between items and weapons, players will see fewer instances of default models appearing for a few seconds whilst the correct equipped model loads.
Pricing of the rank 4 and 5 Gold Hoarders compasses are now correct.
It is no longer possible to accidentally select a pirate whilst watching the intro animation.
The icon for the Rotten Bilge Rat Shirt no longer appears low-quality.
Player chat indicator can now be toggled from the front end settings menu and within the game.
Ship lanterns will no longer appear to remain in an upright position, and now follow ship motions.
Known Issues
The option to lock FPS to 90 no longer appears.
Some players travel in an unintended direction when fired from a cannon.
So what do you think? Are there any bug fixes that you are particularly happy to see? What would you like to be included in the next update? Let us know your thoughts in the comments section below.