'Sea of Thieves: Forsaken Shores' DLC Release Date Pushed Back After Pioneer Testing
The latest DLC for Sea of Thieves has been delayed, but not for very long. Forsaken Shores was originally planned to release on Wednesday, Sept. 19, but will now be available on Thursday, Sept. 27. The reason for this delay is due to some unexpected bug fixes.
In a post on the official Sea of Thieves forum, Executive Producer Joe Neate says the development team at Rare was made aware of a serious bug during Pioneer testing over the weekend. This bug caused widespread crashing for many different players. Instead of releasing a buggy game, the developers decided to postpone the release of the DLC to make it the best it can be.
The extra week of development time will be used to implement a fix for the game-crashing bug. Once a fix has been made, it will be tested before release. If a suitable fix hasn't been developed, it's likely the Forsaken Shores release will be pushed back even further. Keep an eye on the Sea of Thieves forums for any new information as it is posted.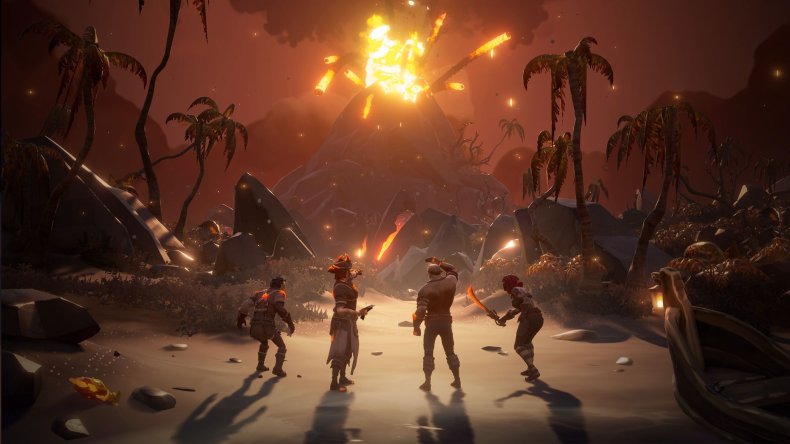 "We appreciate your understanding with this change in our release plans. I know this will be disappointing, but I resolutely believe this is the right decision," Neate said in the post. "We are committed to giving everyone the best Forsaken Shores release experience, and this will enable that."
Forsaken Shores adds a new area, previously unavailable to explore in Sea of Thieves. Known as The Devil's Roar, the new area features active volcanoes, superheated water and geysers. The update also adds rowboats and a storyline to follow. Even more exciting, Forsaken Shores is a free update, available to all who own Sea of Thieves.
So what do you think? Are you ready to explore The Devil's Roar on Sept. 27? Are you bummed to have to wait another week for it? Let us know your thoughts in the comments section below.