'Sea of Thieves' 1.13 Patch Notes: Update Adds New Megalodons
The latest update to Sea of Thieves is now available (patch notes below), but doesn't add much beyond a few bug fixes. However, watch out for some new megalodons while out at sea. Not all of them are dangerous, but is it worth the risk to find out?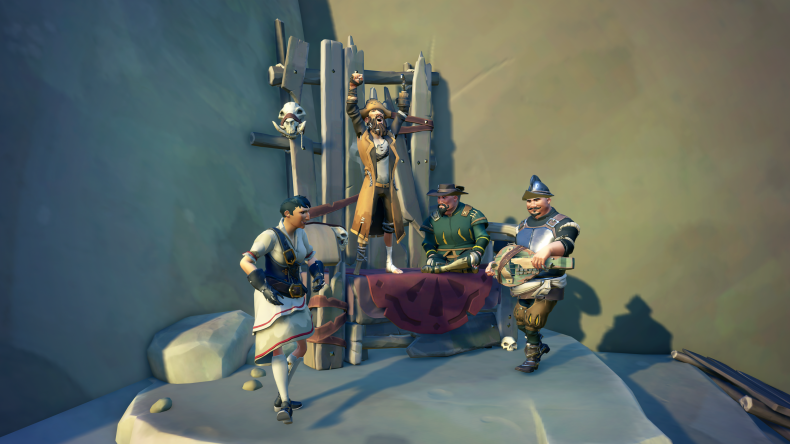 It is also the final week of the Skeleton Thrones Bilge Rat Adventure. This means it's your final opportunity to get the Bone Crusher jacket, dress and hat.
'Sea of Thieves' 1.13 Patch Notes: Update Adds New Megalodons to the Ocean
The Sea of Thieves 1.13 patch notes are as follows:
Updates
Megalodon - Since the retreat of The Hungering One back into the deep, there have been reported sightings of other Megalodons terrorising the Sea of Thieves. It's been discovered that these new Megalodons have different personalities – some seem to turn tail at the sight of a Galleon, whilst others are said to be just as unforgiving as The Hungering One!
Gold bag icons - The icons for the Bilge Rat gold bags have been updated to better show the value of the gold within!
Performance Improvements
Reduced frequency of client hangs on Skeleton Forts.
Significantly improved stability when loading new areas.
Multiple server and client crash fixes.
Further improvements and optimisations for all platforms are ongoing.
Fixed Issues
Resolved an 'X Marks the Spot' location on Kraken's Fall where the chest was impossible to dig up.
Grand Admiral Hull livery on the Sloop now correctly matches the Galleon.
Resolved an issue causing the PC client to hang upon closing.
Known Issues
Some players travel in an unintended direction when fired from a cannon.
Being poisoned by a snake can show the VFX a second time.
Bilge Rat Doubloons have not been correctly rewarded to a number of players who earned them through the Skeleton Thrones event.

We are investigating a resolution for this and will share information when available.

The Hungering Deeprewards were not received by a number of players who earned them.

We are currently rolling out a fix to this issue which will award missing rewards from The Hungering Deep.This will take some time, so keep an eye on the weekly patch notes to see when this rollout is complete.
So what do you think? Are you excited about any of the new megalodons in Sea of Thieves? What would you like to see included in the next update? Let us know your thoughts in the comments section below.