Seabirds Abandon Some 2,000 Eggs After Illegal Drone Crashes in Nesting Grounds
Despite its popularity, drone flight can have devastating consequences for bird life, as recent events in the Southern California city of Huntington Beach show.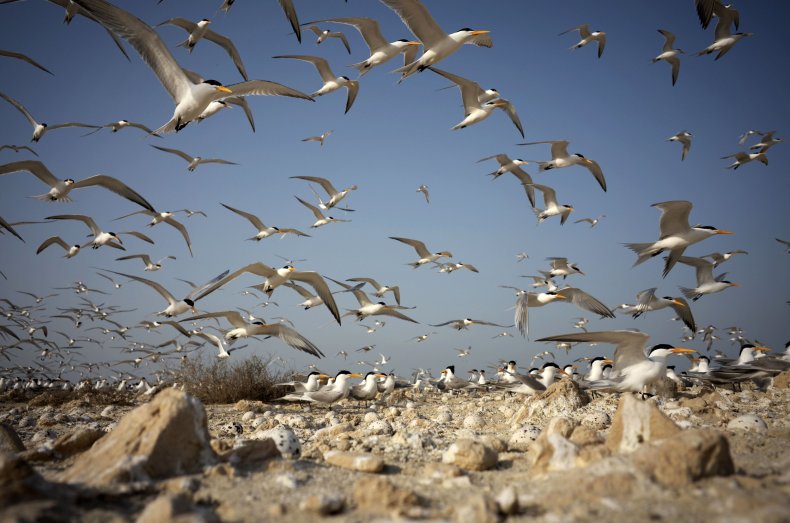 On May 13, two of the aircraft were illegally flown over the Bolsa Chica Ecological Reserve, a local estuary that plays host to thousands of breeding pairs of elegant terns every spring. Elegant terns, which spend their winters in South America and their summers on the West Coast of the U.S., bear a faint resemblance to seagulls and feed mainly on small fish. Unlike seagulls, however, they are considered vulnerable because they have few known nesting sites, according to the Audubon Society.
One of the drones malfunctioned and went down on the biggest nesting island in the reserve, spooking the adult birds present. Fearing attack by a predator or predators, every single one of them apparently fled the area, deserting their nests and the eggs within.
In total, an estimated 2,000 eggs were abandoned, according to The Orange County Register. Right now, the sand should be dotted with fluffy white hatchlings. Instead, it's littered with shards of speckled shell.
The incident represents the largest-scale egg abandonment event that veteran employee Peter Knapp has seen in his 20 years of monitoring threatened and endangered species in the reserve, Melissa Loebl, an environmental scientist and the reserve's manager, told the Register.
"In my career, I have never seen such devastation, so that was really hard," Loebl said, according to ABC 7.
The other drone eventually crashed as well, scaring off another colony of elegant terns in the reserve. However, those birds eventually returned to their nests, according to the Register.
Drone operators are drawn to the Bolsa Chica Ecological Reserve because the reserve's elegant tern nesting sites are highly visible, Nick Molsberry, a warden for the state's Department of Fish and Wildlife, told the Register.
"It's ironic," he said. "Drone owners are attracted by the nesting colonies of birds, and then their actions destroy it."
The first drone remains on the nesting island, though Molsberry said he plans to examine the device's memory card to see if he can figure out who it belongs to. The second was eventually claimed by someone who contacted the Department of Fish and Wildlife regarding its whereabouts, earning a citation for their trouble.
In addition to drones, elegant terns that nest in the reserve face threats from bicycles and dogs, particularly off-leash dogs, according to the Register.