NXIVM: Seagram's Heiress Arrested in Sex Cult Racketeering Bust
Seagram's heiress Clare Bronfman was among four people arrested on Tuesday for alleged involvement with NXIVM, a cultlike group accused of sex trafficking.
Bronfman was arrested in New York by federal agents early on Tuesday and was expected to be arraigned in Brooklyn federal court in the afternoon, the U.S. Attorney's Office for New York's Eastern District said. NXIVM co-founder Nancy Salzman, her daughter Lauren Salzman and Kathy Russell were also arrested in Albany.
Bronfman helped bankroll the group, which was founded by Nancy Salzman and Keith Raniere in the 1990s. NXIVM was promoted as an organization that helped improve member's lives but is now referred to as a "pyramid-structure organization" by federal prosecutors.
The four women, as well as Raniere and former Smallville actress Allison Mack, were charged with seven counts in a superseding indictment unsealed on Tuesday. The group is charged with identity theft, harboring of aliens for financial gain, extortion, forced labor, sex trafficking, money laundering, wire fraud and obstruction of justice.
Lauren Salzman will also face two additional conspiracy charges, Democrat and Chronicle reported. The arrests are the latest in a federal investigation into the group, which is accused of sex trafficking and of coercing women to join a secretive master-slave society within NXIVM.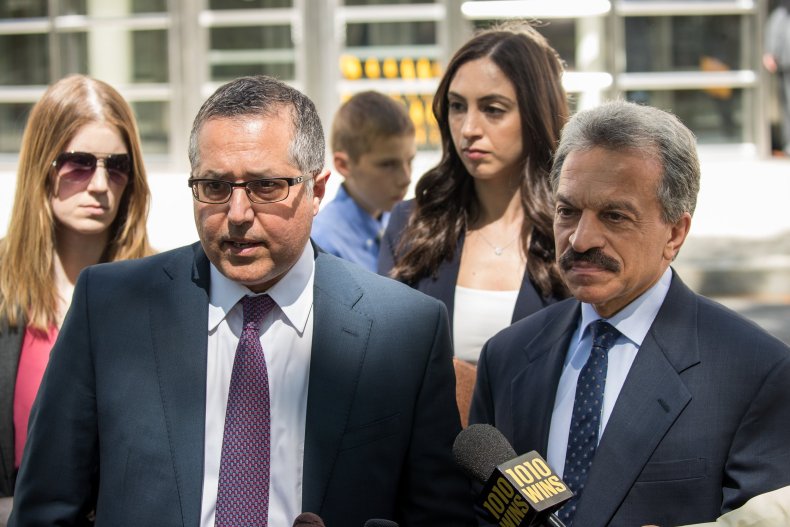 Raniere and Mack were arrested earlier this year and charged with sex trafficking and conspiracy for allegedly manipulating women to join the secret society known as DOS. The women were allegedly groomed to have sex with Raniere and were branded with his initials, the New York Post reported.
Russell, Bronfman and Nancy Salzman are accused of participating in identify theft, money laundering and altering records to facilitate the organization, according to the New York Post. Bronfman is also accused of encouraging illegal border crossings.
Nancy Salzman, who was referred to as "prefect" by group members, is accused of altering or destroying videotapes that would have been used in a civil case NXIVM brought against Rick Ross, a former cult member who has spoken out about the group.
Meanwhile, Lauren Salzman has been accused by former "slaves" of being one of the "masters" in the secret group. She allegedly committed wire fraud, extortion and forced labor.
Susan Necheles, Bronfman's attorney, claimed her client "did nothing wrong."
In a statement to Democrat and Chronicle, Mecheles said that NXIVM was not a "criminal enterprise" but instead a group that "helped thousands of people."
"The charges against Clare are the result of government overreaching and charging an individual with crimes just because the government disagrees with some beliefs taught by NXIVM and held by Clare," Mecheles said. The lawyer added she was confident that her client would be exonerated.
The Salzmans and Russell appeared before a U.S. magistrate in Albany on Tuesday afternoon. Lauren Salzman is set to be released after her grandparents pay $50,000 cash against a $5 million bond. It was unclear if Russell would be able to pay the $25,000 to secure her release, The Times Union reported.
Bronfman was scheduled to make her initial court appearance at a Brooklyn federal court at 3 p.m. She faces 20 years in prison if convicted, the New York Post reported.