Seahawks Quarterback Russell Wilson and Singers Ciara and Macklemore and Join Seattle Sounders Ownership Group
The Seattle Sounders, the city's soccer team, just announced 11 families that joined the ownership group—including a few famous names.
The announcement was made Tuesday that Seahawks quarterback Russell Wilson and his wife, the Grammy Award-winning singer Ciara, joined the Sounders ownership group. Ciara's fellow Grammy winner Macklemore and his wife, Tricia Davis, have also joined the group.
"Seattle means so much to me and Ciara. We're fired up about being part of the Sounders for a long, long time, having ownership in the Sounders and continuing to build that winning culture," Russell Wilson said in a statement.
"When I got here in 2012, Seattle was a place that I felt I could call home forever. And obviously because of the Seahawks, and now because of the Sounders, it makes that really come to life. This city is a special place. The Pacific Northwest is a place we love and we get to raise our kids here and have a lot of fun while doing it. We want to bring the best soccer players in the world right here to Seattle," he added.
Get your unlimited Newsweek trial >
Seattle native Macklemore (real name Ben Haggerty) is also excited about his new stake in the team.
"Man, to be part of this organization, having grown up in Seattle—it's pretty surreal. It's just very exciting," Macklemore said in a statement. "I'm very honored. I think we have a great group. This team is building an incredible legacy and I'm just excited to be part of it."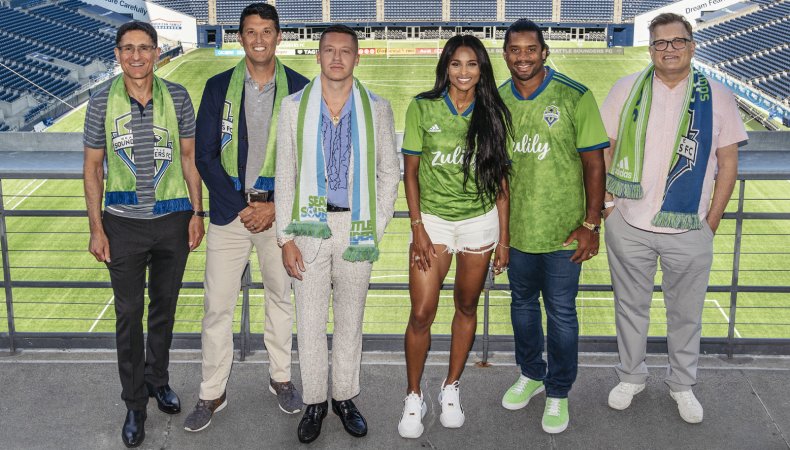 Other families that joined include a number of current and former Microsoft executives, including ex-executive Terry Myerson and his wife Katie, CEO Satya Nadella and his wife Anu, CFO Amy Hood and her husband Max Kleinman, corporate vice president of experiences and devices Joe Belfiore and his wife Kristina, and former senior executive Soma Somasegar, and his wife, Akila.
Get your unlimited Newsweek trial >
The list is rounded out by Chee Chew, the chief product officer at Twilio, and his wife Christine, president of the Bellevue, Washington school board, David Nathanson, formerly of the Fox Sports Media group and his wife Sabina, former Pandora CEO Brian McAndrews and his wife Elise Holschuh, and Mark Agne, the former managing partner at Softbank Investment advisors.
The new investors join majority owners Adrian Hanauer and Jody Allen, and minority owner, actor Drew Carey.
"This organization has a high standard, and we don't try to lower it and cut corners around it. I think everybody here is bought into that. You can call it the Sounders way, and it goes into how we play, and it's the same with our front office group away off the field. This is an organization that wants to win, and today we have added several new owners who believe in these same values," Carey said in a statement.
Seahawks Quarterback Russell Wilson and Singers Ciara and Macklemore and Join Seattle Sounders Ownership Group | News