Emaciated Seal Pup Rescued From Beach After Being Orphaned
An emaciated orphaned seal pup has been rescued from a beach in Ireland in the hope it will soon recover and can be released into the sea.
A member of the public called wildlife rescue service Seal Rescue Ireland on Monday morning after they saw the animal on Binnion Beach in County Donegal, on the country's northwestern coast.
Volunteers were called to the scene to rescue the pup, which was taken to their headquarters. They named the pup "Atria."
Grey seals in the area give birth to pups above the high tide line between October to November. The pups, which are covered in fluffy white fur, stay on the land for the first four to six weeks of their lives. The mothers, meanwhile hunt, coming back and forth to feed their pups fatty milk that makes them quickly gain weight.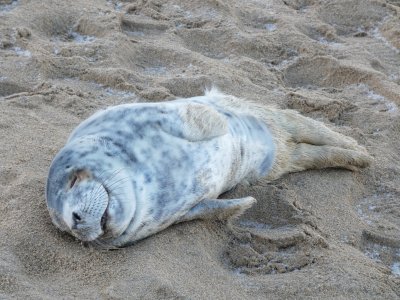 Melanie Croce, executive director of Seal Rescue Ireland, told Newsweek Atria weighed 10.6kg (23lbs), when she should have been around 50kg. On average, seals are 15kg when they are born. Rescuers will release her into the sea if she hits certain milestones, like reaching 35kg.
Atria is thought to be between three and four weeks old, as she is yet to molt some of her white fur.
"This is peculiar timing for a grey seal pup to be born in Ireland, as they normally are born in October to November, so she is incredibly late in the pupping season," Croce said.
Croce told the Derry Journal, which first reported on the rescue, the pup was "very skinny and emaciated."
She told Newsweek: "Although seals, being semi-aquatic marine mammals, do normally come up on land to rest, it was immediately apparent that this seal pup was in need of help. She was extremely small and skinny, and was all alone with no mother in sight." Croce believes the pup was orphaned.
"The first few days are always touch-and-go, especially for such a tiny, malnourished pup, but we are keeping a close eye on her and will be feeding her a nutritious blend of fish soup around the clock until she is stabilized. If she pulls through the first week, her chances of survival will increase dramatically, and we will be able to start teaching her how to eat whole fish on her own.
"She will eventually be introduced to our rehabilitation pools where she will learn how to compete and socialize with the other seals."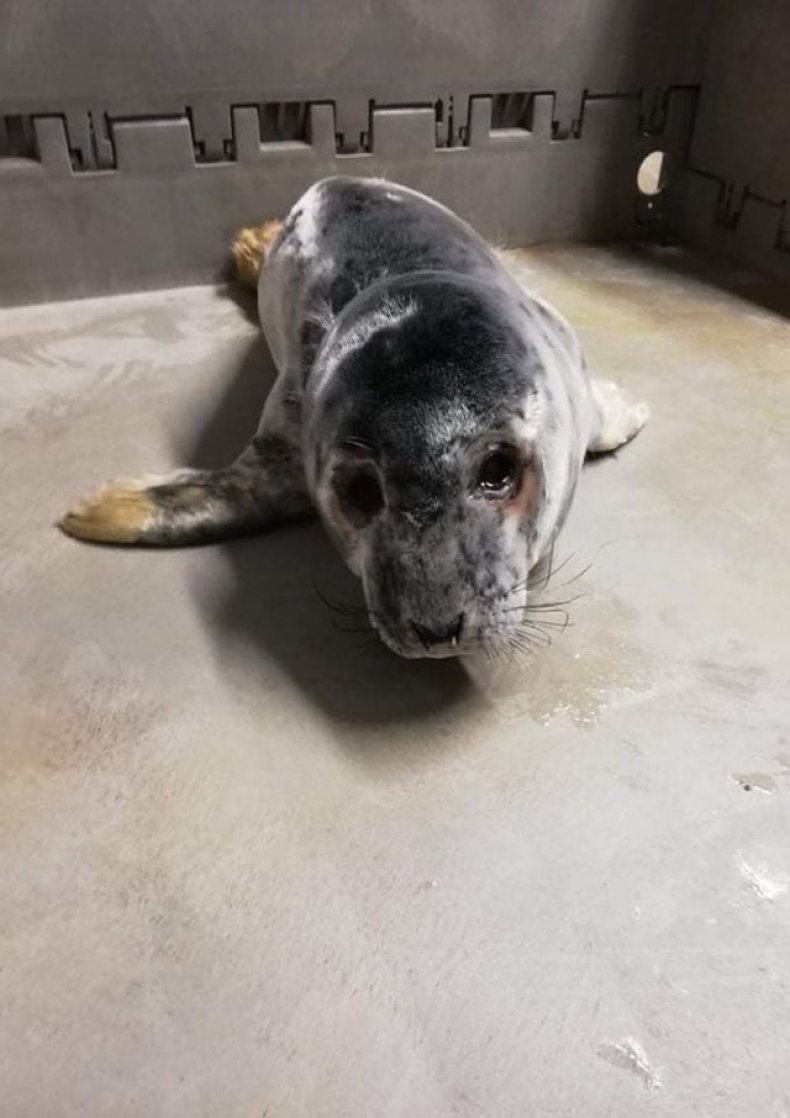 Members of the public who spot seals should stay at least 100 meters away and not approach them or try to return them to the water, according to Seal Rescue Ireland. Dogs should be kept on a leash around seals.
Those concerned about a seal on a beach can contact organizations like Seal Rescue Ireland. Seals are healthy if their skin is taut across their bodies, which should be plump and barrel-shaped. Unhealthy seals, in contrast, may have visible bones and necks, as well as loose skin.
Atria is one of a rising number of seals to be found sick, injured or orphaned on the Irish coast. Seal Rescue Ireland had its busiest year in 2020, rescuing 170 seals—up by 45 percent from the previous year, according to Croce.
Croce said declining fish stocks due to unsustainable fishing have made it difficult for seals to find food, while climate change is thought to have triggered stronger, more frequent storms that sweep pups into the sea, often killing them.