Someone Has Been Shooting Seals—Including a Pup—in 'Disturbing' Spate of Attacks
Seals in New Zealand are being shot dead in a series of attacks dubbed "disturbing" by authorities.
Over the last month, 19 seals have been found dead across a relatively short stretch of the coast on the eastern side of New Zealand's South Island,
In one case, wildlife officials found two "distressed" seal pups sitting with two of the dead bodies. "It's possible their mothers may have been among the dead seals," Phil Bradfield, operations manager for the South Marlborough branch of the Department Of Conservation (DOC), said in a statement.
The DOC first announced seals were being killed at Half Moon Bay and Ōhau Point on November 5. At the time, the bodies of 11 adult seals had been found.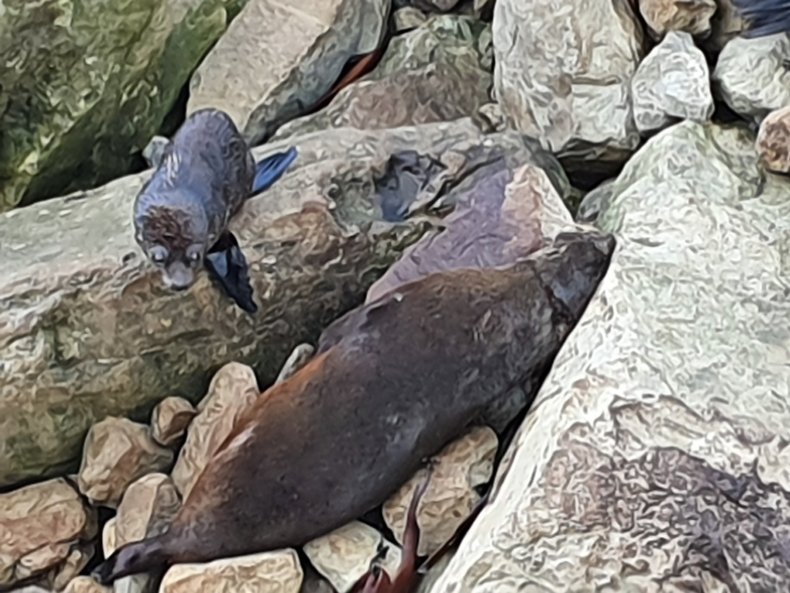 In an updated statement, the DOC has said another eight seals, including one pup, have been found several hundred meters north of Half Moon Bay.
The DOC has performed autopsies on eight of the dead seals, finding they were shot dead. Necropsies were performed on two other adults and the pup, but the cause of death could not be confirmed.
In an email to Newsweek, a DOC spokesperson said they are awaiting confirmation on the type of firearm used, but it appears there were two different calibres used.
The other eight seals could not be examined because they were either too badly decomposed, or their bodies were on breeding grounds and reaching them would have disturbed mothers and their pups. However, the Department of Conservation said that as these animals died closely together, their deaths are being seen as suspicious.
"It's disturbing and deeply disappointing to know someone has deliberately shot and killed at least eight fur seals," Bradfield said. "We're hoping people will come forward with information to help us find whoever is responsible for the heartless shooting of at least eight of the seals."
There are an estimated 200,000 fur seals living in New Zealand after being hunted to the brink of extinction in the 18th and 19th centuries.
Fur seals are now legally protected in New Zealand. The DOC is working with the police to investigate the seal deaths and appeals have been issued for anyone with information to come forward.
"Seals have been re-establishing on the Kaikōura coastline after the 2016 earthquake damaged parts of their habitat," Bradfield said, referring to the magnitude-7.8 quake that triggered a landslide that came down on the seal colony. He said the DOC takes any harm to fur seals "very seriously." Penalties for killing a marine mammal include a fine of up to $250,000 NZD (about $175,000) and up to two years in prison.
This story has been updated with additional information on the firearms used from the DOC.