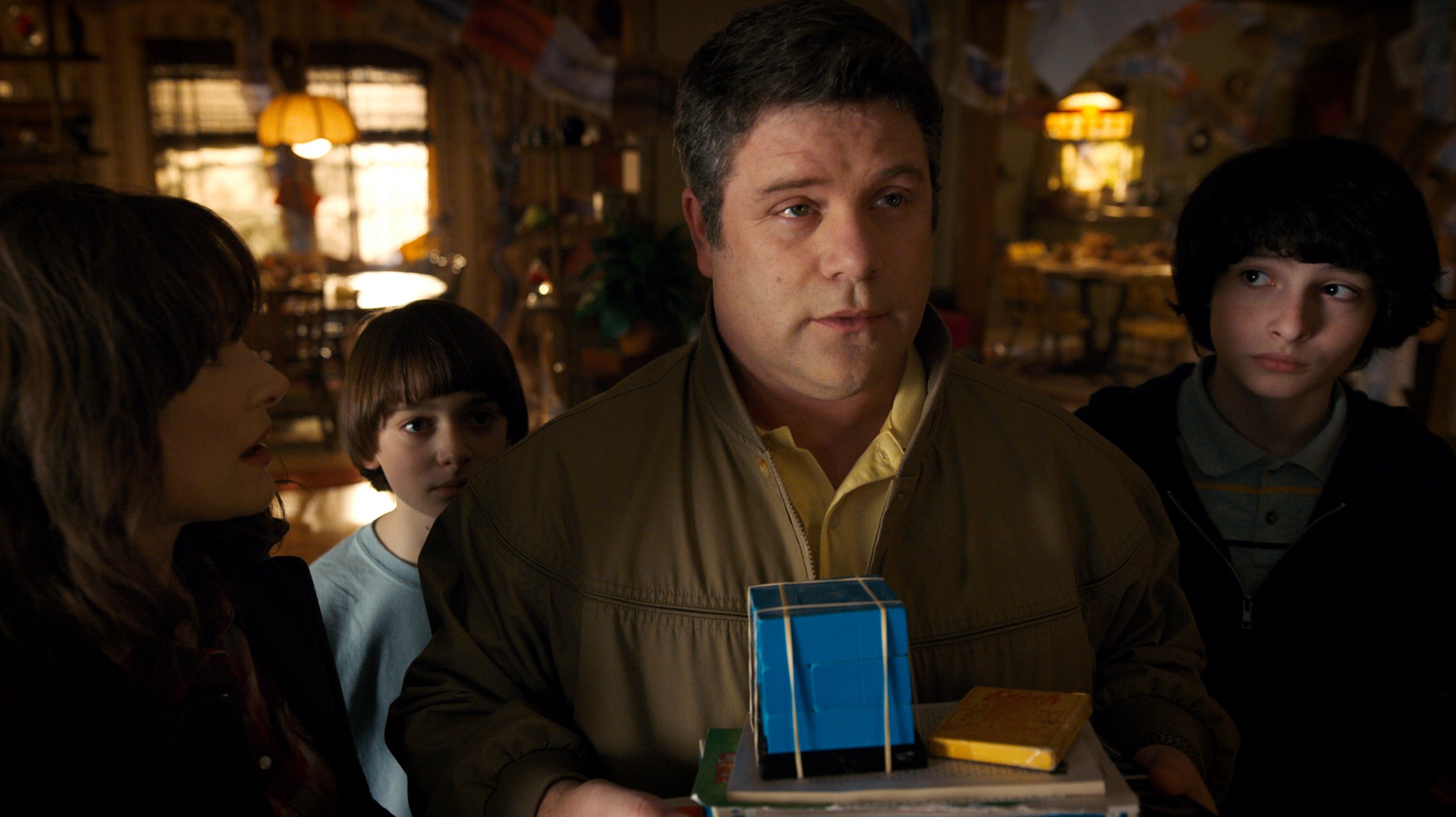 Stranger Things 2 added several new faces, but for '80s fans the most exciting addition was Sean Astin. Most know him as Samwise Gamgee from Peter Jackson's Lord of the Rings, but Stranger Things owes a debt to Astin's film debut, in 1985's The Goonies. At the age of 13, the actor played Mikey, the leader of the band of kids who discover the old Spanish pirate map that leads them on an adventure. The Goonies' influence is at the very heart of Stranger Things.
In a peculiar circle of events, Astin joined the show he helped inspire. As Bob Newby (or Bob the Brain, as the character was known in high school), he played the devoted boyfriend of Joyce Byers (Winona Ryder), RadioShack employee and lover of puzzles. Though a minor character, Bob offered a major plot assist. (Spoiler alert: Stop reading if you haven't finished Season 2.) We spoke to Astin about, among other things, that Goonies reference in episode 5.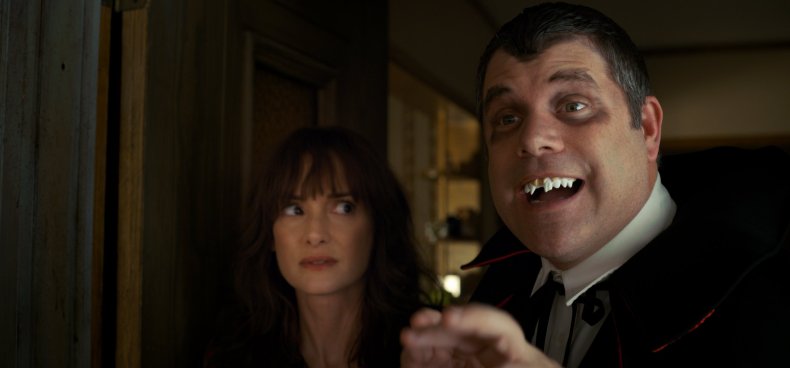 Bob has a frightening if heroic death. In successfully overriding the Hawkins Lab security, everyone else escapes, but he is brutally murdered by the Demo-dogs. It might be the scariest Stranger Things scene so far. What was your reaction when you read the script?
I was sad because it made it final—they were really were going to kill me! l kept holding out, thinking maybe I'd marry Joyce, take her and Will to Florida and live happily ever after. But the scene is so well done. I didn't know what to think about the Demo-dogs, but what makes it work is the build-up: The process of overriding the security, forgetting the gun and moving through the hallways as fast as I can. I'm like Ripley going through the ship at the end of Alien. It's such a heroic moment. Bob's just learned about all this weird stuff, but he's ready to be a hero for Joyce—he's game. So even though I was sad to leave, there was satisfaction in how Bob's story ended.
What was the process of filming that scene?
Oh my gosh, it was so much running! So many different ways and styles and timing of running. And then there's a lot of miming—throwing yourself on the ground and screaming and writhing. One funny thing: To get the shot of the dogs physically on me, one of the writers—a woman who is 4'10" and maybe 100 pounds—jumped on me. You can see my clothes getting scrunched where she was grabbing my shirt, to make it look like the dogs were grabbing me with their claws. But it's actually this tiny little woman making me scream.
Were you surprised when you saw the final cut?
I don't know yet what the final cut turned out to be, but I was pushing for [creators Matt and Ross Duffer] to pick the goriest version. I kept wanting more blood. I was thinking of the original Jaws, when Quint slides into the mouth of the shark, and his head and torso are fine, but his legs are gone. There was this one moment where I spit out all this blood, and my vote was: That's not too much, use that! The whole show is pregnant with anticipation for that kind of scene. But poor Bob; he was so nice—all he ever did was love Joyce and care about her, and it's so unfair that he has this terrible fate.
Would you like to see #JusticeForBob?
It'd be fun to see, but I don't think Bob needs any extra justice. He and Barb offered a similar function—and obviously the names are similar—but Bob gets a completed arc, he gets to be the hero. I was a fan of the show and I felt the same way as the fans when Barb left the show: "Wait, what happened to Barb?" She just disappeared! It had to do with the Duffers not giving her the death scene she deserved, not the death itself.
So how did you get involved in the show? Did the Duffers approach you?
I heard from my agent that Stranger Things wanted me to audition, but originally I auditioned for the role of the conspiracy theory reporter [played by Brett Gelman]. The Duffers thought I'd be better for Bob.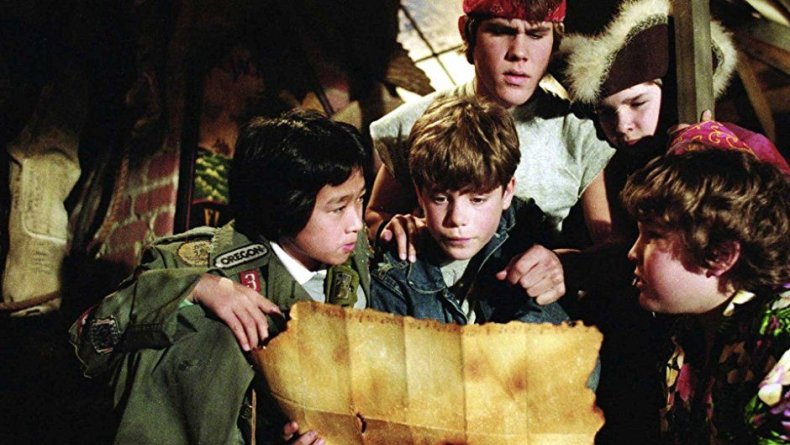 Do you think they wanted a Goonies connection?
They actually hesitated to hire me because of Goonies. They said they wanted to make sure it wouldn't be a distraction. But they loved my audition tape and felt I fit the character of Bob. It's not just Goonies, though; they're big Lord of the Rings fans.
But Bob does reference The Goonies in episode 5 ["Dig Dug], when Joyce and Mike can't figure out what Will's drawn. He points to the X and says, "What's at the X, pirate treasure?"
At that point, I looked at the Duffer brothers and was like "Really?"
So that was an intentional wink?
[Laughs.] I think it was more like a big two-eyed blink.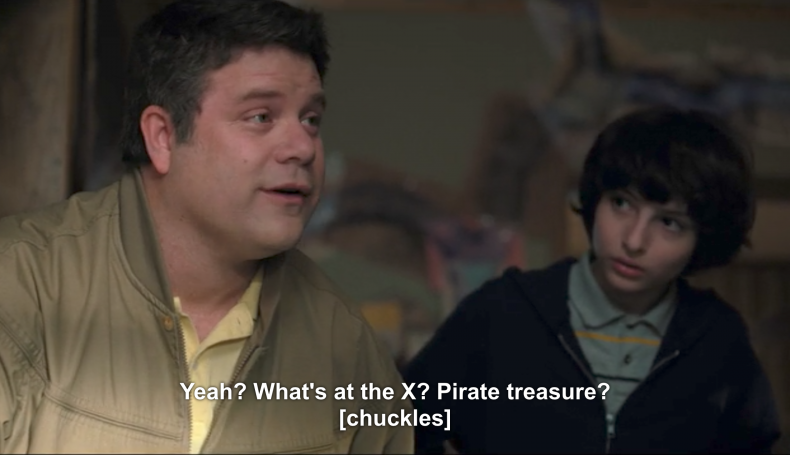 When you were watching season 1, were you picking up on the Goonies vibes?
You know, everyone had said to me, "You have to see this show, it's just like The Goonies!" But when I saw it I was like, "No, it's not, it's Poltergeist!" I guess when the kids are on the bikes and together, I see it. I don't know what I was expecting, but I wasn't expecting to be so scared. I don't like scary movies. Finn [Wolfhard, who plays Mike] and I bonded a lot on the set, but I had to tell him I wouldn't watch his new movie, It.
I'm worried about you watching your own death scene then, because that was terrifying!
Yeah… I might not watch that scene.
Did all the kids on set remind you of filming Goonies?
The experience they are having is so familiar to me, having done been on a set so young. And we bonded. One of my favorite scenes to film was in the hospital [episode 6, "The Spy"]. Finn, Winona and I were standing by the bed watching Noah [Schnapp] flip out while nurses try to put a needle in him. Suddenly I was just absolutely in that moment. That young performer is doing such amazing work, he's incredible, and it's great to see that.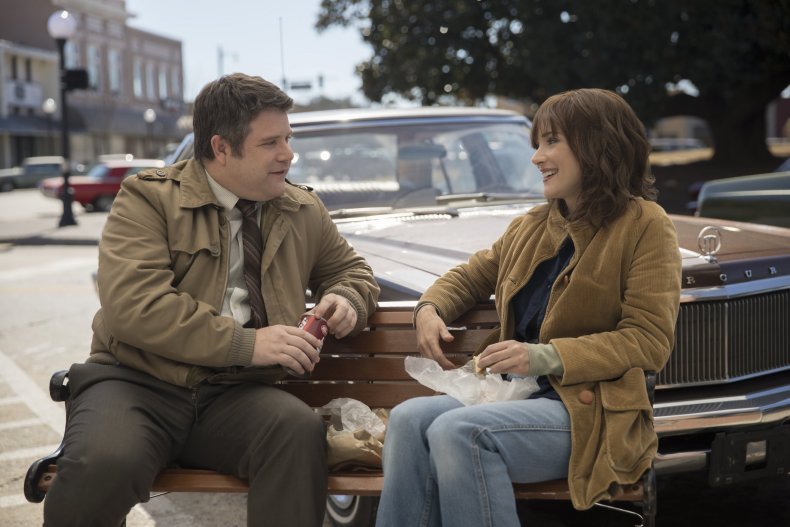 How was working with Ryder?
It's one of my favorite things about being on the show. Winona and I are good friends; we grew up alongside each other. We worked on an indie called Stay Cool [2009], and I so admire her talent. She hated the idea of me dying. There were a lot of hugs after my death scene, which was also my last day on set.
So given your ending, is it safe to say you won't be returning for season 3?
You never know, but the odds are pretty small. Unless I come back for a flashback. But no, Bob is good and dead.