Sean Penn on How Daughter Dylan Prepared for 'Flag Day's' Shocking Climax
Sean Penn and his daughter Dylan Penn have made their first movie together. Titled Flag Day, it tells the true story of John Vogel, a conman turned bank robber who has a difficult relationship with his daughter Jennifer.
Speaking to Newsweek via Zoom, Sean Penn said that he could not imagine anyone else in the role of Jennifer other than his real-life daughter. "We attached her face and her face alone to it," the Oscar-winning actor said, "I was unable to consider doing it without her."
Dylan, however, needed some convincing from her mother, House of Cards actor Robin Wright: "My mom said that she had one of the best experiences working with my dad as a director and that passing this up would be a big mistake."
Asked exactly what he saw in his daughter that made her the only choice for Jennifer, Sean Penn said: "It's the honesty of how she listens. She's beautifully skeptical and but also very intuitively able to embrace that which is honest and true. I knew one could rest the camera on her listening face."
To get into the character, Dylan met with the real Jennifer Vogel, whose book Flim-Flam Man: The True Story of My Father's Counterfeit Life the film is based on. "I met with Jennifer a couple of weeks before we started shooting in her hometown Minneapolis and think we spent maybe for four to six hours, over dinner, where she allowed me to ask for any question.
"What's amazing about Jennifer is that you would never guess that she had this tumultuous tragic past. She's so light and open and just completely available as an open book."
Her father also tried some more unconventional techniques to get the strongest performance from her.
In a late scene in the movie (spoilers ahead), John Vogel kills himself after a police chase, with Jennifer watching the scene on a TV. Sean Penn had deliberately stopped Dylan from seeing the footage before this moment, so the actor's reaction in the scene is her genuine reaction to her father simulating suicide.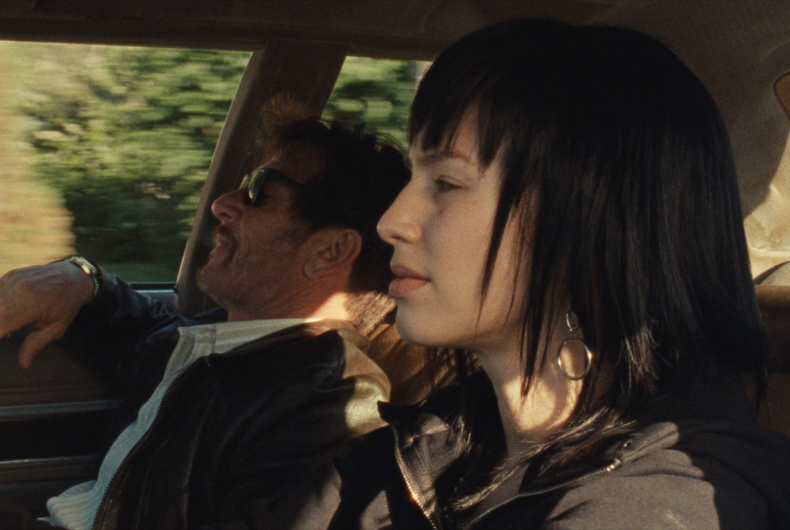 "I might have asked her if it would be helpful that way rather than her seeing it in advance," he said. "We had shot the bulk of that footage and so we were able to put a cut together that would be broadcast on the screen for her to watch in real-time. I think that what she does in that scene speaks for itself."
To add an extra element of strangeness, Dylan was watching her father kill himself on screen while her real father watched her from behind the camera. "It's hard for me to separate my dad from John Vogel," she said of this. "So, watching that scene it felt as real as it could be.
"It's so weird. I don't know how to explain it. Having my father hide in the camera watching me, watch him commit suicide is just a crazy experience."
On the experience of acting alongside his daughter, playing a real dysfunctional family, Sean said: "It's like when you have a dream or something and then you wake up from it and have to get on the phone to try and track that person down.
"In this case, that person was right there. And so each time we go into the dream state, we'd be able to like come out of it and I go, 'Oh, okay. Everything's intact. I'm okay. You're okay. You got through it.'"
Going on from Flag Day, Dylan has spoken about her desire to direct. Asked what she learned from her father doing it, she said: "One thing that surprises me was just my dad as a director doesn't let financial restrictions restrict him. And his vision was never compromised."
Flag Day is in theaters now.
If you have thoughts of suicide, confidential help is available for free at the National Suicide Prevention Lifeline. Call 1-800-273-8255. The line is available 24 hours every day. If someone you know appears to be contemplating suicide, visit Bethe1To.com for assistance.