Sean Spicer 'Got Fatter,' Steve Bannon Says, But Donald Trump is Overweight, Too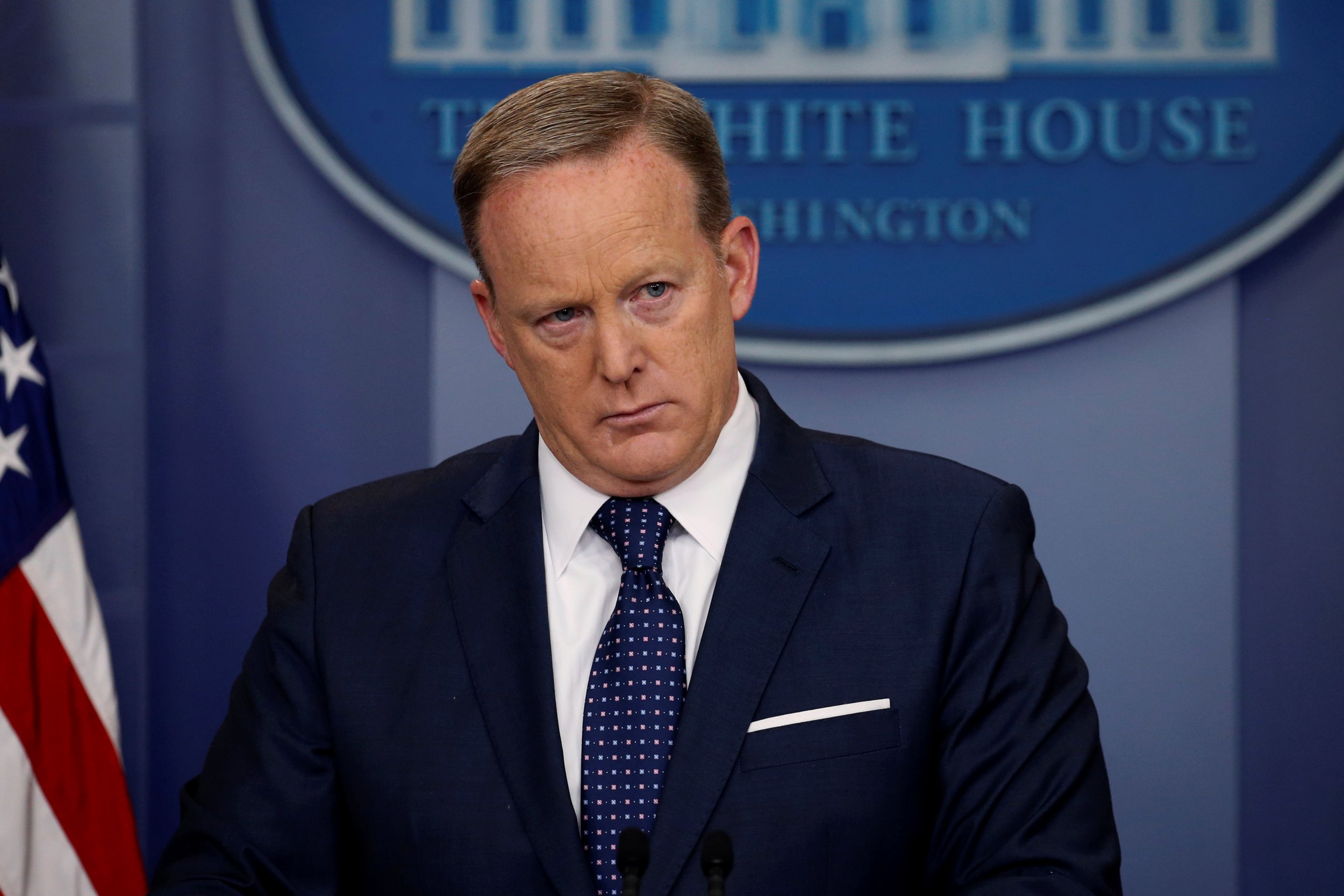 Who among us hasn't eaten a few extra pints of Ben & Jerry's since November 8? Apparently, even Sean Spicer has been gaining weight in the wake of the election, and it may cost him his job.
After weeks of rumors about Spicer's role in the White House, anonymous sources told Politico Monday the White House press secretary has begun trying to find a replacement who will conduct briefings with the media. News of the alleged search came hours after a number of journalists, among them CNN's Jim Acosta, criticized Spicer for holding an off-camera, no-audio press gaggle—which Spicer claimed was set up as such because President Donald Trump had already spoken publicly that day.
But whenThe Atlantic asked about the motivations behind the increasingly frequent off-camera briefings, White House chief strategist Steve Bannon gave another reason: "Sean got fatter," he wrote in a text message.
When the internet caught wind of Bannon's remark, Twitter lost its collective mind. The Daily Show's Matt Negrin repurposed the sentence into a parody of Billy Joel's "We Didn't Start the Fire," while the Texas Tribune's Evan Smith joked that it was the title of a P. Diddy album. Others declared "Sean Got Fatter" to be the best excuse ever or a solid fantasy team name, and some simply identified with it, with BuzzFeed's Mat Honan writing, "I got fatter this year too."
All memes aside, there are real points to be made about transparency and the value of press briefings, as former first daughter Chelsea Clinton tweeted—"The White House using fat shaming to justify increased opacity. 2017."—and Trump's notoriously mercurial nature when it comes to staffing decisions.
Case in point: Before he was president, Trump fired an Apprentice contestant for talking about how another competitor "took a crap," which he implied was locker room talk. (That's a whole separate thing, though.)
There's also a hint of irony in the discussion because Trump himself is "slightly overweight," as Dr. Mehmet Oz announced on The Dr. Oz Show last year. At the time, Trump weighed between 236 and 267 pounds and said he wanted to lose up to 20.
More recently, a source told CNN the president had gained a few. So make of Bannon's comment—and Spicer's decreasing visibility—what you will.