Sean Hannity Appears to Acknowledge Biden's Election Win, Says Dems Will Undo Trump's 'Great Successes'
Fox News host Sean Hannity appeared to acknowledge President-elect Joe Biden's election win over President Donald Trump on Tuesday.
During today's edition of The Sean Hannity Show on Premiere Radio Networks, the host railed against the media for calling the election for Biden and allegedly failing to ask the former vice president tough questions during his campaign.
"You've pretty much been watching a love fest here between the mob and the media," he said. "When are they going to ask him a tough question? I've never seen a guy run for president never have to answer serious questions."
Hannity then appeared to acknowledge Biden's win for the first time. He said that the Democrat will spend most of his presidency hiding in a special bunker in the White House. The host also insisted that the 73 million Americans that voted for Trump won't "just go away."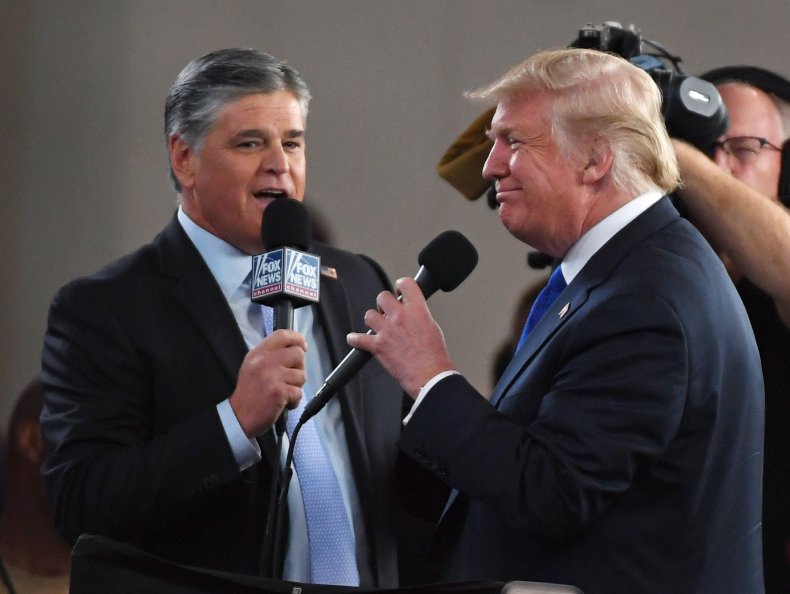 "They get their way," Hannity continued, referring to Democrats, "and you got hidin' Biden and President Trump in exile."
The conservative host predicted that Trump won't be "particularly quiet as they try to undo all the great success that he's had."
"Could get interesting. And then the mob and the media? They'll try to ignore him. They're not going to be able to give up their hate Trump drug that easily."
Since most television networks and media outlets called the election for Biden 10 days ago, Hannity has dedicated large portions of his weeknightly Fox News show interviewing Trump loyalists and covering claims of widespread voter fraud.
Last week, the host urged Fox News viewers to move to the social media platform Parler as Twitter continued to flag the president's tweets for being misleading or inaccurate during an appearance on The Ingraham Angle.
"Scott Adams said something like, 'People are being brainwashed to accept the results of the election,' and every time Trump tweets now it says, 'This claim about election fraud is disputed,'" host Laura Ingraham said.
"Can we now move everybody from Twitter to Parler?" Hannity responded. "Can we just, like, make the shift together, like, just say goodbye Twitter, see ya Jack [Dorsey, Twitter CEO], nice try."
After Biden's victory speech earlier this month, Ingraham urged Trump to accept defeat with "grace and composure" if he loses. While some Fox News hosts have also challenged Trump's claims of widespread voter fraud, Hannity was not one of them.
"First, in the coming weeks, this president will do what he has always done. He's going to fight," he said on November 6. "He's going to make sure that every legal ballot is counted. He will fight for transparency, accountability, and what is a lot of disasters behind the scenes, shady vote-counting processes in some states."