Sean Hannity Blames Proud Boys Attack on Antifa, Denies Knowing Group Despite Having Founder on Fox News Show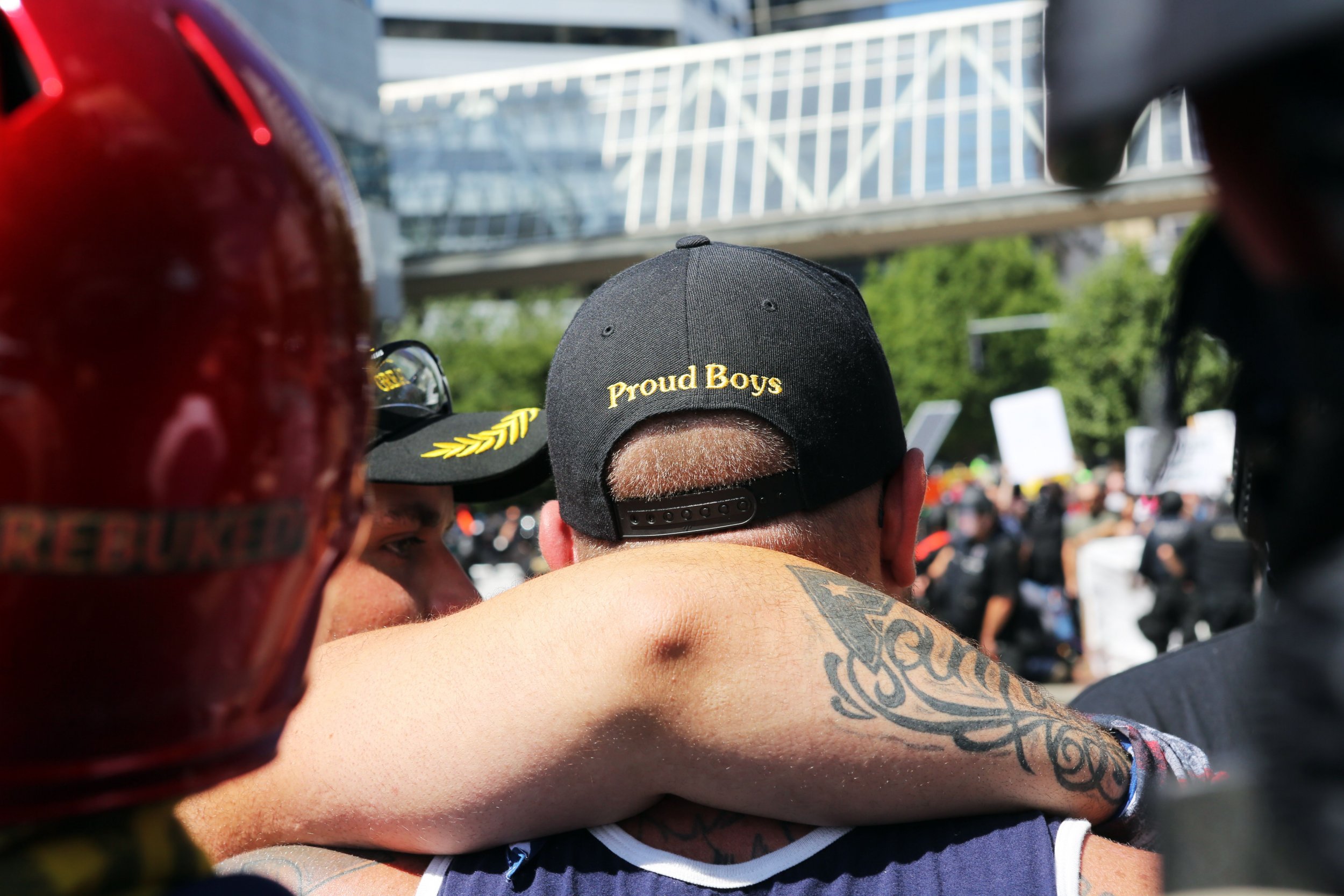 Fox News host and radio personality Sean Hannity appeared Monday to tie a violent attack by a far-right group that led to three arrests for assaults over the weekend to vandalism by antifa counterprotesters. Hannity also denied knowing much about the far-right group, despite having its founder on his Fox program numerous times.
The violent skirmish, which was caught on video, showed members of the alleged hate group Proud Boys assaulting antifa protesters following the appearance of Proud Boys founder Gavin McInnes at the Metropolitan Republican Club on New York's Upper East Side Friday evening.
On his radio program, Hannity deflected knowing much about the group, but he did know McInnes, according to press watchdog Media Matters for America. McInnes had appeared 24 times on Hannity's between January 2014 and May 2015.
Hannity made reference to vandals scrawling anarchist symbols on the clubs doors and breaking windows before McInnes was set to speak, presumably stating the Proud Boys' violence was instigated by the graffiti and property damage.
"I don't know anything about them. But there was a hate rally at Republican headquarters in New York City," Hannity said. "The way the media's portraying it—I just have no idea because I don't have it, but, according to the Daily Caller, antifa members actually vandalized the Metropolitan Republican Club in New York ahead of an appearance of this group, Proud Boys, prompting an outbreak of violence there."
Hannity also questioned the Southern Poverty Law Center's classification of Proud Boys.
"The Southern Poverty Law Center has a history of smearing Republican organizations as white supremacists and neo-Nazis. They have labeled this group a hate group. What do they call antifa? " he said.
The New York City Police Department released photos Monday asking for help in identifying the three alleged vandals and also said it was seeking nine other people affiliated with Proud Boys. Video of the fight between the two sides was also released.
Hannity and other conservative pundits, like Fox host Laura Ingraham, have repeatedly claimed liberal or leftist groups were responsible for an increase in politically motivated violence.
Hannity blamed Representative Maxine Waters of California and former President Barack Obama for their rhetoric leading to a shooting at a local Maryland newspaper in June. Waters had previously told supporters to "get up" in the faces of Trump administration officials following the of installation of the "zero-tolerance" immigration policy.
"I'm not turning this into a gun debate. I know that's where the media will be in 30 seconds from now," Hannity said at the time. "That's not it. It's so sad that there are so many sick, demented and evil people in this world."