Sean Hannity Calls Mail Bombs 'Work of Pure Evil' and 'Act of Terror'
Fox News host Sean Hannity called the mail bombs sent to senior Democrats a "work of pure evil" during his show on Wednesday night.
But he also accused liberals of "rushing to judgment" by blaming President Donald Trump for stoking a fiery political environment—even as high-profile conservative commentators peddled a baseless conspiracy theory that the bombs were a "false flag" by Democrats.
The FBI is investigating explosive devices addressed to former Secretary of State Hillary Clinton, former President Barack Obama, former CIA Director John Brennan via the CNN offices in New York, former Attorney General Eric Holder, and billionaire philanthropist George Soros. The mail bombs were received between October 22-24.
"Now you have heard me say over and over and over on this show, but I will repeat it one more time," Hannity told viewers.
"Violence, threats, intimidation has no place in politics. No place in this country. And what we saw today is the work of pure evil. This is an act of terror. And I feel terrible for anybody who was threatened today. It's wrong, period."
Hannity then went on the attack.
"Despite not knowing who is responsible for these mail bombs today, we had so many people rushing to judgment," he said.
"The media, the left, Democrats—all trying to score cheap political points and a political victory on this. All day as this story was unfolding—they have no facts—immediately assigning blame to their political rivals, especially President Trump."
The president made a statement condemning the attempted mail bomb attacks.
"The full weight of our government is being deployed to conduct this investigation and bring those responsible for these despicable acts to justice," Trump told reporters at the White House.
"We will spare no resources or expense in this effort and I just want to tell you that in these times we have to unify, we have to come together, and send one very clear, strong, unmistakable message that acts or threats of political violence of any kind have no place in the United States of America."
House Democratic Leader Nancy Pelosi and Senate Democratic Leader Chuck Schumer issued a joint statement after the president's comments and accused him of hypocrisy.
"We listened with great interest to the president's remarks this afternoon. We all take an oath to support and defend the constitution and protect the American people, and that is our first responsibility," the statement said.
"However, President Trump's words ring hollow until he reverses his statements that condone acts of violence.
"Time and time again, the president has condoned physical violence and divided Americans with his words and his actions: Expressing support for the Congressman who body-slammed a reporter, the neo-Nazis who killed a young woman in Charlottesville, his supporters at rallies who get violent with protestors, dictators around the world who murder their own citizens, and referring to the free press as the enemy of the people."
As liberals took aim at the president for his rhetoric, pro-Trump conservatives spread a conspiracy theory that the Democrats were behind the mail bombs as a ploy to help them in the upcoming midterm elections.
Michael Savage, the conservative host of radio show The Savage Nation, which has an audience of millions every week, claimed there is a "high probability that the whole thing is set up as a false flag to gain sympathy for the Democrats number one, and number two, to get our minds off the hordes of illegal aliens approaching our southern border," Media Matters reported.
When challenged by a caller, who said Savage's comments were "so far off the edge it's irresponsible," Savage replied: "Because you say it's irresponsible doesn't make it irresponsible, it means you're not able to think outside your own box… All your fear buttons have been hit. That's exactly what Soros and company want you to feel. I'm saying question authority."
Dinesh D'Souza, the conservative author and filmmaker pardoned by Trump for his conviction for making illegal campaign contributions, pushed the false flag conspiracy heavily on his Twitter account. D'Souza wrote: "I hear the FBI squeezed lemon juice on the suspicious packages and a very faint lettering revealed a single word: DEMOCRATS."
Conservative radio host Rush Limbaugh also pushed the false flag conspiracy theory during his show on Wednesday. "They have thrown every trick at Republicans," Limbaugh said. "Their media acolytes are doing their tough lifting for them—and none of it, none of it, none of it has worked.
"So what would you do? Democrat operative, best way to turn all of that around? How about a day like this? How about a day like this where you create a scenario where it looks like the mobs are on both sides."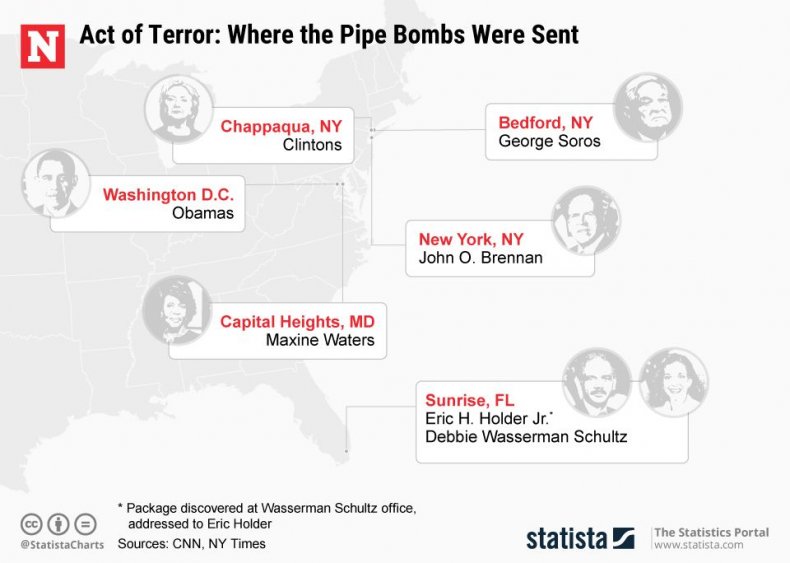 This visual, created by Statista, shows where and to who each bomb was sent.