Sean Hannity Compares Trump's COVID Response to FDR and Churchill
Fox News host Sean Hannity compared President Donald Trump's actions amid the coronavirus crisis to the behavior of leaders Franklin D. Roosevelt and Winston Churchill.
Hannity asked if people wanted "a leader who's willing to fight every minute of every day, for the country" or a "shadow of a man who hides in his basement bunker."
Talking about the nation being "land of the free and home of the brave," he went on to share famous words from FDR and Churchill.
He referenced FDR's "we have nothing to fear but fear itself" speech, showing a clip of the 32nd president speaking in 1933.
Hannity then moved on to Churchill, playing audio from a speech in 1940 of the former British prime minister speaking of "victory at all costs."
"In times of great hardship, you must fight for survival. And that is exactly what the president has done during this country's battle with COVID-19," Hannity said, after playing these snippets of film and audio.
The host went on to refer to the president banning travel to and from China earlier in the pandemic, stating Trump fought for this.
Newsweek has contacted Hannity and the White House for comment.
President Trump has previously likened himself to Churchill, recently suggesting his actions in having downplayed the virus in its earlier stages was alike to comments from the former prime minister in World War II.
"We have to be calm, we don't want to be crazed lunatics. We have to lead. When Hitler was bombing, I don't know if you know this, when Hitler was bombing London, Churchill, great leader, would oftentimes go to a roof in London and speak. And he always spoke with calmness," he said.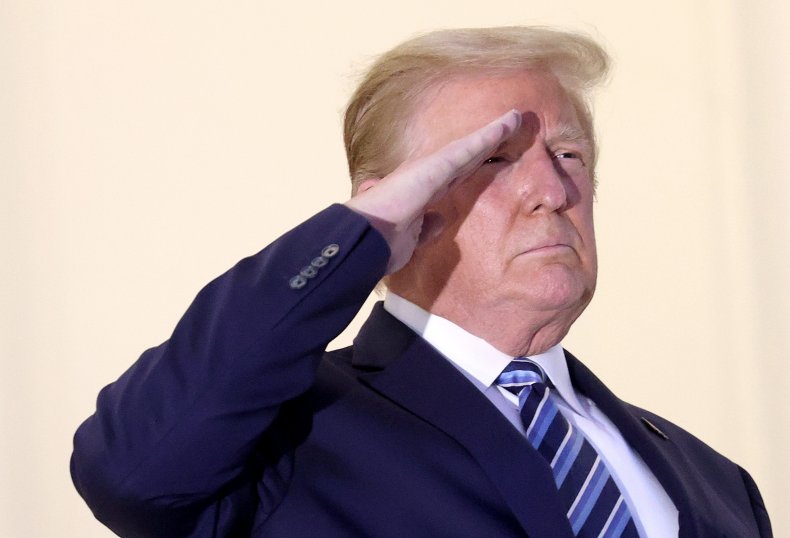 During this speech, he also referenced FDR's quote, "the only thing we have to fear is fear itself," as he proclaimed: "America will prevail over the China virus."
Hannity's comments on Trump come with the president having left the Walter Reed National Military Medical Center, where he was being treated after being diagnosed with COVID-19.
He has returned to the White House, where he posed for photos on its balcony, giving a thumbs up to those taking photos.
Trump shared a video from the White House and told people "don't be afraid of it" in regards to COVID-19 and said his actions had shown leadership.
"Don't let it dominate, don't let it take over your lives. Don't let that happen," he said.
"We have the greatest country in the world. We're going back. We're going back to work. We're gonna be out front. As your leader, I had to do that. I knew there's danger to it, but I had to do it. I stood out front, I led."
Trump's comments come with more than 7.4 million confirmed cases of coronavirus across the United States, according to Johns Hopkins University figures.
The graphic below, from Statista, shows the nations with the highest numbers of confirmed cases as of October 5.