Debbie Schlussel Says Sean Hannity Didn't Sexually Harass Her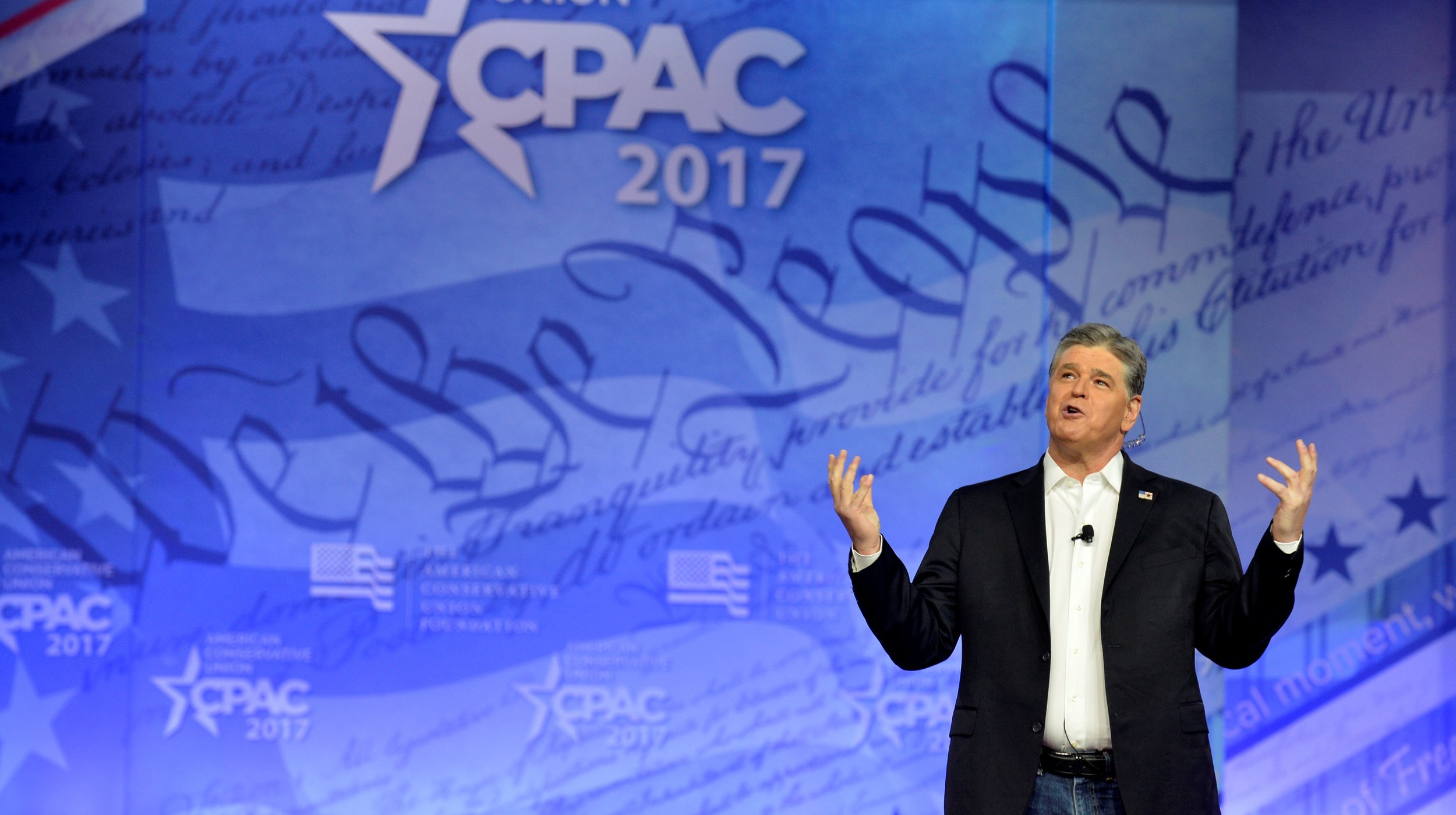 A conservative commentator who sparked a firestorm after detailing what she said were uncomfortable meetings with Sean Hannity said she was not sexually harassed by the Fox News host.
Mulitple media outlets reported that the conservative commentator, Debbie Schlussel, claimed she was sexually harassed by Hannity. But in an interview with Newsweek on Monday morning, Schlussel says: "I never used the word 'sexual harassment' in the radio interview."
"The host asked me a compound question where he said, 'Were you ever sexually harassed or made to feel uncomfortable by Bill O'Reilly or any other Fox News host,'" she says. "My response was in response to the 'made to feel uncomfortable' part."
Schlussel said during the radio interview with Pat Campbell that Hannity asked her to come back to his hotel with him after a book signing in Detroit in the early 2000s. Schlussel said she refused, as she wanted to prepare for her appearance on Hannity's Fox News show later in the day. After that show, Schlussel said Friday, he made another advance, attempting "to get me to go back with him to the hotel." She again said no, and claims she hasn't since been booked on Hannity's show.
"I felt very uncomfortable and creeped out by Sean Hannity on several occasions, but it's not accurate to say that I was sexually harassed," says Schlussel. "I don't view it that way. I'm a practicing attorney, and I've done employment law and I think sexual harassment has a very specific definition."
Related: Women journalists share their stories of sexual harassment
She adds: "I don't think that this rose to that level. I thought it was totally inappropriate and I think he's a weird, creepy, sleazy guy, But I didn't use that phrase and I wouldn't use it now."
Schlussel says media reports that she claimed to have been sexually harassed by Hannity are inaccurate. However, she says his actions were "totally inappropriate and it seemed to me like there was a quid pro quo." Asked if Hannity has directly contacted Schlussel since Friday, she says: "No, of course not. That's not how they roll."
In a statement, Hannity said Schlussler's comments are "100% false and a complete fabrication."
"This individual is a serial harasser who has been lying about me for well over a decade," said Hannity. "The individual has a history of making provably false statements against me in an effort to slander, smear and besmirch my reputation."
Schlussel previously said Hannity's involvement with the Freedom Alliance, a charity that raises college tuition funds for the children of dead soldiers, is a "scam" and that he personally benefited from it. She also said Hannity used the money raised to pay for personal expenses, instead of it going to the stated causes. In a 2010 letter, the Freedom Alliance said the allegations were "false and malicious" and "vicious smears."
"My patience with this individual is over," Hannity said in his statement. "I have retained a team of some of the finest and toughest lawyers in the country who are now in the process of laying out the legal course of action we will be taking against this individual."
Speaking with Newsweek, Schlussel says: "He tries to imply that he's going to sue me, but he doesn't say he will because he's not going to."
She adds: "If anyone should be suing anyone for defamation it should be me for this 'serial harasser' description with him. I don't know what he's talking about. I haven't been in touch with Sean Hannity for years, probably at least a decade."
Schlussel also mentioned two incidents she says occured between 2002 and 2004. In one, Schlussel was in New York City to appear on Hannity's show as a guest. She had dyed her blonde hair red and claims Hannity "got all mad at me that I was not blonde." In the other, Schlussel claims Hannity "was arguing with me about what size pants I was wearing at the time, whether they were a two or a four."
"These kind of things are odd and strange, not appropriate," she says. "He's just a creepy sleazy guy."
Schlussel's comments came days after Bill O'Reilly was booted from Fox News in the wake of claims of sexual harassment and misconduct.